Photo Gallery
Kansas basketball v. West Virginia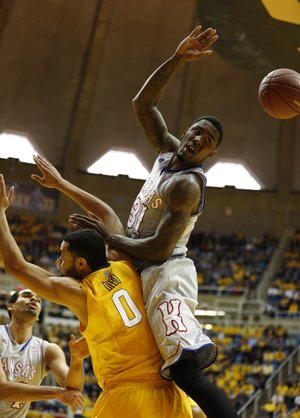 Images from Saturday's game between the Jayhawks and Mountaineers in Morgantown.
Podcast episode
Kansas basketball coach Bill Self, freshman Andrew Wiggins and sophomore Jamari Traylor discuss the Jayhawks' loss at WVU, and what's next for KU.
KEEGAN RATINGS
WEST VIRGINIA 92, KANSAS 86
Morgantown, W.Va. — West Virginia junior point guard Juwan Staten of Dayton, Ohio, sat down with his father last summer to discuss goals for the upcoming season. Staten made becoming a unanimous first-team all-conference pick and Big 12 player of the year honors two of his primary goals.
Staten's veteran coach, Bob Huggins, took it one step higher Saturday after watching his floor leader direct West Virginia to a 92-86 victory against Kansas University in WVU Coliseum.
"I'll share this with you," Huggins said. "On my ballot, the All-American one when you're allowed to vote for your own player, I voted for him first-team All-America. I think he's the best point guard in the country."
Staten and KU's Andrew Wiggins both helped their strong cases for Big 12 player of the year honors. Staten contributed 24 points, five rebounds and nine assists, driving his team to a 25-point lead. Wiggins had 41 points, eight rebounds, five steals and four blocked shots, steering a comeback to within four points.
"I've never seen him play like that," Huggins said of Wiggins. "He made shots today and when he makes shots he's really difficult."
Staten had more help in this one than did Wiggins. Freshman center Devin Williams had a career-high 24 points and 13 rebounds and guard Eron Harris, hitting 5 of 7 three-pointers, scored 28 points.
Huggins explained why he wrote Staten's name on his first-team All-America ballot.
"What he does for us at both ends of the floor," Huggins said. "We're in the best league in America. I think that's what pretty much everybody agrees on. Here's a guy who has been first or second in scoring. He's led in assists. He's led in assists-to-turnover ratio. He's in the top 15 in rebounding. He's in the top five in field-goal percentage. There's not one area that you can really look at that he's not one of the top guys in the league at. 
"You're talking about a 6-foot point guard and he's one of the top 15 rebounders in the league. What more do you want him to do?"