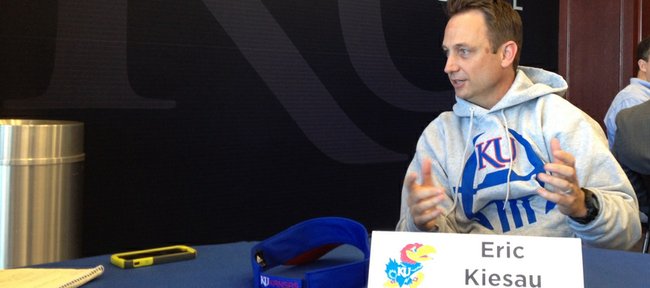 Former Washington offensive coordinator Eric Kiesau was days away from a family trip to Hawaii — flip-flops and sunscreen packed — when he took a call from Kansas University O.C. John Reagan.
Instead of soaking up the sun and settling in as a stay-at-home father, Kiesau found himself on a 6 a.m. flight to Lawrence, where he met with Reagan and KU coach Charlie Weis about joining the Jayhawks as their wide-receivers coach.
"That was a whirlwind," Kiesau said on Thursday, just hours before taking the field for KU's first practice of the spring season. "I don't even know what I remember. I had a 6 a.m. flight, and I was up at like 3 in the morning to make sure I didn't miss the one flight we could get. I was kind of all over the place, but I'm glad I did it."
The call came on a Thursday. The flight to Lawrence was on Friday. And by Saturday night he had met up with his family in Hawaii with a whole lot to talk about.
Kiesau's long-standing respect for Weis and Reagan, along with their similar philosophies, made the decision to join the KU coaching staff much easier than the travel arrangements that made it happen. Now, Kiesau said his plan is to move fast and make up ground as he goes.
"I told (KU's receivers), 'I'm gonna set the bar high, and I'm gonna expect you guys to catch up,'" he said. "I'm not gonna be OK with average play. Is it gonna take one day, three weeks, all through fall camp? I don't know. But at some point we'll get there."
Weis said Kiesau walked into a new situation at the perfect time. With first-year offensive coordinator Reagan coming in from Rice and planning to add his own touches to the Jayhawks' current terminology, Kiesau can help shape KU's new offense rather than play catch-up.
Kiesau's challenge is significant given the recent struggles of KU's wide receivers. But rather than dwelling on past ineptitude or worrying about his group's poor reputation, Kiesau said he was eager to move forward with a "clean slate" for everybody and establish a foundation in the 14 remaining spring practices.
"The biggest thing right now is trust," Kiesau said. "They don't know me, and I don't know them. Everything that they're hearing come out of my mouth will be a first for them. There's not a honeymoon."
Kiesau closed out those care-free days back in Hawaii with his family. Now the 14-year college coaching veteran is doing exactly what he loves to do and is in a situation he feels good about.
"It's pretty refreshing when you have a guy with coach Weis' experience and the success he's had to say, 'You know what, I'm gonna let someone else do it,'" said Kiesau of Weis handing over the offense to others. "I've worked with some big names in the past that could never do that. I think that's huge. He's opening it up. He's saying, 'Hey guys, I'm open to new ideas, what are you gonna do?'
"I told him after Day One, 'I don't care if you call me the receivers coach, I don't care if you call me the water boy, I just want to coach football.'"