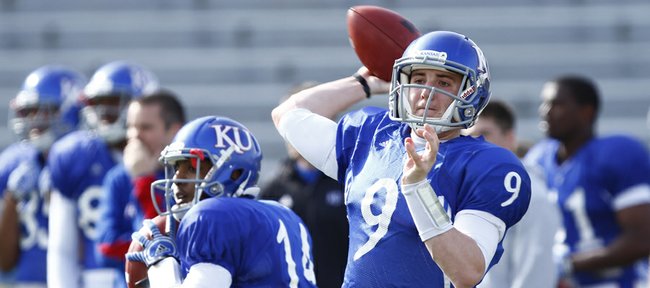 It's been nearly 20 years since Kansas University football coach Charlie Weis entered a season without the words "offensive coordinator" tucked next to his name on his team's official roster.
While Weis' coordinating duties have taken him to three different schools and three NFL teams during the past 17 years, there's only one role he wants to focus on as he enters his third season at Kansas — head coach.
"I haven't not been the offensive coordinator since 1997," Weis said during his pre-spring meeting with the media on Monday. "But I think it will give me the opportunity to be a much better head coach. It is really important to me. I think I will be able to help the team much more as a head coach, than when you are putting so much time into the offense."
More spring football coverage
Podcast episode
Kansas football coach Charlie Weis addresses the media prior to start of spring football on March 3, 2014.
In stepping away from his hands-on role with the Jayhawks' offense, Weis essentially is proving something many of his critics never believed he was capable of admitting.
"Most people won't swallow their ego and recognize the fact that (they) aren't the answer," Weis said. "Now, I think I am smart enough to learn how to try to do that, but I haven't been doing that. I've been doing it the same way for a long, long time. So I thought the better answer was to bring somebody in who is used to scoring in the 40s."
That person is new offensive line coach/offensive coordinator John Reagan. On Monday, Weis discussed the plan for installing KU's new offense, which figures to combine some of what Reagan ran at Rice with some of the terminology KU already used.
"I told John, 'Just don't be impatient, just trying to get everything in, in the springtime,'" Weis said. "'Put in things as you want to put them in.'"
That approach should allow the Jayhawks' offense to move fast this spring despite not knowing the answer to questions at quarterback, offensive line and wide receiver.
"The bottom line is we have to identify the guys that we think that can make plays and make sure that by August we figure out ways that we can get them the ball to give them the opportunity to do that," Weis said.
With the first of 15 spring practices set for Thursday, Weis was asked if the month-long spring session provided enough time to evaluate how quickly players, particularly quarterbacks, were picking up the new offense.
"You bet," he said. "Because by day four, we are going full speed. We are cutting. We are taking them to the ground. We don't wait around on that. That Thursday before spring break (March 13), they are all thinking about spring break; I'm going to wear them out. They are going to leave tired, I promise you. I think that the only way to find out is if you do things full speed, and there will be plenty of full speed in the springtime."