Photo Gallery
Kansas basketball v. Texas Tech (senior night)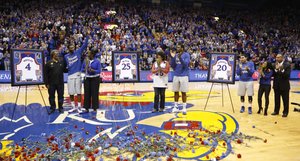 Images from Wednesday's game between the Jayhawks and Red Raiders at Allen Fieldhouse.
Podcast episode
Bill Self on celebrating KU's seniors and the Big 12 title
Podcast episode
Kansas basketball players Tarik Black, Andrew Wiggins and Naadir Tharpe discuss their home finale, and where the Jayhawks go from here, after defeating Texas Tech, 82-57, on Senior Night, which doubled as the final home game for one-and-done freshman Wiggins.
KEEGAN RATINGS
KANSAS 82, TEXAS TECH 57
The mind has to drift somewhere when the game plays out as one-sided as Wednesday night's in Allen Fieldhouse, where the scoreboard read Kansas 82, Texas Tech 57 at the end.
Mine drifted to Joel Embiid's return, whether that comes in time for the Big 12 conference tournament or the NCAA Tournament.
Tarik Black looked so strong, so focused, so talented in place of Embiid that I couldn't stop picturing the two centers playing together when KU faces a team armed with long and strong inside players.
It has happened here and there, but not very often.
Might we see the centers playing together once Embiid returns?
"It could happen," Self said. "There's no question. But if you play them together some that means (Perry) Ellis and (Jamari) Traylor aren't in there, too. The majority of the teams we play — Texas Tech is one of the few that plays with two low-post players —  most of them play with a stretch four (three-point shooting threat) and a big. So sometimes that makes it a little harder for those guys to guard three-point shooters. But yeah, they could play together. There's no doubt about that."
Only junior guard Naadir Tharpe (96 minutes in five games) has logged more NCAA Tournament time than Black (93 minutes in four games), who played well in plenty of big games during his three seasons playing for Memphis, his hometown university. In the regular season a year ago, Black scored 21 points in 22 minutes against  a Louisville team that went on to win the national title.
If a tourney game with the right matchups presents itself so that it makes sense for Embiid and Black to play in tandem, it's nice to have the luxury of turning to such an experienced, talented player.
Black's performance won't change Self's approach as to when he decides to bring back Embiid (out with a strained lower back). Embiid will sit out Saturday at West Virginia and then Self will go from there. 
No point in rushing Embiid back into the lineup.
Not because Black played so well in his 70th career start. Not because KU would have a decent shot at winning the Big 12 tournament in Kansas City without the freshman 7-footer from Cameroon. The more rest Embiid gets the better. The less he plays in advance of St. Louis, the likely first stop for KU in the NCAA Tournament, the less chance he has of re-injuring his back.
Getting Embiid back to close to full strength outweighs concerns about KU's seed possibly dropping during his absence. It would take discipline to hold back Embiid with the possibility of a sixth No. 1 seed in eight years dangling — a mind-blowing stretch of excellence — but Self clearly will put a premium on getting Embiid ready for the big tourney.
"I'm not sure a '1' seed guarantees success," Self said. "I'm not sure it makes much difference. It's more about matchups than it is what you're seeded. I think from an ego standpoint, everyone wants to be a so-called '1.' It's nice to be in the conversation, but we won't be unless we play well moving forward. I just want us to have as much momentum and be as healthy as we can, regardless of what seed line we're on."
After re-aggravating his back in the loss in Manhattan, Embiid sat out one game and played four more before shutting it down again. Taking two weeks off, knocking off the rust in limited minutes in the NCAA Tournament opening game against a No. 15 or No. 16 seed, and then 
bringing KU back to full strength in the next round seems like the safest way to go.