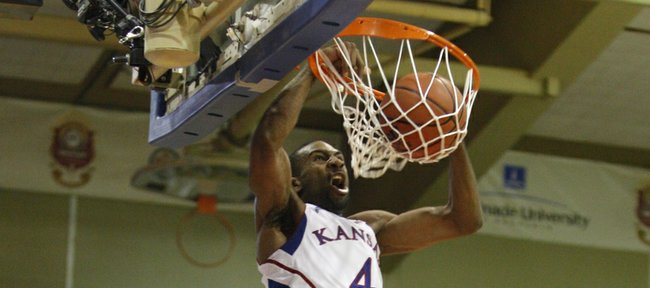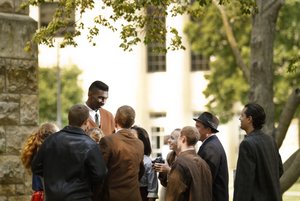 Off the court, Justin Wesley is best known in Lawrence for his film portrayal of Wilt Chamberlain in the recent movie release, "Jayhawkers."
On the court, he's the walk-on transfer from Lamar University who averaged 8.6 minutes a game — 7.8 minutes in Big 12 action — for KU's 2011-12 NCAA runner-up/Big 12 championship team.
The 6-foot-9, 220-pounder from Fort Worth, Texas, played double-digit minutes in 12 games that season and nine minutes in eight other games as a huge contributor off the bench for the 32-7 Jayhawks.
"That year definitely was an up-and-down experience, is the best way I could put it," said Wesley, who has been unable to crack the rotation in any of his other two seasons at KU. "It didn't really go the way I had foreseen it," added Wesley, who was bitterly disappointed the Jayhawks fell to Kentucky in the national-title game. "It was still a great year. We still went the farthest we could go, the farthest a college basketball team could go in a season. It was a good year."
Wesley, who will start the first game of his KU career during Wednesday's 7 p.m. Senior Night game against Texas Tech (he started two in 2009-10 at Lamar), agreed that his most memorable game was a 21-minute outing in a Champions Classic loss to Kentucky in New York's Madison Square Garden. He had five points and five rebounds in a 75-65 loss early in the national runner-up season.
"I'd say the atmosphere of Madison Square Garden, going against what people thought was the best team in college basketball … I'd say that was definitely my favorite (game)," Wesley said.
His on-court highlight? "I guess the only highlight they show of me is against Georgetown, getting that dunk, I guess," he said of a vicious slam of an alley-oop pass from Tyshawn Taylor in the 2011 Maui Invitational.
Wesley, who played just 68 minutes all of his junior season and 21 so far in his senior campaign, is not despondent over the fact he hasn't contributed more in games. He knew upon making the move from Lamar there could be a batch of talented big men to beat out for playing time.
"My experience has been great. Of course I wanted the basketball side of it to go a little bit differently. That's a part of life," Wesley said. "Some things go your way, some don't. You have to make the best of it. That's what I've done. I made the decision to transfer here and walk on. I'm still happy with my decision today, regardless of how basketball went. My experience has been a helluva experience. I do not regret anything."
In fact ... "my love (of KU) hasn't diminished. If anything, it's grown," Wesley added. "Some of the best experiences I've had in my life so far have been here."
KU coach Bill Self remembers the 2011-12 season vividly.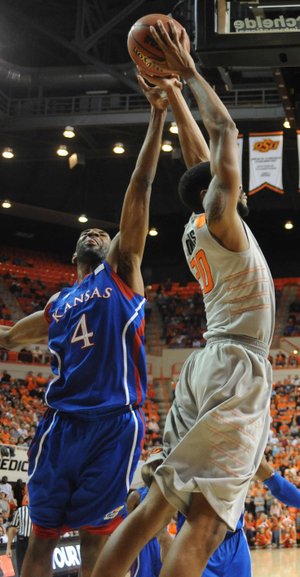 "Justin was our first big off the bench," Self said. "He's a talented player. He contributed a lot when he first became eligible (sophomore season in 2011-12) and has contributed a lot since."
Wesley, who received positive reviews for his work as an actor in "Jayhawkers," said there's a chance he'll pursue acting as a career. He doesn't think he'll travel overseas to become a professional basketball player.
"My two older brothers play overseas," he said of former KU player Keith Langford, as well as TCU's Kevin Langford. "I know going over there I won't play in one of the top leagues. It's going over there September through June by yourself and alone. I don't know if I'm up for that."
He's ready for a memorable Senior Night, which will include giving a postgame speech to the fans.
"No," he said, asked if he'll be nervous. "I've never had a problem with talking or being in front of people or in front of the camera. I love to talk."
He will have something to say about his college coach, Self.
"He taught me a lot on the basketball court. The stuff he teaches you off the court transitions to things you'll deal with in life, also," Wesley said. "He's taught me a lot about being a man, what to do when going through ups and downs. He's definitely been a teacher to me."
Wesley — his roommates at KU have been Josh Selby, Jeff Withey and Tarik Black last summer; he's living off campus his senior year — said he'd like to do what he can to help lead a young team to an NCAA title.
Remember, he has been to the title game.
"Yes, at the same time, I think that kind of lies with Naadir (Tharpe) and Perry (Ellis) and Jamari (Traylor). They are generals on the court," Wesley said. "They have to be more responsible helping everybody understand the magnitude of it, stressing that even though it's a serious time, you have to have fun with it.
"Any team that makes the tournament has a run in it," he added. "It all depends on taking the necessary steps to get to that point to make a run at it. As long as everybody is on the same page and everybody has the same focus, we definitely have a shot."
More like this story on KUsports.com