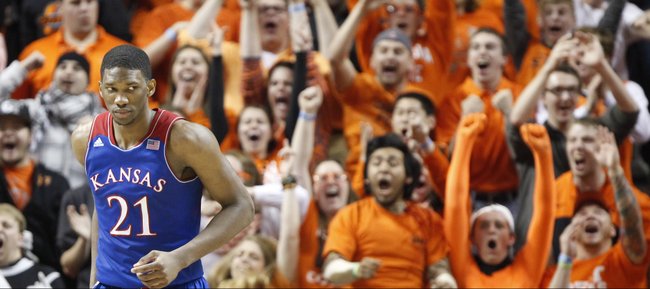 A lower-back strain will keep Kansas University freshman center Joel Embiid off the court the final two games of the regular season.
The 7-footer from Cameroon, who was injured with 41⁄2 minutes left in Saturday's loss at Oklahoma State, will sit out Wednesday's Senior Night game against Texas Tech and Saturday's West Virginia contest, then be re-evaluated on Sunday, coach Bill Self said Monday.
"Joel re-aggravated a spot in his lower back that he was dealing with a few weeks ago," Self said. "We had another MRI performed (Sunday). We've also spoken with experts with this particular injury and have been told the same thing we were told before: Rest is the best remedy. Rest did him good the last time he sat out."
Embiid, who averages 11.2 points and 8.1 boards a game, missed the Feb. 15 TCU game because of his aching back.
"It should not be an injury that keeps him out for the rest of the season," Self said. "Last time he was off five days, and that worked very nicely for him, and he was able to come back and be 100 percent."
Embiid is coming off consecutive double-doubles, with 12 points and 13 rebounds against Oklahoma (Feb. 24) and 13 points and 13 rebounds at Oklahoma State (Saturday).
"We've made a decision that since we are so close to the postseason, we will re-evaluate him on Sunday," Self said. "If the discomfort ceases, he should be able to practice on Monday (March 10) and participate in the Big 12 Championship. If he's still having symptoms of tightness and soreness, then we will look at sitting him longer through the postseason conference tournament, but there is no reason why he should not be feeling much better by the NCAA Tournament. The doctors feel that amount of time off should do him wonders for how he is feeling."
Self indicated an expert in lower-back injuries was shown Embiid's MRI. The expert has worked with several football offensive linemen who have had lower-back injuries.
"It can't get worse than it is, but when it gets bumped, it's going to hurt," Self said. "The majority of symptoms are tightness, not a throbbing pain but tightness. He feels he needs to stretch all the time. He can't get loose. It's very severe now.
"If he can practice (next) Monday and Tuesday pain-free, we'll play him. Doctors say we should. If it's not, we'll give him another week. We think the high end on this is two weeks. If after two weeks feels the same, we won't (play him). I don't think that will be the case, off what one of the foremost authorities on this particular lower-back situation tells us."
Self said Naadir Tharpe (dislocated left thumb) should not miss any time.
Net-cutting controversy continues: Oklahoma State's Marcus Smart said after Saturday's win over KU that one of the reasons he played so well was his desire to keep the Jayhawks from cutting down the nets in Gallagher-Iba Arena. He said the coaches showed him a quote of Self saying he wanted to come to OSU and clip the nets after a Big 12-clinching victory
Self told the Journal-World Sunday he never said anything about cutting down nets. And on Monday, OSU coach Travis Ford said he never presented such a quote to Smart.
"I never heard Bill Self say they were going to cut down the nets. I never saw that. I think Marcus was probably equating if they (Jayhawks) win in Stillwater they would celebrate then, and he probably just equated something along that line. There was nothing ever said. We never showed any quote of that at all. Absolutely not," Ford said.
Ford also said: "You try to motivate your team. We told them what was at stake for Kansas, how hard they were going to play. They've got a great team, great kids. They are playing hard, and they deserve when they win it outright to celebrate. They deserve that."
Self again was asked about the issue on the Big 12 teleconference.
"That was disturbing seeing that," Self said of Smart's quote. "I don't know where he (Smart) got that information. That's not for me to answer. (It's) certainly 100 percent false. There was never one thing uttered out of my mouth to talk about doing anything on somebody else's floor. I don't know where that came from, but certainly that's not for me to answer."
Curie OK for postseason: KU signee Cliff Alexander's Chicago Curie High team is eligible to compete in the Illinois state playoffs, it was reported Monday. Curie recently was stripped of all regular season Public League victories for using ineligible players.
Lineup: Self said on his "Hawk Talk" radio show that seniors Tarik Black, Niko Roberts and Justin Wesley would start Wednesday on Senior Night against Texas Tech along with freshmen Andrew Wiggins and Wayne Selden.
More like this story on KUsports.com