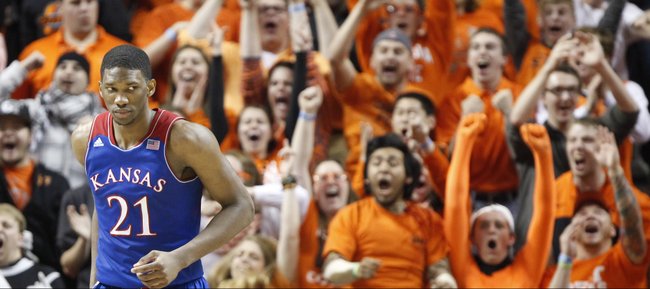 Photo Gallery
Kansas basketball v. Oklahoma State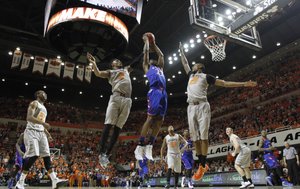 Images from Saturday night's game between the Jayhawks and Cowboys in Stillwater, Oklahoma.
Podcast episode
KU coach Bill Self discusses KU's 72-65 loss at Oklahoma State.
Podcast episode
Perry Ellis and Wayne Selden's postgame press conference after 72-65 loss to Oklahoma State.
KEEGAN RATINGS
OKLAHOMA STATE 72, KANSAS 65
Stillwater, Okla. — Kansas University junior point guard Naadir Tharpe exited Gallagher-Iba Arena with a huge ice pack engulfing his entire left hand Saturday night.
He dislocated the thumb on his non-shooting hand in the Jayhawks' 72-65 loss to Oklahoma State.
"It popped out. They just had to pop it back in so I could keep on playing," Tharpe said of the thumb. "I should be good. It just popped out of place."
He had six points, six turnovers and five assists in 34 minutes.
KU freshman Joel Embiid, who scored 13 points and grabbed 13 rebounds, needed to leave the game in the second half after re-injuring his back. He stretched under the supervision of trainer Bill Cowgill and returned.
Embiid not only limped off the court after the contest to the locker room, but trudged slowly to the team bus out of the arena. Some tears fell down his face as he was consoled by a parent of one of KU's players.
"He tweaked his back," Self said of the 7-footer, who has been slowed by back and knee injuries the past several weeks.
KU coach Self fittingly coached a milestone game — his 700th in a 21-year career — on Saturday at the place he was introduced to the college game, alma mater Oklahoma State.
The former Edmond High standout, who played point guard at OSU from 1982 to '85, was subject of a positive day-of-the-game column by John Hoover of the Tulsa World. 
The headline read: "Bill Self set for life at Kansas thanks to success."
Hoover wrote: "Self won't ever wear out his welcome in Lawrence. He's just too good, and they adore him too much."
Self entered Saturday's game with a career record of 529-170. Seven coaches have had more career victories in their first 700 games coached: Adolph Rupp (593), Jerry Tarkanian (575), Roy Williams (566), John Kresse (558), John Wooden (545), Dean Smith (539) and John Calipari (538).
"Without question. I really do think we could retire here. We're totally happy," Self told the Tulsa World. "But I'm not saying that's what we'll do. I have no idea what the future holds. There will be a time where there's a possibility they'll get tired of my rhetoric. It'll grow stale on everyone. I hope it doesn't happen for awhile.
"But I understand the shelf life on a lot of coaches, especially at a high-major place. I don't know exactly what it is. It probably varies from time to time. But I agree (with the notion) that it's hard to keep improving if you've had some sustained success. Fortunately for us, we've kind of been able to."
Self beloved in Stillwater: Self still has plenty of friends in Stillwater, many who would like to see him return to his alma mater as coach.
"I've forgotten most of my memories from back in age 18 to 22," said Self, 51, who played at OSU from 1982 to '85. "The first time I went back (as KU coach) I made a mistake. It was a big game and they (Cowboys) were loaded. That was the year they went to the Final Four. We ended up losing in the Elite Eight, but they rocked us good."
Indeed, Self's first KU team fell to OSU, 80-60, in February of 2004 at Gallagher-Iba Arena.
"I think I called three timeouts in the first four minutes and got a technical just so that way we could stop play a little bit to catch our breath, and they rocked us pretty good," Self said. "(On that trip) I toured every place and went to lunch with old friends and all that, and I realized after that, we're not going to go down that path again. It's strictly a business trip. If I'm able to see some of my buddies, it's after the game in the hallway as we leave."
Best ever: Self on Thursday was asked who is the best player he's ever coached.
"You could say Deron Williams was, but, he was just a freshman when I had him (at Illinois)," Self said of the Brooklyn Nets guard in an interview with Fox Sports radio's Jay Mohr.
"He was the best defender on our team. I think he averaged only about eight (points) a game. As far as college players, the best college player I ever had was probably Wayne Simien for production. But, when you talk about who is going to be the best player.....the two guys I'm coaching now are going to be the two best players I've had. Andrew Wiggins and Joel Embiid will be the two best players I've ever had. The ceiling for both of them is so high. They're both so young and green and just starting to figure it out. They can do some things that you just can't coach and they're both ridiculously bright so I think they could be the two best I've ever had."
Self on the Cowboys, who entered with an 18-10, 6-9 record. "Oh, I think they're good. I think when (Michael) Cobbins went down (torn Achilles in December) that's obviously a big blow," Self said. "It would be the equivalent of one of our key players going down, so that was a loss. "They're capable of beating anybody, and they're certainly capable of beating anybody at home.
"Whether or not their talent level, if you're going to rate them, I have a hard time doing that because I could look at different teams in our league, and based on how we play, who's the hardest to guard, this or that, but I do think Oklahoma State is right at the top when talking about raw talent in our league."
KU has clinched the No. 1 seed for the Big 12 postseason tournament. The Jayhawks will play a yet to be determined foe in the quarterfinals at 2 p.m., Thursday, March 13 in Sprint Center in Kansas City, Mo.
More like this story on KUsports.com