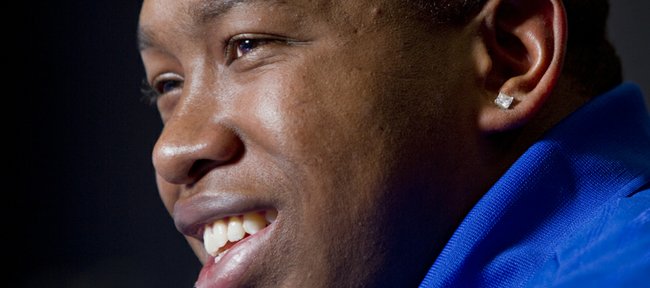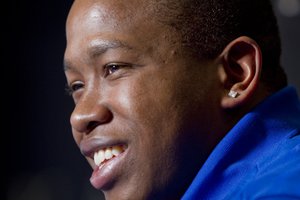 Kansas University football coach Charlie Weis isn't afraid to share his expectations for mid-year junior-college transfer Keyon Haughton.
At the signing day news conference last month, Weis said Haughton will be a guy to watch for the upcoming season. Weis even called the offensive lineman who transferred from Georgia Military College "a bad muchacho" and said he'd be a guy he'd want on his side in a street fight.
"It made me feel good," Haughton said. "It made me know that you're all going to be looking out for me, and I'm going to work hard so you all can see me and spot my talent."
Haughton only began playing football in his freshman year of high school. Growing up, he was a long-stick midfielder in lacrosse and also played basketball. At Du Bois High in Baltimore, he played tackle on the offensive line despite not having nearly the 6-foot-2, 310-pound stature he's at now.
Haughton's father, Demetrius Whitted, pushed Haughton to work out longer and harder than the rest of his teammates.
"A lot of push, especially on the weekends," Haughton said. "When no one else was working, he made sure, like, 'Let's go lift weights. Let's go run. Let's go do anything extra, don't just sit down.'"
Whitted, an assistant coach during Haughton's junior and senior seasons at Du Bois, used his connections to help get his son a spot at Atlanta Sports Academy, a prep school, before he eventually went to GMC.
"He made me step up," Haughton said. "Even in JUCO I called him a couple times about what I needed to do, how I needed to do it. He helped me by just saying, 'Keyon, you've got to make sure you keep working. Don't forget what you did for this.'"
Haughton, who was a guard for GMC but prefers center because he likes the responsibility of calling out the blocking assignments, was a part of an offensive line that led the NJCAA with 289 rushing yards per game last season. GMC had several wins over ranked opponents before losing in the national championship game.
Another member of the line, left tackle Devon Williams, has also signed with KU and will report to campus in the summer.
"The O-line was close. We always joked on each other. We always played around," Haughton said about the 6-foot-5, 335-pound Williams. "When me and him actually came on a visit, we both were, like, this is a place for us. We need to come here."
Haughton also spent some time with senior defensive lineman Keon Stowers at GMC. The coaches introduced the two in Haughton's first week because they share the same name, despite different spelling. Stowers eventually became Haughton's host on his official visit to KU, and the two are now roommates.
But Stowers has done more than just live with Haughton. He showed him where all of his classrooms are and taught him how to navigate the bus schedule to get around campus.
"We actually worked out together before he left (GMC)," Haughton said. "Then when I came here, we actually got a little tight. We know what we both went through. We went through the same thing. The more we talked about it, the closer we got."
Stowers hasn't been the only teammate helping Haughton get acclimated to Lawrence. Though Haughton has found KU's offseason workouts difficult, the rest of his teammates have motivated him to work through it.
"These guys are very hungry," Haughton said. "Every time I deal around them off the field, and in the lunch room or wherever we meet up, they always talk about how we need to step up the game or everybody needs to be a leader. Not just one person. If you see a guy down, then pick him up. They've been pushing me so we just keep pushing each other."
It's been a long road since Haughton was back in Baltimore and still learning how to play football. It's even quite a ways from when Haughton first arrived at GMC and had to learn how to wake up every day at 6 a.m. and the military marching steps.
"It's just a long, long trip," Haughton said. "Me and my friend actually looked back at it, and he was, like, 'Man, we went through a lot.' Just to go from high school now to D-1, it's just crazy."