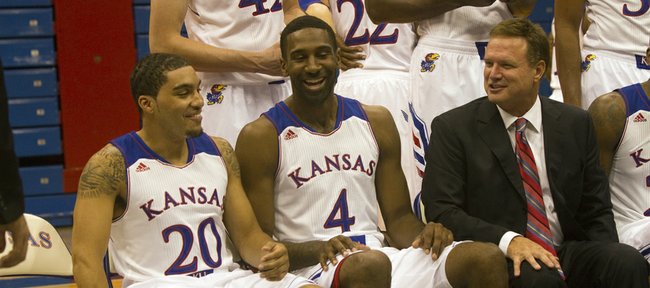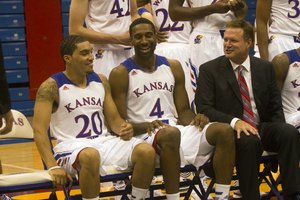 There are days Kansas University senior walk-on Niko Roberts leads the Red (Scout) Team in a two-hour basketball practice in Allen Fieldhouse, then heads over to Lawrence High's gym to watch his brother, Justin, direct the show for the Lions.
"After that, I'll go watch basketball on TV for three hours," said Niko, a self-proclaimed hoops "junkie."
"I'm like my dad. I can watch basketball all day and night."
Son of current KU assistant/former St. John's head coach Norm Roberts, Niko has lived and breathed basketball at KU the last four seasons.
Per tradition, he'll be honored with his parents amid a flower shower before Wednesday's 7 p.m. Senior Night game against Texas Tech, then after the final horn grab the microphone and speak to the fans with fellow seniors Tarik Black and Justin Wesley.
Brother Justin will be among those in the stands listening to Niko's every word.
"It never gets old watching him play and watching him get better," Niko said of Justin, a sophomore starting guard at LHS. "I'm so proud of him."
Norm Roberts, who is in the second year of his second stint as Jayhawk assistant — he worked for coach Bill Self in 2003-04 before leaving for St. John's, where he served as head coach for six seasons — says it has been gratifying to see Niko take his little brother under his wing.
"Niko was excited about me and his mom coming back (Niko's junior year), but I think he was even more excited to see his brother on a daily basis," said Norm Roberts, who worked one season at Florida before accepting an offer to rejoin Self's Jayhawk staff.
"What is so cool is Justin idolizes and looks up to Niko as a person and how he carries himself and what he does on a daily basis. Niko loves to watch Justin play. Niko wasn't as naturally gifted athletically and had a knee problem coming into college. He loves that his brother has speed and some athleticism. It's great to see them interact with each other."
Niko Roberts, who averaged 16 points a game his senior year at St. Anthony's High in Huntington, N.Y., regularly plays competitive games of one-on-one with Justin as well as Norm, third all-time leading scorer and all-time steals leader at Queens College.
"Right now, my dad doesn't stand a chance. He'll just try to talk his way into a win," Niko said. "Me and my brother haven't played in a while. He's going to get me soon. In a couple years, it'll be no contest. He'll beat me every time. He's definitely legit.
"I give him pointers all the time. He listens," Niko added. "He's really coachable. That's why he gets better so fast."
Niko, who has scored seven points with seven assists, seven turnovers, seven steals and 15 rebounds in 39 career games at KU, knew coming in that playing time at KU would be difficult to come by.
"It's been an adjustment," said the 5-foot-11, 175-pounder, who received some NCAA Div. II and III offers out of high school. "Practices have really become my games. In high school, I dreaded practice. Here I love it. Every day I'm getting better against the best players in the country. It's just fun every day."
It's also physical every day.
"I'm definitely starting to feel a little bit older," Niko said. "I definitely can feel my body (getting) a little weary. As bad as it is," he added of the bumps and bruises of major-college ball, "it's never going to get any better than this."
The communication-studies major — he'll work an internship for adidas in Portland, Ore., this summer and hopes to land a full-time job with the company — said the "best part of my experience by far has been my teammates."
That includes bonding with former roommates Royce Woolridge, Ben McLemore and Landen Lucas. He lives alone off campus his senior year.
"Best friend, brother ... I mean, we came here together," said fellow senior Wesley. "We developed a relationship that will go on for a very long time, for the rest of our lives."
Norm said it has been gratifying to see Niko make so many friends at KU.
"It couldn't have worked out any better," Norm said of the walk-on experience for his son. "He went on a couple (recruiting) visits, then came back to me and his mother and said, 'I want to go to a big school that has a great basketball team and I can be part of it.' We explained to him, 'You might not play much going to a school like that.'
"I was on the phone with coach (Self). He said, 'What's Niko going to do (for college)?' I said, 'Coach, I'm not sure.' Coach said, 'Why doesn't he come to school here?' I reached out to Niko, told him what coach said. Coach talked to him and told him what his responsibilities would be. Nobody pushed him either way. He came to us and said, 'Dad, I want to go to KU.'"
Norm and his wife, Pascale, knew Niko made the right decision the summer before Niko's freshman season.
"The guys were working out one night. He's playing pickup with Tyshawn (Taylor) and those guys. His mother and I were getting ready to go home (to New York) the next day. He walks over to me, and he sits down next to me. It's just me and him. He says to me, 'Thanks, dad. This is awesome. I can't believe I'm out here with these guys. I really appreciate everything you and mom have done for me.' It probably was the coolest thing he could ever say to me as a dad," Norm Roberts said.
Niko said it has been a joy getting to be coached by his dad.
"We work a lot with each other. It's always fun, a lot of jawing going back and forth," Niko said. "He motivates me in his own way. He makes practice more fun for me.
"The most (advice he gives) is be aggressive, especially if I get to play (in game). He tells me, 'Play like you do in practice and you'll be fine.' He helps me a lot."
Self, who held Niko in his arms when he was a baby — Norm has been on Self's staffs at KU, Illinois, Tulsa and Oral Roberts — said he has enjoyed being Niko's coach.
"He's improved so much, worked hard in the weight room," Self said. "His body is strong. His game has improved, and he's become a terrific practice player. He's tough and wants to help the team any way he can."
He also wants to support his brother's Lawrence High team any way possible.
"Before he's done, hopefully. I could see it happening," Niko said of LHS and Justin winning state. "They've got to be a scrappy team because they are so small. If they stay scrappy, they can beat anybody. I can basically give a good scouting report on that entire team. They are doing well."