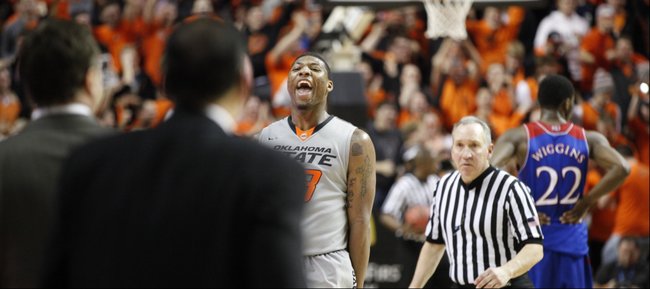 Photo Gallery
Kansas basketball v. Oklahoma State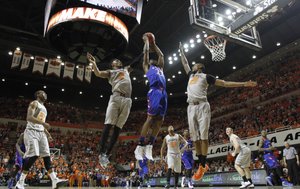 Images from Saturday night's game between the Jayhawks and Cowboys in Stillwater, Oklahoma.
Podcast episode
KU coach Bill Self discusses KU's 72-65 loss at Oklahoma State.
Podcast episode
Perry Ellis and Wayne Selden's postgame press conference after 72-65 loss to Oklahoma State.
KEEGAN RATINGS
OKLAHOMA STATE 72, KANSAS 65
Stillwater, Okla. — After thousands of his new closest friends stormed the floor at Gallagher-Iba Arena to celebrate Oklahoma State's 72-65 victory over No. 5 Kansas on Saturday night, OSU senior Markel Brown found himself crowd surfing above the jubilant crowd.
Turns out, it wasn't the only time he's done that.
Two years ago, Brown found himself soaring above the sea of orange after an upset victory over Missouri. In that one, Brown had to make like a fan and rush the court himself because he spent the game's final seven minutes in the locker room after being ejected.
"I was nervous in the locker room the whole time," said Brown, recalling his first hang-ten moment. "I snuck back out there and celebrated with my team and the fans. No sneaking this time.... I think this time was better. It's my second to last game, the house was packed.... It's always great beating Kansas."
It also almost didn't happen. After trailing 26-25 after a scrappy and sloppy first half, the Cowboys (19-10 overall, 7-9 Big 12) found themselves trailing by 10 points — 52-42 — midway through the second half. From that point on, OSU's leaders stepped up and either scored or assisted on the Cowboys' final 30 points to pull out the victory.
"It's just our offense," said Le'Bryan Nash, who scored 16 points on 6-of-9 shooting. "Our offense goes through us three. We're all big-time scorers and we like making plays."
Brown and Marcus Smart added 21 points apiece and, in doing so, made the kind of statement OSU needed to bolster its case for inclusion in the upcoming NCAA Tournament. KU coach Bill Self said there's no question that the Cowboys are tournament-worthy given the amount of talent they have. Brown said he thought Saturday's win over such a highly ranked team was enough to prove it.
"Tonight was a big win for this team," Brown said. "Our heads were high in the locker room.... That's what we're capable of doing every night."
Brown, Smart and Nash were so excited to meet with the media following Saturday's victory that they jumped the gun on Self.
With KU players Perry Ellis and Wayne Selden having just talked about what led to their breakdown, the OSU trio that lit up Kansas for 58 points on 15-of-30 shooting stepped to the podium prematurely with wide smiles and the giddiness of high school boys at a Sports Illustrated swimsuit issue photo shoot. With the help of some OSU athletic department officials, they quickly realized their mistake and gave way to Self. The extra wait did nothing to stem their excitement about a signature victory for a team that recently suffered through a seven-game losing streak.
Clearly pleased with the fight and toughness his team showed all night, OSU coach Travis Ford said the post-game happiness and court storming were a joy to watch. Ford added that the celebration was a credit to Kansas and all the program stands for. It wasn't the last time he complimented the Jayhawks before leaving his post-game press conference.
"(We just beat) a really, really good basketball team," Ford said. "A great team. A team that I predict could win it all and probably would be my pick."
More like this story on KUsports.com