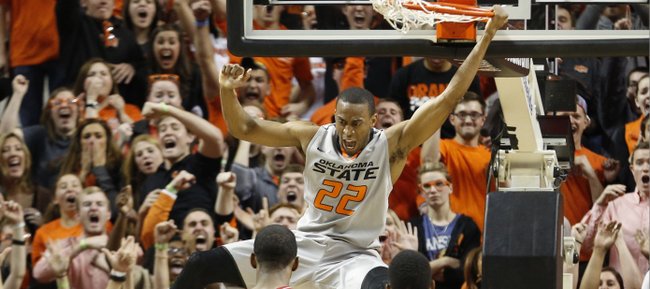 Photo Gallery
Kansas basketball v. Oklahoma State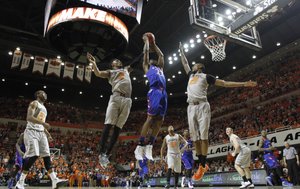 Images from Saturday night's game between the Jayhawks and Cowboys in Stillwater, Oklahoma.
Podcast episode
KU coach Bill Self discusses KU's 72-65 loss at Oklahoma State.
Podcast episode
Perry Ellis and Wayne Selden's postgame press conference after 72-65 loss to Oklahoma State.
KEEGAN RATINGS
OKLAHOMA STATE 72, KANSAS 65
Stillwater, Okla. — It's not possible to win 10 Big 12 basketball titles in a row without putting teams on the ropes and keeping them there.
That's where Kansas University had Marcus Smart's Oklahoma State team, which desperately needed a victory to revive sagging NCAA Tournament hopes.
Then Markel Brown got hot. Then Smart smelled blood, and when that happens, all bets are off.
Smart scored 20 of his 21 points in the second half, steering the Cowboys to a 72-65 comeback victory Saturday night in packed Gallagher-Iba Arena.
"His plays, once he made one or two, I could see it coming," Oklahoma State coach Travis Ford said. "You can kind of see it coming. He gets in that mind set, he's going to make some plays."
Smart's final two big plays were drives to the bucket, where Joel Embiid stood ready to block a shot. Smart, who had missed all seven of his first-half shots, didn't let that deter him. He shot both buckets right over the freshman 7-footer.
"When you're great at something and it's not going your way for a while, you're not going to quit," Ford said of Smart's first-half play. "He knew he was taking bad shots. He knew that."
Kansas had something to do with that. Wayne Selden and teammates stayed in the way of Smart in the first half, which ended with KU up, 26-25.
"I don't think you're going to shut him out, ball's in his hands too much," Kansas coach Bill Self said. "He's so good at driving it and his teammates helped him by getting us into the bonus. Like any guy who is thirsty or hungry, if you're the best guy in America at drawing fouls, you're going to drive it all the time."
On the other side, Kansas point guard Naadir Tharpe didn't have an uneven performance such as Smart's. On this night, Tharpe encountered two tough halves. His scoreless first half featured four turnovers. He finished with six miscues and six points, five nights after he played so well in scoring 19 points in a home victory against Oklahoma.
KU doesn't need a point guard who can dominate games the way Smart did in the decisive stretch Saturday. It just needs a steady hand to treat possessions as precious and settle down the team when things grow a little wild. Oklahoma State quickly kept Tharpe from having that sort of influence on the game and he  never could shake off his slow start.
On a night that at times recalled KU's 24-turnover loss at Florida, the Jayhawks had 22 spills. Oklahoma State knew the best path to victory came in stealing the ball before KU could throw it inside.
"Kansas is a very, very good team," Brown said. "We just went out there and we pressured them Cowboy style and we did it how we did it early in the season. We got them in our press, they kind of looked at it weird and started making turnovers. We pressured them on the defensive end and let our defense create our offense."
KU followed that path to most of its 10 titles under Self, but hasn't done as well at that this season. And the Jayhawks haven't always taken good care of the basketball. That will need to be remedied for KU to come close to reaching its high ceiling.
More like this story on KUsports.com