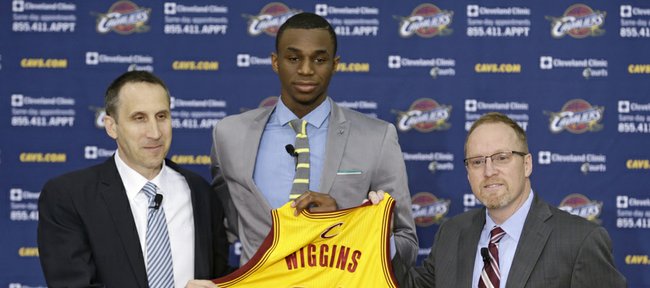 New York — The NBA has been known to fall in love with intense rivalries throughout the years.
Teams, players, cities and coaches, all have been paired together in a tumultuous tango designed to ramp up the hype and make the league and its players more marketable.
Former Kansas University forward Andrew Wiggins is not interested in helping out.
Wiggins, drafted No. 1 by Cleveland on Thursday night at the Barclays Center in Brooklyn, became the first Jayhawk since Danny Manning in 1988 to be selected with the top pick. However, just because Wiggins edged out Duke's Jabari Parker, who went second to Milwaukee, for top billing in the Big Apple, does not mean that the two are destined to become the next incarnation of Bird-Magic, Bulls-Pistons, Kobe-LeBron or Spurs-Heat.
"Good players will always be compared to each other," said Wiggins about 15 minutes after being tapped No. 1 in New York. "But I never think of anything as a rivalry. I think that's what the media portrays it to be."
Along their journey from prep stars to high-profile colleges and top-tier draft picks, Wiggins and Parker became good friends. They both own easy-going personalities. They both like sharing the love they get with their teammates. And they each have a common understanding of what the other is going through and, therefore, a greater appreciation of what they each have accomplished and how difficult it was.
That doesn't mean, however, that they don't like to compete against each other. Leading up to the draft, Wiggins made no secret of the fact that the idea of someone else being drafted first did not sit well with him. And back in early November, in Chicago, during the only collegiate meeting between these two sensational talents, Wiggins asked to guard Parker late in KU's 94-83 victory over Duke and outshined his fellow-one-and-doner down the stretch.
"On the court, it doesn't matter who I'm going against," Wiggins said. "I'm going to go hard. I'm going to go to win and kill. Off the court, we can be friends, but on the court, it's a different story."
Regardless of what becomes of the Wiggins-Parker rivalry — if anything ever does — the former KU standout said he thought both guys entered the NBA with a big-time advantage in terms of knowing how to handle what's ahead. The reason? The schools at which they played their lone seasons of college basketball.
"I think college really prepares you for a level like this," Wiggins said. "Especially a big-time school like Kansas or a Duke or a Kentucky, where you're always under the spotlight... You're basically treated like a rock star on campus or wherever you go in that state. I think that really translates to the NBA."
Another thing Wiggins believes will help him make the adjustment is the coaching he received from KU coach Bill Self during his one-year holding pattern that preceded Thursday night's dream-come-true event.
"He's a great, legendary coach, one of the best there is," Wiggins said of Self. "And he doesn't baby anybody. He really pushes you to be the best you can be, and he brought a lot out of me."
More like this story on KUsports.com