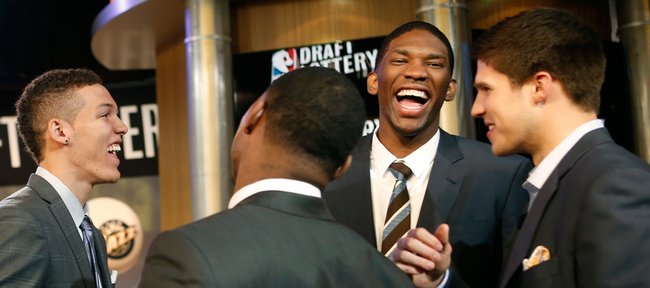 New York — The Cleveland Cavaliers may have ruled out former Kansas University center Joel Embiid for the No. 1 pick in tonight's NBA draft, but that didn't keep Embiid's name from popping up Wednesday in Times Square.
Former KU teammate Andrew Wiggins, during a 30-minute media session at The Westin, said he was disappointed that Embiid's injury kept him from flying to New York and offered a word of warning for teams thinking about passing on the 7-foot center from Cameroon.
"I know he's going to be good," Wiggins said. "Nothing's gonna stop him. His heart's too big."
Before last week, Embiid and Wiggins were in direct competition for the No. 1 spot in tonight's draft — 6 p.m. at the Barclays Center in Brooklyn. The KU duo along with Duke's Jabari Parker had been considered by most to be the "big three" in this year's draft. But after word leaked that Embiid had suffered a stress fracture in his right foot, the 7-footer quickly fell a few spots in most mock drafts. Such a shake-up had a direct impact on former Oklahoma State guard and KU rival Marcus Smart, who was rumored to be in the 6-7 range and now may go higher.
"I know Joel personally now," Smart said. "And he's a great kid. You never want to see anyone go down like that. I just feel sorry for him and I wish he was here. I guess (the injury) did shake up the draft a little bit, but I just hope it works out for him wherever he ends up."
That was the prevailing thought from Wiggins, who called Embiid both "one of my best friends" and "like a brother" when discussing the big man's draft prospects on Wednesday.
Wiggins said he and Embiid spoke on Tuesday and, although they had some playful banter along the way about wanting to out-do one another for the top spot, Wiggins emphasized that he'll be rooting for his former teammate.
"He's doing great," Wiggins said. "I just want him to do whatever's best for him. I just want him to be better. He's still a dominant player, blocking shots, dunking on people. That's just who he is. No one will ever be able to take that away from him."