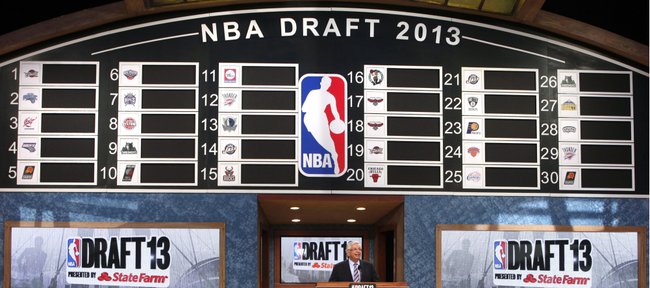 Trace the origin of most mock drafts to lies and misdirection plays. NBA general managers and their underlings for clubs holding lottery picks do their best to float the word, almost always off-the-record, as to their draft-day intentions. They do so to try to influence their competitors away from smart picks and toward safe ones.
So instead of looking at mock drafts to try to figure out what your favorite lottery team will do Thursday night, just ask yourself what you would do by ranking 1 through 14 the prospects available for this draft. In so doing, you'll probably get closer to draft results than the mocks constructed by those who have NBA sources.
Here's how I would rank them:
1. Joel Embiid (Kansas center): He is quicker than Jabari Parker and has more impressive offensive skills than Andrew Wiggins and, oh, by the way, he's 7 feet tall and a relative newcomer to the game. Even after a stress fracture of the back and a stress fracture of the foot that required surgery, it's odd that talk centers on The Big Three. It all should center on The Big One.
In any business, those who base decisions on what move will be least likely in resulting in a pink slip end up getting fired in the end. Only cowards would pass on Embiid.
Nothing to discuss here. Embiid is in a class by himself. His tumbling in many mock drafts has a manufactured feel to it, as if maybe teams are floating that to try to get other teams to back off of him so that he falls into their laps.
2. Jabari Parker (Duke small forward): He scores from inside and on the perimeter and has enough size and skill to project as an NBA All-Star. He won't make any all-defensive teams, but his passion for the game already has led to offensive creativity that will come in handy when defended by better athletes.
3. Andrew Wiggins (Kansas small forward): The best athlete in the draft, Wiggins might develop into a good shooter and might improve his ball-handling significantly, which is another way of saying he might not. His go-to move — drive from the wing into the lane, lose the ball and wait for the whistle — won't work in the NBA.
4. Dante Exum (Australian point guard): Son of Michael Jordan's former North Carolina teammate, Cecil Exum. From everything I've heard about Australia, the people are a blast and don't tie their self-esteem to getting to know superstar high school basketball players, so my guess is Exum isn't as vulnerable to conceit as many American prospects and therefore probably remained humble and worked hard on his game.
5. Julius Randle (Kentucky power forward): So much is made of his weaknesses — all left-handed, limited shooting range, trouble scoring in the post against taller defenders, etc. — some forget he's super strong, embraces contact, has a great motor, loves to rebound and is smart enough to work around his weaknesses and accentuate his many strengths.
6. Aaron Gordon (Arizona power forward): Strong, explosive, quick, hustles. If only he could make a free throw.
7. Noah Vonleh (Indiana power forward): Played some on the wing in high school before growing and looked comfortable playing inside in his lone season at Indiana. Jumped too soon to the pros, which could permanently damage his confidence. Still worth taking a shot on this early because he fits the prototype of an NBA power forward.
8. Nik Stauskas (Michigan shooting guard): There is always room for a killer shooter who knows how to score in other ways.
9. Doug McDermott (Creighton small forward): Moves great without the ball and has extended his shooting range every year of his life. By the time he's 50, he'll be making shots from the parking lot.
10. James Young (Kentucky shooting guard): Hungry scorer not afraid to take the big shot and although just 6-foot-6, has a 7-foot wingspan. Works hard at getting open and loves to let it fly with a quick release. You won't find him this high on any mock drafts, which might mean several general managers believe themselves to be the one and only talent evaluator to see him as a major sleeper, so they're keeping their mouths shut.
11. Nick Johnson (Arizona combo guard): You won't find him in the first round of most mock drafts, but put those in a time capsule, open it in 15 years and what you'll find is that he should have been a lottery pick. Nephew of late great Dennis Johnson, Nick brings similar leaping ability. He doesn't easily fit into either point guard or shooting guard prototype. So what? He's a terrific guard and whoever takes him will be bragging about the steal of the 2014 draft.
12. Adreian Payne (Michigan State power forward): He bangs hard and shoots soft, a nice combination of qualities.
13. Gary Harris (Michigan State shooting guard): Some ultra-aggressive guys won't be denied as scorers and he's one of them.
14. Kyle Anderson (UCLA forward): His hands, which are attached to long arms, are a lot quicker than his feet and he's one of those radar athletes blessed with a great feel for the game, a la hockey great Wayne Gretzky and NBA legend Larry Bird. Not that he'll be great like they were, but he'll be better than his less-than-stellar explosiveness and strength would indicate.
More like this story on KUsports.com