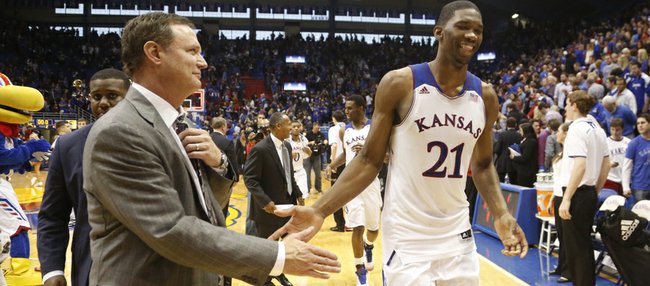 News that former Kansas University center Joel Embiid had successful foot surgery Friday morning certainly brightened the rest of Bill Self's day.
"I'm glad the doctors said surgery went well. It's obviously an injury that he should be able to recover from," Self, who coached the 7-foot Cameroon native for one season at KU, said Friday night.
The surgeon — renowned California orthopedist Dr. Richard Ferkel — said in a statement that "two screws were inserted into the navicular bone in Joel Embiid's right foot (to repair stress fracture). The surgery went very well and I'm confident that after appropriate healing he will be able to return to NBA basketball. Joel tolerated the surgery without difficulty and will begin his rehabilitation in the near future."
ESPN and Yahoo Sports estimated Embiid's recovery time at four to six months.
"You know big guys and their feet I think a lot of time raise a red flag," Self said, speaking to the Journal-World just a few days before Thursday's NBA Draft.
"I'm glad they got the surgery done. I'm glad they got it out of the way. Anybody drafting is drafting for long term. I don't think this should put much of a damper on it (Embiid's draft stock), but the fact he's been injured twice in the last three months may be a red flag to some. I can't believe that would be true enough when you are talking about a kid as talented as Jo," Self added.
Self hadn't spoken with Embiid as of early Friday evening.
"I talked to him the day he did it," Self said. ESPN reported Embiid suffered the injury in the "last few days."
"He just found out what he had. He didn't have time to be depressed yet," Self said.
Embiid was in good spirits before Friday's procedure. He tweeted a picture of himself wearing a surgical cap and gown with the caption, "Ready."
After the surgery, Embiid tweeted a picture of himself in an clear oxygen mask with the humorous message, "Can't even get up for someone who KILLED A LION. I wasn't even asleep while they were doing the surgery."
Self heard about the tweets.
"I guess he knows he's got a pretty big following, so he's trying to make sure he keeps his fans informed," Self said with a smile.
As far as the serious issue of whether Embiid will have a successful NBA career following this setback, Self said: "There are some reports that Yao Ming and Bill Walton struggled with it (same injury). You know with Bill ... that's a different surgery today than it was back in 1978 probably. I can't believe Jo will have any problem at all."
Self said he's confident Embiid, who was sidelined during the NCAA Tournament because of a stress fracture in his back, will hear his name called early in Thursday's draft.
Cleveland picks No. 1, followed by Milwaukee, Philadelphia and Orlando.
"The difference between 1 and 4 (draft picks) ... I saw somewhere over the first contract is right about $7 million," Self said. "There's no question if he doesn't go as high as he would have ... if the injury drops that, financially it will not be a positive. But he's still going to make a ton of money. He's still going to be one of the highest picks. He's still going to have an opportunity to play to get the second contract, which is more important anyway."
According to Real GM ... the No. 1 pick in the 2014 Draft will receive $14,393,600 over three years (years 3-5 are option years). The No. 2 pick would receive $12,881,100 over three years; the No. 3 pick $11,567,300 and the No. 4 pick $10,429,200. Dropping down a bit, the No. 10 pick earns $6,262,300 over three years.
"I don't know. I think Wiggs (Andrew Wiggins) or Jabari Parker will go No. 1. I think Jo still could, but certainly all indications I heard (before injury) were that Joel was probably the percentage play if Cleveland kept the pick," Self said. "We heard so many rumors about them (Cavaliers) trying to move the pick. I think depending on who is picking, I could see any of the three going one."
Insurance policy in effect: If Embiid had suffered a career-ending injury, he would have received $5 million thanks to an insurance policy purchased for him by KU through the NCAA's student-athlete opportunity fund. KU associate AD Jim Marchiony told the Journal-World that Andrew Wiggins also had a $5 million policy.
ESPN's Darren Rovell indicated the policy, which was purchased through the NCAA's program, "does not allow for loss-of-value insurance — a rider attached to insurance policies that permits athletes to collect if they fall far enough in the draft from their projected position at the time of signing the policy. Athletes can get loss-of-value policies, but they have to go outside the NCAA program to do so."
The ESPN article did not specifically state whether Embiid's agent, Arn Tellem, had purchased value insurance.
Sasha's stress fracture: Former KU center Sasha Kaun had the same injury as Embiid during his KU career. Kaun told the Journal-World on Friday that rest corrected his foot issue. The 2008 KU grad is still going strong playing professionally in Russia. "It's still broken, but I can play with it!!" Kaun said in a text message.
Where will Joel go?: Grantland's Bill Simmons tweeted he's "hearing that Arn Tellem wanted Embiid to go first, but if that can't happen, he's going to push hard to steer him to Boston (No. 6) or L.A. (Lakers, No. 7)." Tellem is under no obligation to share Embiid's medical reports with teams. He can pick and choose which teams get the reports. It's also been speculated Boston will not pass on Embiid if he falls to 6.
Team camp: KU basketball is playing host to its annual Team Camp this weekend. Teams from all over the Midwest play games in Allen Fieldhouse and Horejsi Center. Jayson Tatum, a 6-7 junior guard from St. Louis Chaminade, is attending camp. he's the No. 4-rated player in the recruiting class of 2016 by Rivals.com.
More like this story on KUsports.com