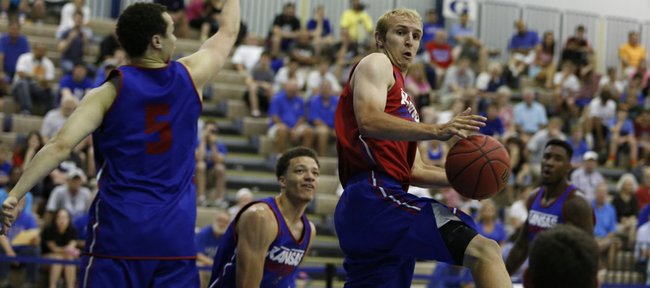 Conner Frankamp was curious, but not concerned when Kansas University basketball coach Bill Self called a team meeting after workouts on Monday night.
"He told us before we were going in that it was going to be something good," Frankamp, KU's sophomore combo guard from Wichita, said with a smile.
"We were all kind of shocked about it. We were fired up," he added, asked about Self's proclamation that the Jayhawks, as a team, would represent the United States at the 2015 World University Games in Korea.
"I had no idea that was in the realm for anything. We're going over there as a business trip representing our country. We don't want to let a lot of people down. We're all very excited for it," Frankamp said.
For Frankamp, this marks an opportunity to win a second gold medal while playing for the red, white and blue. He scored 22 points to lead the U.S. to a 95-62 win over Australia in the gold-medal game of the FIBA Under 17 World Championships in the summer of 2012 in Lithuania.
"It was awesome. To represent our country is something amazing. Not many people get to do it. It was awesome being able to win the gold medal as well," said Frankamp, who was joined on that team by players such as Jabari Parker, Jahlil Okafor, Justise Winslow and Tyus Jones.
"Being surrounded with those good players made me a better player. Just winning was also amazing," Frankamp said.
Another Jayhawk with Team USA experience is Frankamp's roommate, freshman Cliff Alexander, who struck gold in the zone qualifier of the 2013 3x3 tournament in Washington, D.C. KU's Perry Ellis and Kelly Oubre have participated in USA Basketball's developmental national team program.
"It's really going to be a cool experience for us," Frankamp said.
The 6-foot, 170-pounder, who said he's put on about eight pounds since arriving at KU as a freshman, said he's working on all aspects of his game this summer. He's in the mix with Devonté Graham and Frank Mason for the starting point guard position.
'I think they are both really good players and I know they will help the team quite a bit," Frankamp said. "We will all compete at practice, of course, and off the court be good friends. We all want to help the team the best we can."
Self has said whichever backcourt player gets the ball will bring it up court and start the offensive possession this season.
"It seems a lot of people in college basketball are going to that, with more guards and everything," Frankamp said. "It will be a good style for us, I think. We have to get up and down the court a lot faster, be able to use our athletic ability. Dribbling is something important to me, so I work on that quite a bit, also continue working on my shot."
He said he's "very happy with my progress" after averaging 2.5 points a game in limited duty as a freshman. He had 12 points in 18 minutes in KU's season-ending loss vs. Stanford.
"I just hope I can continue to get better and progress even more," he said, noting a perfect season would encompass "the team having a great season and making a long run in the tournament and being able to contribute as much as I can and help the team a lot."
Recruiting lift: Self was asked if KU's appearance in the World University Games might help recruiting. Any player who signs with KU in the Class of 2015 would be eligible to go on the trip to Korea next July.
"I don't think you do this because it's a recruiting nugget. Maybe that could be a byproduct of it. I don't know," Self said. "There should be television exposure for all our games. I know that's being worked on right now."
Returning Jayhawks?: If KU has 12 scholarship players on the 2015-16 roster next summer, it likely won't hold tryouts for spots on the World Games team with Jayhawks 25 and under.
However ... "if we don't have 12 on scholarship, why wouldn't we look to bring some experience or maybe an older guy back that may need to be seen, maybe play a role in doing something that would be a lifelong memory for him?" Self said, noting KU would be going against many pros from numerous countries.
"Gurley, thank God, is too old and heavy for sure," he added, needling former KU guard Greg Gurley of the Williams Fund, not eligible to make the 12-man team.
Spurs good example: KU coach Self on Monday's Big 12 summer teleconference praised the NBA champion San Antonio Spurs. Self's buddy, R.C. Buford, is general manager of a team that has won five NBA crowns. Self attended the Game Five clincher on Sunday and sat next to Buford in the stands.
"I'm happy for him, obviously, because we've been close for so many years. I'm happy for the entire organization — first class — and they played at a level, to be quite candid with you, I don't think we've seen very many NBA teams, in recent memory, that I can remember, that would actually play at that level," Self said.
"That was a true team and they did so many great things. To see how three Hall-of-Famers (Tim Duncan, Manu Ginobili, Tony Parker), the three best players on the team, how excited they were when (Kawhi) Leonard won MVP, it makes for a pretty special situation. What Pop (coach Gregg Popovich) and the Spurs have done will make it much easier for college coaches to coach," Self added, noting he would point out to his players how the champs moved the basketball without it sticking to hands.
More like this story on KUsports.com