Photo Gallery
KU basketball players scrimmage at camp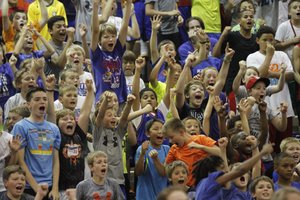 Former and current KU basketball players scrimmage at the Bill Self Basketball Camp, Wednesday, June 18, at the Horejsi Center.
Box score
Red Team (84)
Frank Mason 20, Conner Frankamp 20, Perry Ellis 16, Elijah Johnson 12, Cliff Alexander 8, Wayne Selden 4, Landen Lucas 4, Aaron Miles 0, Evan Manning 0.
Blue Team (83)
Brannen Greene 21, Tyrel Reed 16, Kelly Oubre 14, Jamari Traylor 11, Brady Morningstar 9, Devonté Graham 6, Hunter Mickelson 2, Travis Releford 2, Christian Garrett 2.
Elijah Johnson, who played pro basketball in Poland last season, considered taking the potential game-winning shot in Wednesday's Bill Self campers game in Horejsi Center.
Instead, the former Kansas University combo guard deferred to current Jayhawk sophomore Frank Mason, who sped through the lane for a driving layup with 7.8 seconds left in overtime, giving the Red team an 84-83 victory over the Blue squad.
"He told me, 'Give me the ball,' so I slipped it to him. He did his thing on his own. He kept going and going, and I like it in him," Johnson said after watching the 5-foot-11 Mason tie Conner Frankamp for team-high scoring honors with 20 points.
"I didn't see a game-winner. I saw him finishing the game in my eyes," added Johnson, who also dished to Mason for a three that tied the game at 80 with 1:20 left in OT.
"I know if he gets going, he's the type of person who can score six or eight points in a row," Johnson said.
Mason cashed four threes from long range Wednesday and was equally impressive in driving to the basket.
"I think he just needs to keep that in mind — he can do that at any time," Johnson said of Mason hitting the lane for layups. "Whenever he needs a bucket, I honestly feel he can go straight down the lane and get a bucket. If he thinks like that and feels like that, he'll do that," added Johnson, who contributed 12 points for the winners.
Petersburg, Virginia, native Mason, who is battling Devonté Graham (six points for Blues) and Frankamp for the starting point-guard position, also played for the winning team in last week's camp game, potting 16 points.
"Any game I play, I always want to win. I take pride in it. Today it was just a camp game, but still I just wanted to win it," Mason said.
"I was excited to get the last game-winning basket for my team. I'm just trying to do whatever it takes to get the win."
Of slashing to the goal instead of taking a deep jumper for the winner, he said: "It's a higher-percentage shot. I didn't want to settle for a jump shot on the game-winning basket."
Mason's layup answered a three by Tyrel Reed (16 points, four threes) that had given the Blues an 83-82 lead at :37. The Blues actually re-gained possession with that one-point advantage. Blue freshman Kelly Oubre missed a three from the side at :14, giving the Reds a last shot at victory. The Blues didn't get a shot off on their final possession following the Mason hoop.
"I don't think he (Oubre, who had 14 points) knew the shot-clock awareness," said Blue forward Travis Releford, who scored two points. "He'll learn that once he gets familiar with coach Self."
Brannen Greene, who had 23 points in a camp victory last week, scored 21 points for the losing Blue team, while Jamari Traylor had 11 points. Perry Ellis scored 16 for the Reds.
"I think the new guys did pretty well. They could have done better. They are getting a feel for everything," Mason said. Freshman center Cliff Alexander had eight points off four hard dunks to go with Oubre's 14 points and Graham's six.
"I know they will be much better once the season starts. It was the same for us (getting used to college last year)," Mason noted.
Tryouts would be dandy: Both Johnson and Releford said they'd love to be able to try out for a spot on KU's World University Games team next summer. Self said if KU doesn't have 12 scholarship players available, he might be adding some former Jayhawk players to fill the roster.
"That would be nice," said the 6-foot-6 Releford, who averaged 7.2 points and 1.9 rebounds a game last season for Okapi Aalstar in Belgium.
"That would be exciting if any of the guys could come back and participate," added Releford, who worked out with the NBA's Sacramento Kings last week and is headed to work out with the Houston Rockets this weekend.
"For sure I'd go," said Johnson, who also has worked out with the Kings and, like Releford, is hoping for an invitation to NBA summer league. "I wouldn't turn down any opportunity to play basketball right now. I wouldn't let anything get in the way of my opportunity to do something for my career, but as far as playing ball, I don't turn down any opportunities now."
The 6-foot-4 Johnson is healthy after returning from Poland early for a procedure on his knee. Releford is recovered from a stress fracture in his foot that caused him to miss some games in Belgium.
Highlights: Alexander had a vicious block of a Greene layup. Undaunted, Greene on the following possession swished a three over Alexander. ... Rebounding machine Alexander followed a Frankamp miss with a slam dunk. ... Mason stole the basketball then lobbed to Wayne Selden on the break for a one-handed slam. ... Mason lobbed to Ellis for a slam. ... Landen Lucas dunked off a great inside pass from Selden. ... Brady Morningstar missed three straight threes on one possession, the Blue squad grabbing yet another rebound which culminated in a Greene make from three. ... Oubre followed a Graham miss with a slam-dunk rebound. ... Graham passed off the backboard to a trailing Greene for a dunk. ... Christian Garrett scored a basket, then on the ensuing possession set up Traylor for a hoop.