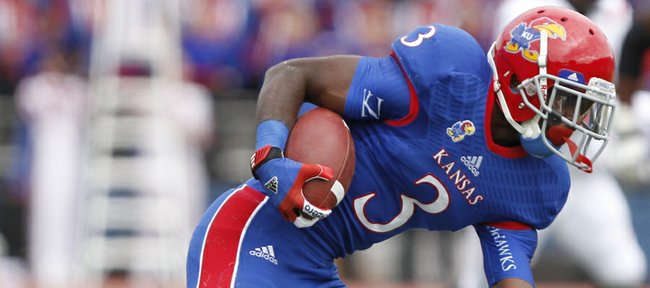 The closer it gets to college football season, the more I think about ways to get the ball in the hands of Tony Pierson more often. (I know, I really should get a life).
Think about it, though. He's the team's fastest, most exciting player and leaving him at wide receiver requires two things to happen for him to showcase his big-play abilities.
No. 1, Pierson has to master all the things that go into getting open and catching footballs thrown to him. Too often, he looked like a running back playing wide receiver last season.
No. 2, Montell Cozart has to throw an accurate enough ball to hit the smallish target on target, on time.
Move Pierson back to running back and all you have to do is pitch him the ball or hand it to him. Look at it this way: If you're a Big 12 defensive coordinator, do you spend more time preparing for and sweating over Pierson if he lines up at running back or wide receiver?
Pierson's small frame doesn't lend itself to the sort of workhorse load James Sims carried, but even with Darrian Miller's departure, the Jayhawks have ample depth at running back to make a job share that plays to everyone's strengths work for them.
Seniors Brandon Bourbon and Taylor Cox have battled injuries at various times during their careers, but even if just one of the two is healthy at any given time, that should suffice.
Pierson has averaged 6.2 yards per carry,
Bourbon and Cox 5.2 yards apiece.
And we haven't even discussed the player some believe could lead the team in rushing. Running back wasn't on the board as a recruiting need when junior-college talent DeAndre Mann entered the picture.
Mann turned down an offer from the Miami Hurricanes to play for KU. Would you trade Mann, a 5-foot-10, 205-pound back, straight up for Jake Heaps? I wouldn't.
He rushed for 1,760 yards and 30 touchdowns for Hartnell College and has the power Pierson lacks.
That's three backs complementing Pierson. They won't all stay healthy because the position they play lends itself to injury. Enter freshman Corey Avery from powerhouse (Dallas) Carter High. He turned down Nebraska and Texas to sign with Kansas and in so doing told Dallas reporter EJ Holland, "Kansas is a program that needs to be turned around, and I think I'm going to personally turn it around."
Doesn't sound like a guy too interested in red-shirting.
On the other hand, someone familiar with the recruitment of Gardner-Edgerton High's Traevohn Wrench told me shortly after he signed that it would be wise not to include him in 2014 projections. I was told Wrench had a lot of ground to make up to qualify academically and even if he did would probably need five years to graduate.
Given Miller's departure, the injury histories of Bourbon and Cox, the uncertain status of Wrench and the different look Pierson brings, might as well toss Pierson the ball instead of throwing it to him.