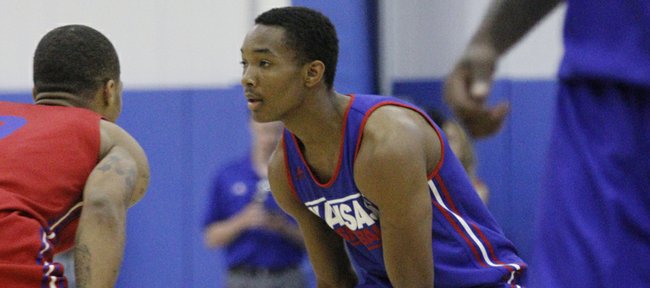 Photo Gallery
KU basketball players scrimmage at camp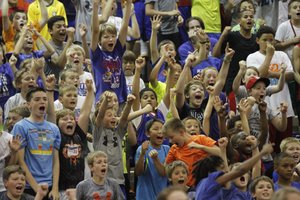 Former and current KU basketball players scrimmage at the Bill Self Basketball Camp, Wednesday, June 18, at the Horejsi Center.
In some ways, the less you notice a point guard, the better he's playing. It can mean he's keeping the ball moving, getting it into the right hands at the right time, not monopolizing it.
I didn't hear much about freshman point guard Devonté Graham's play in last week's Bill Self Camp exhibition game featuring past and present Kansas University basketball players, so I decided to take in the camp game Wednesday.
Camp games can devolve into breakaway dunk shows, entertaining for the campers, but pretty ugly to watch.
Not this one. It felt more like a basketball game, and it went into overtime. Graham had a view from the bench in the closing minutes and the two-minute overtime period, while veterans Brady Morningstar and Tyrel Reed formed the backcourt.
"Tyshawn (Taylor) told me I should have been in there at the end of the game," Graham said with a smile.
Self introduced all of the players with a quick comment and said of Graham, "He's going to play a ton this year."
It's easy to see why. Graham wasn't the guy the campers left the Horejsi Center buzzing about, but he did a lot of productive things. As soon as he saw a scorer, he delivered him the ball. When he saw shots, he took them, and he never looked as if he was forcing anything.
The jump ball was tapped to Graham, and he quickly made something happen, sending a one-handed bounce pass to Kelly Oubre cutting down the left side of the lane for the game's first bucket.
Graham fed Reed for a jumper and hit two three-pointers of his own. The first came when he was wide-open in the right corner, then next when he pulled up from 22 feet from beyond the right side of the key.
He said most of the feedback he has received from former Jayhawks and coaches centers on, "being a leader, being more vocal as a point guard. You have to communicate well with everybody else."
Graham looked exactly like the type of guard he described when he was asked to give a self-scouting report.
"Point guard who can score and facilitates first, makes everyone around better," he said.
Graham had a difficult time keeping sophomore Frank Mason in front of him, but so did everybody else.
"Aw, man, he's crazy," Graham said. "He's super fast, and he's starting to be able to shoot the outside shot, so it's a tough job."
Often, freshmen hesitate, grinding the entire team to a stop. Graham didn't do that during his time on the floor Wednesday.
"Coach Self's been telling us you pass, you shoot or you attack, and if I don't have the other two options, I pass it," Graham said. "I've been working on being more decisive. You've got to move fast. That's the adjustment I need to make. ... I'm more comfortable this week than last week."
Graham didn't look quite as athletic as Mason and might not be quite the shooter Conner Frankamp is, but he looks like he belongs in the mix in the competition for playing time.