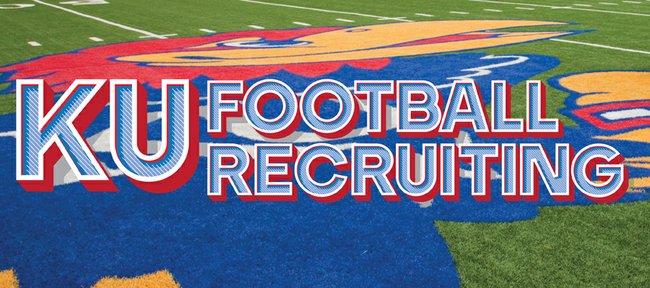 The commitment parade continued on Tuesday for Charlie Weis and the Kansas University football program, which picked up its seventh commitment in the past four days when four-star junior-college wide receiver Cory Butler switched his commitment from Utah to Kansas.
Butler, who visited KU last weekend, hails from Harbor Community College in Los Angeles, and stands 5-foot-11, 170 pounds. He was hosted by senior receiver Nick Harwell and told Jon Kirby of JayhawkSlant.com that his connection with the KU coaches made a big impact.
Rivals.com officially lists Butler as a wide receiver, but he has played some defense and many schools were recruiting him simply as an athlete.
"The coaches on offense want me to play offense," Butler told Kirby. "The defensive coaches see me playing on defense. They told me I could make my choice when I come which side I can play on. I just want to play wherever I can get on the field the fastest."
First-year receivers coach Eric Kiesau was the lead recruiter for Butler and tight ends coach Jeff Blasko also played a big role in landing him.
KU now is up to seven commitments in the Class of 2015, with all but one of them being juco guys.
The lone commitment the Jayhawks received this weekend that will not have to wait a year to report to campus came from Iowa Western C.C. offensive lineman Larry Mazyck, who officially joined the Jayhawks on Monday.
Mazyck, 6-8, 340 pounds, is a juco All-American offensive tackle who many believe will compete for a starting job at Kansas this season, perhaps even at left tackle. He currently is finishing his classes at IWCC and is expected to report to Lawrence in late June.
Track rumblings?
One of the biggest rumors floating around about KU football these days involves the possible removal of the track around the playing surface at Memorial Stadium.
Fans of the program have long clamored for KU officials to get rid of the track and, now that the new facility at Rock Chalk Park has become a reality, it appears that we're one step closer to a move.
Although he was on hand to discuss KU's selection to represent the United States in the 2015 World University Games in Korea, KU athletic director confirmed on Tuesday that the school was in the process of looking into taking out the track.
"Right now, we're gathering information," Zenger said. "The staff has done a great job of researching what we could do affordably and within reason as an intermediary step to our greater renovation project, and I want to make sure that Coach Weis thinks whatever we do is advantageous to the program."
Although nothing is official, if Zenger and company were to decide to move forward with removing the track, doing so quickly could have it out of there in time for the beginning of the upcoming season.
While getting rid of the track surely would make thousands of KU football fans rejoice, the full-scale renovation project at Memorial Stadium remains a ways off.
In an interview with the Journal-World back in April, Zenger talked about "clearing the deck" of all other projects so that all attention could be put toward the stadium and also hoping for some momentum from the football program to help spark the fund-raising process.