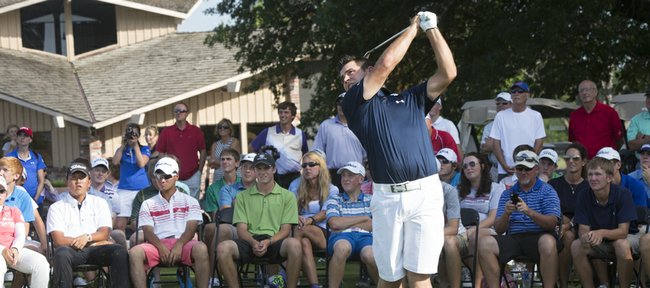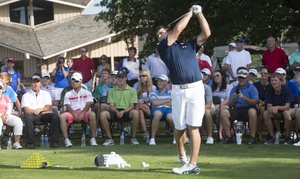 Golfers in town from all over the country to compete in the Gary Woodland Championship, an American Junior Golf Association event at Alvamar public, had their chance to pepper Woodland himself with questions Monday afternoon, and they didn't choke under pressure. They asked him some good ones, one day after he completed his final round in the 114th U.S. Open played at Pinehurst No. 2.
Such as:
Are you the longest hitter on tour?
It elicited the shortest response.
"Yes," Woodland quickly answered then broke into a smile.
Then he gave a longer answer saying he, J.B. Holmes and Bubba Watson were the longest drivers of the golf ball, but because Dustin Johnson hits straighter shots more consistently than they do, he might be the best in the world off the tee.
Who's the best putter on tour?
"If I had to pick someone to make a 10-foot pressure putt, I'd pick Zach Johnson," Woodland said. "He's got nerves of steel."
He added that Matt Kuchar and Steve Stricker are right up there as well.
Who's your best friend on tour?
"Matt Kuchar," he said, noting that he plays most of his practice rounds with the friend with whom he won the 2011 World Cup in China.
Between questions, Woodland hit iron shots from the driving range, somehow generating so much club-head speed while swinging so smoothly. Then he reached into his bag, pulled out the driver and tossed the head cover aside.
"Yeah!" one of the juniors said, as others moved to the edge of their seats.
What's your favorite course?
"Augusta National," he said, adding he's also particularly fond of Congressional in Bethesda, Maryland; Innisbrook in Palm Harbor, Florida; and Muirfield Village in Dublin, Ohio. He said he doesn't like playing courses that take the driver out of his hands and make him play many of his opponents' games.
Why do you cut the ball instead of draw it?
"I decided my sophomore year in college to go to the cut, and it took me about a year to get it, and I started playing really well my junior year," he said. "I tried to get a draw a couple of years ago. That didn't work out very well for me. You've got to go with what you have. It's not always greener on the other side. I had a great year in 2011. I was ranked top-50 in the world at the time. We decided to try to draw the golf ball, and I dropped all the way to 270. Now I'm back to cutting it, and I'm back up to 47th. It's one of those deals where God blessed me to be able to hit a cut, and that's what I'm going to do."
Competition, he learned, is the only true testing ground for a major change.
"The problem was, I could hit the draw on the range, but when I got to the golf course and I got under pressure, I had no chance to do it," he said.
He drew a chuckle from the crowd when he shared that he realized he needed to concentrate on golf when as a freshman he played for Washburn University in a basketball exhibition against Kansas University and had to guard Kirk Hinrich.
He transferred to KU the next year, improved a great deal as a golfer by his junior year and won three tournaments as a senior.
The young golfers had to be encouraged to hear that Woodland shot 76-74-76 and finished tied for 31st in his lone AJGA event, at Milburn Country Club at the age of 17.
From the driving range to the ninth fairway, everybody went for a skills competition. A couple of boys and a couple of girls competing in the Gary Woodland Championship, which tees off today, hit their shots into the green, and nobody came closer than 19 feet. Then it was Woodland's turn. He hit two shots. The first sucked back and stopped three feet behind the pin. The next sucked back and stopped at seven feet from the pin.
Hearing Woodland's scores as a junior golfer showed the young golfers it is possible to get a lot better with work. Watching Woodland mop up in the skills competition showed them just how much they all need to improve to play against the best competition the world has to offer.
More like this story on KUsports.com