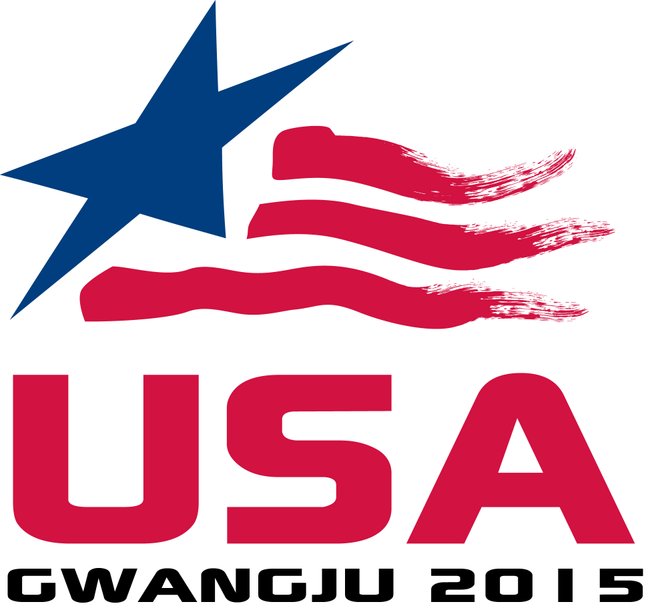 Kansas University's men's basketball team is going global.
Representing the United States, the Jayhawks — as a unit — will compete in the 2015 World University Games on July 3-14 in Gwangju, Korea, the school confirmed Monday.
KU coach Bill Self, athletic director Sheahon Zenger and Craig Jonas, head of the U.S. delegation, will discuss the Jayhawks' participation in the World University Games at a news conference this afternoon in Allen Fieldhouse. It is closed to the public.
This will mark just the second time a United States college team has been chosen to represent the U.S. at the international event. Northern Iowa represented the United States in the 2007 World University Games and placed ninth.
"It is obviously a thrill. I know our guys were really excited when I told them today," Self told the Journal-World on Monday night. "It is a unique opportunity where a school will represent our country in the World Games as opposed to a select team.
"I can't see anything but positives. We as an amateur basketball team could not get better competition. We will be allowed to practice. It will not count against our one in four (years) foreign trips in the summer.
"Our players are really excited about getting the opportunity to represent our country in games basically against professionals across the world."
KU will be allowed to field a 12-man roster.
If KU loses underclassmen to the pros after the 2014-15 season and needs to fill out the roster, it can apparently add ex-Jayhawks who are between the ages of 17 and 24.
"This is a Kansas deal, not a mixed deal at all (with players or coaches from other teams)," said Self, who will be assisted by his current coaches and hold training camp in Lawrence before the team departs for Korea.
"We can have 24 people stay in the Olympic-type village (in Korea), and that is what we'll do, take 24 — trainer, doctors, managers."
Self said rules indicated KU freshman Sviatoslav Mykhailiuk of the Ukraine must compete for his own country and would not be able to play for KU. Any KU players that turn pro after next season also won't be competing for KU.
"It's a great opportunity for us. It happens at a perfect time of year," Self said. "We can practice in June, play in July, and it still gives our guys plenty of time off before August. What a thrill."
Also, all games will be televised, reportedly on ESPNU.
"We've sent select teams that have done well, select teams that have not finished high at all," Self said. "The last team we sent finished ninth. The competition will be unbelievably fierce. We don't know what players we'll have available to us if anybody turns pro. ... The incoming players can compete, absolutely," he added of prospects who sign with KU in the Class of 2015.
Going the college-team route might help as the U.S., which once was dominant in the event, slumped to a ninth-place finish in the summer of 2013 in Russia after placing fifth in 2011 in China and third in 2009 in Serbia.
The U.S. last won gold in 2005 in Turkey.
KU associate AD Jim Marchiony explained: "USA (Basketball) sent feelers out to several high-profile teams, and they picked us out of the ones that responded. It's a huge honor anytime you can represent your country like this."
The Jayhawks have had several individual players compete in the World University Games.
Gold medalists include Jerod Haase (1995), Adonis Jordan (1991) and Mark Randall (1989). Silver medal winners: Greg Dreiling (1985), Ron Kellogg (1985) and Dave Robisch (1970).
Richard Scott won bronze in 1993. Jo Jo White was on the fourth-place team in 1967. Roy Williams won gold as assistant coach in 1991.
The U.S., which was coached by Bob McKillop of Davidson (his assistants were Michigan's John Beilein and South Carolina's Frank Martin), went 6-2 and placed ninth at the 2013 Games.
Some of the top players: Creighton's Doug McDermott, Baylor's Cory Jefferson, Colorado's Spencer Dinwiddie, Indiana's Will Sheehey and Yogi Ferrell, Michigan State's Adreian Payne, Iowa's Aaron White, Cincinnati's Sean Kilpatrick and Louisville's Luke Hancock.
In 21 World University Games, the U.S. has captured 13 gold medals, three silvers and three bronze.
The U.S. won six of the first seven gold medals, including six straight from 1989 through 1999. In 2001, the USA lost to China, which featured half of its Olympics team, including Yao Ming, and earned third. Those Games were played in China.
The multi-sport Games, which are organized by the International University Sports Federation (FISU) and held every other year, have included U.S. representation since 1965.

Normally, invitations to attend training camp for essentially a college all-star team are issued to players by the USA Basketball Men's Junior National Team Committee. The roster is normally 12 players.
In 2013, USA training camp was seven days. The team held five practices at the site of the tourney in Russia before opening play. The U.S. had five preliminary round games, three in the medal rounds.
Obviously this will benefit KU in terms of additional practice time and eight games. It also could help recruiting with prospects enticed by the prospects of playing in such an elite event for the USA.
The Jayhawks will play under FIBA rules. The games will consist of four 10-minute quarters. The three-point line is 22-13⁄4 instead of the NCAA's 20-9. The shot clock is 24 seconds instead of 35. Backcourt violations are eight seconds instead of 10. Players can touch the ball on or above the cylinder.
Self attends Finals: Self attended the San Antonio Spurs' Game Five victory over Miami on Sunday night. He sat next to buddy R.C. Buford, who is general manager of the Spurs.
"It was terrific," Self said of the game and experience. "It (franchise's fifth title) was a great moment for R.C. and a lot of people in that organization."