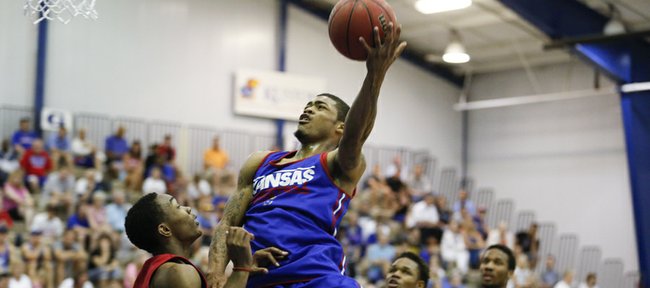 Bill Self knows how to wake up his young basketball campers during any lulls in the action: Self, Kansas University's 12th-year coach, asks sophomore guard Frank Mason to perform a gymnastics routine.
"I can tell they love it. It's exciting to them. They just like it a lot," said Mason, a 5-foot-11, 185-pounder from Petersburg, Virginia, referring to campers' wild applause in response to his rapid-fire series of backflips.
"It's something I've always done. It's just easy to do ... for real. I've been doing it since I was like 5 or 6 years old, so whenever he tells me to do it, I just do it with no problem."
Mason and his KU teammates signed autographs for two hours in the campers' check-in line Sunday in the Booth Family Hall of Athletics.
He did a series of five backflips for Self's Week One campers last Tuesday in Horejsi Center.
Friday, during a question-and-answer session at Self's Parent-Child camp, Mason was asked for an encore, during which he went with one backflip with no hands for support.
"I don't think I'll do it after a game," said Mason, aware it might be showing up the opposition. "I'll do 20 after a national championship (victory)."
Mason, who did three backflips and followed with a slam dunk at last year's open NCAA Tournament practice in St. Louis, might not have felt comfortable entertaining the campers a year ago. He said he has a totally different mind-set entering his sophomore season.
"I feel more comfortable all over. I just feel comfortable everywhere around Kansas, Lawrence. It's more comfortable since I have a year of experience," said Mason, who erupted for 16 points in last week's Self campers game. Camp continues with a new batch of youngsters this week.
"Last year was kind of more nerve-wracking. I didn't know what it was going to be like. This year is more fun and exciting because I know what it's going to be like," Mason added.
Mason, who averaged 5.5 points with 72 assists against 37 turnovers his freshman season, enters Year Two with the starting-point-guard position up for grabs following the transfer of Naadir Tharpe.
"Me and the guys, the coaches and fans, everybody else … I'm sure we all will miss him," Mason said. "It's sad not to have him here. We just have to move on with next year and what we have here."
Self, who calls Mason "the best athlete on the team," has said he doesn't want to go with a true point guard this year except in the closing minutes of games. He wants any of several players on the court to bring the ball up and start the offensive possession.
"I think we have two good point guards, Conner (Frankamp) and Devonté (Graham). We also have me. We'll compete every day at practice. We will make each other better by doing that," Mason said.
He said he's out to improve his shooting this summer. Mason hit 41.7 percent of his shots as a freshman. He went 18-of-55 from three for 32.7 percent.
"It's very possible to become a better shooter. That's been my focus," Mason said. "Actually, I've been shooting the ball pretty well.
"Coach T (Kurtis Townsend) kind of had me change my shot around a little bit. I used to shoot the ball off the palm of my hand. Now I've been working on getting a little space under it and shooting it off my fingertips.
"It gives you a better feel of releasing the ball. If you shoot it off your palm, it can go anywhere, really."
He said before this summer, "It seemed normal to me (shooting off palm). That's how I always shot the ball. I didn't really work on it until this summer."
He's not going to forget about getting easy hoops off drives to the basket.
"I'm just trying to stay aggressive and take high percentage shots, try to stay in attack mode and get good quality shots," Mason said. Also ... "defend, rebound and steal. Do whatever coach asks me to do."
For a video clip of Mason performing backflips at last year's NCAA Tournament practice, go to http://ljw.bz/1lqYXGl
Sixers to trade for Wiggins?: Chad Ford of ESPN said last week the Philadelphia 76ers, who pick third in the June 26 NBA Draft, have had discussions with Cleveland about acquiring the overall No. 1 pick from the Cavs. Philly reportedly wants to make sure it lands former KU wing Andrew Wiggins. The Sixers may decide after working out Wiggins this week how much they'll ultimately offer for the 6-7 standout. The team reportedly has offered forward Thaddeus Young and the No. 3 overall pick for rights to Wiggins. The Cavs instead might want Philly's Nos. 3 and 10 picks.
More like this story on KUsports.com