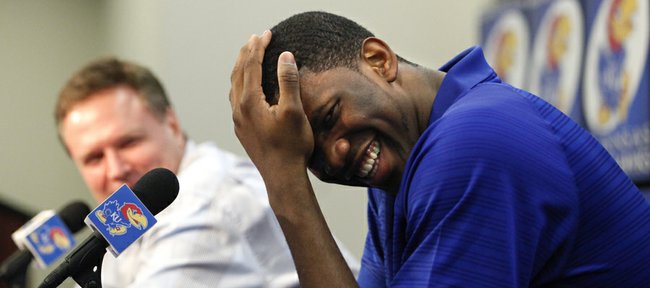 Basketball notes. ...
ESPN the Magazine's five-person "ESPN NBA Front Office" predicts former Kansas University players Joel Embiid and Andrew Wiggins will be selected 1-2 (in that order) in the June 26 NBA Draft, while Duke's Jabari Parker will be tapped third overall.
The panel consists of Chad Ford, ESPN draft analyst; Tom Penn, former assistant GM, Portland Trailblazers; Amin Elhassan, former assistant director basketball operations, Phoenix Suns; Kevin Pelton, former analytics consultant, Indiana Pacers; and George Karl, former NBA head coach of five teams.
In its story on Embiid, reporter Eli Saslow gets to the bottom of the 7-footer's tall tale in which he said many times last season he'd once killed a lion in his native Cameroon. ESPN wrote Embiid admitted to "inventing a story about having thrown a spear tipped with poison then carrying a lion on his back for a mile."
"Most of those guys (Jayhawks) still think that story is true," Embiid told the magazine. "It started as a joke but then they respected me after that."
Embiid, Wiggins and Parker are all pictured wearing expensive suits on the cover of the June 23 edition of ESPN the Magazine.
Wiggins schedule: ESPN's Ford reports that Wiggins worked out for the Milwaukee Bucks on Friday and will work out in Philadelphia on Monday, Cleveland on Wednesday and Milwaukee again on Friday. In order, Cleveland, Milwaukee and Philly own the top three picks in the draft.
Weight work: KU sophomore wing Brannen Greene is proof that KU players do more than work on their upper bodies during lifting workouts.
Greene, 6-7 from Juliette, Ga., explained: "In college, there's a lot more stuff you have to pay attention to on the defensive end. I had to get in with Hudy (Andrea, strength coach) and get my lower body stronger so I could get around screens. That's my biggest thing.
"We do tests once a week. I've been seeing improvement," Greene added. "Tests help a lot of areas we need to improve. Mine was the core hamstring type area. It's lateral quickness and core strength, being able to plant. When guys cross over, being able to get in front of them, that was my biggest thing. My feet would always cross. I'd always cross my feet first before I slid. That would slow me down a little bit. I'd get my feet tangled up."
High praise: KU soph Wayne Selden on sharpshooter Greene's progress: "He's playing really well. He's really shooting it well. He's being really aggressive and that's what we need him to do."
Robertsons at camp: Former KU guard Ryan Robertson attended Bill Self's parent-child camp Friday and Saturday in Allen Fieldhouse with children Kylie (9) and J.D. (7). "It was a blast," said Robertson, who lives with his family in St. Charles, Mo.
Reesing optimistic: Former KU football quarterback Todd Reesing, who scored 11 points in Thursday's Rock Chalk Roundball Classic basketball game at Lawrence High, has high hopes for KU football in the third year of the Charlie Weis era.
He was asked about the last time he spoke to the team.
"I didn't talk this past year. The year before, when we played Texas at home, I talked to them then. They were having a tough season. I told them we've got to keep fighting, keep listening to what the coaches say and eventually it'll get turned around.
"The message (now) would be the same. I think they made vast improvements this past year. I think the defense played great the vast majority of the year. They really kept the team in the game. We have to try to get the offense to get things corrected a little bit and start to put points on the board. I have confidence in those guys. I think we have a great coaching staff, great athletic director. I'm looking forward to the season. I can't wait to get back and watch football games," added Reesing, who works in his hometown of Austin, Texas, for KU graduate and Lawrence native David Booth at Booth's company, Dimensional Fund Advisors.
Thunder, Spurs jobs not open yet: One never knows what the future will hold, but it appears KU fans won't have to worry about coach Bill Self leaving for the NBA this year. The Oklahoma City Thunder recently said they will bring back coach Scott Brooks. Meanwhile, San Antonio coach Gregg Popovich said Saturday he'd like to continue coaching after this season. It's been speculated that both teams may come calling for Self the next time they change coaches.
"I don't feel tired. I mean, I'm tired today, but I mean in general. I'd like to continue to coach," Popovich said Saturday as quoted by ESPN.com.
"Sure," Popovich said, asked if he meant coaching beyond this season. "I didn't think I was going to have to answer those kind of questions today."
Popovich has said in the past he'd retire at the same time center Tim Duncan quits. He's coached Duncan the last 17 seasons.
On Saturday, Duncan told ESPN: "I've always said if I feel like I'm effective, if I feel like I can contribute, I'll continue to play. Right now I feel that way, so we'll see what happens."
ESPN reported that Duncan has until June 24 to inform the Spurs whether he intends to pick up his $10.3 million player option for next season.
Dorsey opens recruitment: Tyler Dorsey, a 6-4 senior-to-be shooting guard from John Bosco High in Bellflower, California, has decommitted from Arizona, CBSsports.com reports. Dorsey, who is ranked No. 7 in the class of 2015 by Rivals.com, will now consider not only Arizona but KU, UConn, Duke, UCLA, Washington, Cal, Arizona State, Louisville, Texas, SMU, UNLV, Marquette, St. John's, Florida State, Oregon, Oregon State and Tulsa, his AAU coach tells CBS.
Roy on top coaches list: Former KU coach Roy Williams of North Carolina on Saturday was rated the country's 16th-best coach in ESPN's countdown of the top 50 coaches in the country. Coaches with KU ties on the list thus far include Colorado's Tad Boyle at No. 34 and SMU's Larry Brown at 21. Big 12 coaches on the list thus far include Baylor's Scott Drew at 50, Texas' Rick Barnes at 44, Kansas State's Bruce Weber at 40, Texas Tech's Tubby Smith at 39, Oklahoma's Lon Kruger at 31, West Virginia's Bob Huggins at 30.
Bad news for Danny: Wake Forest sophomore Tyler Cavanaugh, a 6-9 forward from Albany, New York, has decided to leave Danny Manning's program. Zagsblog.com reports that Baylor, California, Dayton and George Washington are the first schools to contact Cavanaugh's representatives. He averaged 8.8 points and 3.8 boards in 21.2 minutes a game his soph season.
White works out: Former KU wing Andrew White III hasn't announced yet where he'll be playing basketball the final two years of his college career. An impressive mixtape of his summer workout regimen can be seen on YouTube.
More like this story on KUsports.com