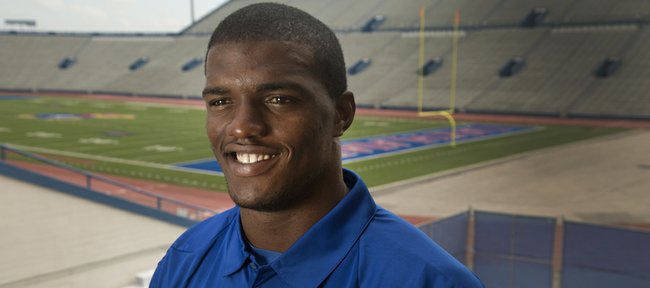 At the time, it had been two weeks since Kansas University tight end Jimmay Mundine last talked to his father.
No reason, really. Just life. Mundine, a freshman coming off of his red-shirt season, was busy trying to find a way to make it at KU. His dad, Delton, was busy working and tending to things back home in Denison, Texas.

Unexpectedly, early on the morning of April 1, 2011, Mundine was summoned to the KU football complex by his coach, Turner Gill.
Mundine recalled: "Coach Gill looked at me and grabbed my hand and said, 'Your father passed away.'"
The news was so real, so sudden — Delton had been in good health for a few years since beating lung cancer — that Mundine barely reacted. It wasn't until he sat five feet from his father's open casket several days later that he let his emotions out.
But rather than let all of that sadness eat him alive, Mundine used the tragedy as the catalyst to become a better man.
Motivation
Mundine's mother, Claudia, had asked her son's football coach to break the news. She didn't want her baby boy hopping into his car and racing home with nothing packed but tears and questions. With some coordination from KU, Mundine made it back to his hometown several hours earlier than he would have by driving.
That's when the healing began and where Mundine took his first steps to a new life.
"I remember my brother telling me I need to use this as motivation," Mundine said of his older brother, Nick. "He said, 'It's a harsh reality, but life goes on, and even though Pops isn't here, we have to make sure we're still all right.' He said he hated saying it to me because I was a kid and I didn't want to hear, 'Grow up. Get over it.' But that's what I had to do."
And he did. Partly out of a desire to honor his father and partly out of necessity. Less than three months after losing his father, Mundine became a dad himself at age 19.
Stacking two such monumental moments on top of each other took its toll. But Mundine believes it had to be that way for him to make his transformation count.
"It was overwhelming," Mundine recalled. "A lot of emotions to handle. But when my daughter came I really did feel like it was God putting another special person in my life."
To this day, Mundine uses the date of his father's passing as a reference point for the age of his daughter, Riley, who will turn 3 on June 30. He likes the extra reason to think of his father and said it would probably always be like that.
Memories
It took Mundine months to reach the point where he could focus on anything other than missing his father, but he now enjoys laughing and smiling about his favorite memories of Delton.
"I've got good friends who have helped me a lot," Mundine said. "And when I get emotional about it, even now, I just tell 'em, 'Tell your dad you love him.'"
Mundine's father always encouraged his son to play sports. There were times, Mundine remembered, when he would be sitting in his room at 8 at night and his father would barge in and say, "How come you aren't outside playing? Let's go shoot some hoops."
In his day, Delton Mundine, who stood a couple of inches shorter and several helpings lighter than his 6-foot-2, 242-pound son, was a talented high school football player. He passed his passion for the game to his youngest son.
"Some of the stories he used to tell were definitely lies," Mundine joked. "But he was pretty good. I talked to a couple of people and they said he was the guy when he played, but some of the numbers he used were like, 'C'mon man.'"
Many of Mundine's best memories of his father have nothing to do with sports. He loved when his dad came home with small cartons of milk from his job at the local hospital and one of their favorite bonds was formed over those fruit-flavored Tootsie Rolls. But his father's best trait was one that still makes Mundine laugh to this day.
"Funny. He was very, very funny," Mundine said. "He always was a comedian, especially with how he used to dance, which was not how you were supposed to dance if you were a guy, let's just say that."
Moving forward
Although that first year without his father was fraught with sadness, Mundine said the anniversary of his passing was crucial.
"It was tough," Mundine admitted. "But it kind of gave you a little closure, like, 'I can do this.'"
There have been a lot of distractions since that day of sadness three years ago. Mundine has enjoyed being a dad and found himself raising Riley with some of the same tactics Delton used. Mundine is engaged to Riley's mother, Hayley, with the marriage set for next spring. And, of course, Mundine, a recent graduate, has become a three-year starter at tight end and enters his senior season as a second-team all-Big 12 preseason pick by several publications.
"It's been good for me and my family. It's something positive that can take the focus off of the sadness," said Mundine, who still visits his father's grave every trip home and often spends nearly an hour out there just "talking" to his dad. "I can honestly say ever since he passed away it's been nothing but good things — in my life, in football, in class. You can look at my grades. I was probably a 2.5 (GPA) student but after he passed away I started getting A's out of nowhere. I buckled down a little bit, but I just don't know where the A's came from. And then the touchdowns and the leadership role and now I've graduated. I can't believe it. It really blows my mind.
"I truly believe he is in heaven making all the good things that are happening to me happen."
More like this story on KUsports.com