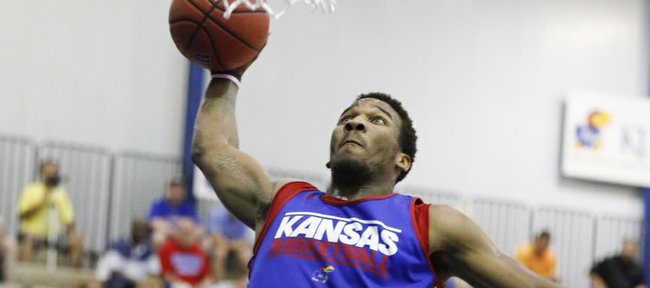 Photo Gallery
KU basketball alumni scrimmage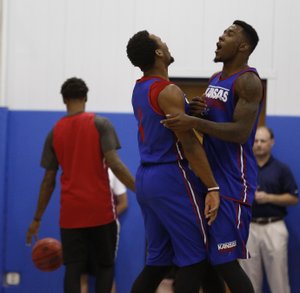 Images from Wednesday's scrimmage between current and former Jayhawk players.
Podcast episode
Kansas basketball players Jamari Traylor and Brannen Greene talk about their improvements and KU's incoming freshmen.
Frank Mason lofted a perfectly-timed pass to fellow Kansas University sophomore Wayne Selden, who threw down a vicious one-handed slam dunk Wednesday in Horejsi Center.
The 6-foot-5 Selden, who scored 17 points off an assortment of drives, dunks and jumpers in the Blue Team's 79-67 Bill Self camp game victory over Ben McLemore and Cole Aldrich's Red squad, showed he's recovered nicely from offseason knee surgery.
"I'm still not to the point where I want to be. I need to get my body to the point where it needs to be," said Selden, who, in playing point guard and shooting guard actually looked like one of the most athletic players in the game.
"I feel I'm jumping pretty well," Selden added. "I've got a lot more energy. That might have been just the time off, the rest I had. You never really know. I feel I'm moving pretty well right now."
The Roxbury, Massachusetts, native grinned when asked if his knee surgery was a simple arthroscopic procedure.
"I believe so," he said with a smile, noting it was "my left one (knee), my jumping one."
Selden's performance Wednesday and in recent pick-up games has most certainly impressed his teammates.
"Wayne is a monster, a strong beast," said sophomore wing Brannen Greene, who scored a game-high 23 points for the Blues. Mason (16 points) and Jamari Traylor (11) also were in double figures for the victors.
"He's focused in. He's been getting in the gym a lot more. He wants it so bad. Physically, mentally he's one of the toughest players I've been around. I just respect his game," Greene added.
Selden, who said he's "more comfortable" as a sophomore, promises to be leader of what he calls a more intense KU team this season.
"We are a tough group. Last year to be honest, we weren't tough. We were soft," Selden said of a 25-10 team that won the Big 12 title and went 1-1 in the NCAAs. "We didn't win last year. That was the biggest thing. We did the bare minimum of what we needed to do. We had the pieces in place. We just didn't come through. Now we've got a second chance. We've got to be a tougher team, a more defensive-minded team," Selden added.
Greene, 6-7 from Juliette, Georgia, backed Selden on the toughness issue.
"There were a couple times in practice we weren't the regular Kansas team that coach (Bill Self) was used to. We'd take it too easy," Greene said. "As older guys we came together and decided we were going to be tougher every day and work hard. That was a weak point for us last year. We're not going to let it happen this year.
"There is definitely some unfinished business," Greene added. "We lost Andrew (Wiggins) and Jo Jo (Embiid), and the players we lost they were all great players. Everybody is coming back a year older. Everybody knows the system better. I feel there's going to be a better chemistry. We brought in the right pieces to fit the things we needed. Right now I think we're in a good position to be pretty good this year."
KU freshmen Kelly Oubre and Cliff Alexander had seven and six points respectively for the losing Red team, while frosh Devonté Graham didn't score. McLemore led the way with 16 points, including a dunk over Greene, while Aldrich had 14 points and Conner Frankamp 13.
"There's three young guys here now. There's going to be four (when Ukrainian Sviatoslav Mykhailiuk arrives in August or September)," Selden said. "We've got to let them know what Kansas basketball is really about.
"They have a good attitude and are trying hard. That's the biggest thing, because you are going to mess up. We still mess up as older guys now, but we've got to keep pushing forward and keep working hard."
Selden looked strong in pushing the ball up court as point guard Wednesday.
"I've been working on my ballhandling skills, just trying to be able to be a floor general from the off-guard position or point-guard position, wherever I'm at," Selden said.
"I've got to be more of a leader this year, be more of a floor general. I have to work on the intangibles and everything will come together eventually."
Greene matures: Greene was asked about "clashing" with Self at times in learning the college game a year ago
"We talk a lot more. Our relationship is a lot closer. I think the clashing was good for us. It was good for me," Greene said. "I knew there was a reason he was on me so tough. I like it. I wouldn't want a coach to not be on me. I like it. It's not bad.
"I'm more comfortable and being comfortable brings on confidence. I know the system. I know what coach expects. I know what the team needs. I'm just trying to fill my role."
Starting nod?: A reporter asked Greene about possibly starting as a sophomore. "My goal is to start. I want to start. How important is it to me? I wouldn't leave the school if I didn't start. I'd still be at KU. My ultimate goal is to start. I'm working to start," he said.
Out of action: Sophomores Landen Lucas (hyperextended knee, listed day to day) and Tyler Self (coming off foot surgery) did not play in the camp game.
Charity game tonight: Today is the sixth-annual Rock Chalk Roundball Classic, which is set for a 7 p.m. tip at Lawrence High. Former KU players Sherron Collins, Cole Aldrich and Ben McLemore will join other former Jayhawks in the game.