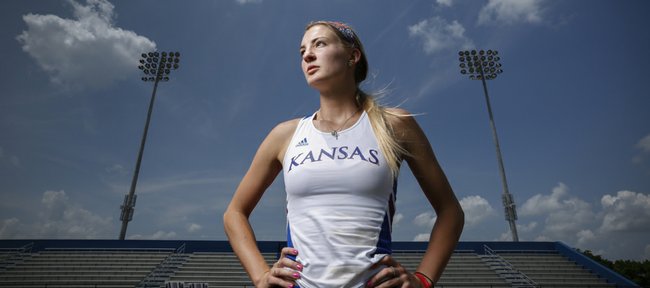 It's been a shade over a year since Kansas University's Lindsay Vollmer clutched a bouquet of yellow flowers and shiny national championship trophy in her left hand and raised her right hand high into the air while wearing a smile that tried to make sense of all that had just happened.
Countless practice hours, gallons of sweat, a dozen or so indoor and outdoor meets and even a few injuries have come and gone since that day last June, in Eugene, Oregon, where Vollmer stood atop the track world. But even with all of it fresh in her memory, the only thing the defending NCAA outdoor heptathlon champion can think about today is doing it all over again.
"I want to repeat. I want to win," said Vollmer, who will kick off her title defense Thursday in Eugene. "The competition's gonna be tough and I know it's not going to be easy. But I think that's what this year's about, just showing that last year wasn't a fluke."
Most of what Vollmer has done since that day has proven that already. Regarded as one of the top track athletes in the Big 12, Vollmer enjoyed solid encore indoor and outdoor seasons and continually outdid her own marks and threatened school and conference records in the process.
All of that has put her in a very different frame of mind going into this year's national meet. Rather than merely hoping to crack the top eight in the seven-event heptathlon — she lists the javelin as her favorite event and the 800 meters as her least favorite — Vollmer has her eyes fixed on not only winning again but also on proving that she can handle her new role as the hunted.
"I'm definitely going in with more confidence, knowing that I belong," she said. "Last year, I was kind of intimidated by the upperclassmen, and now I'm an upperclassman so maybe people are intimidated by me. That's a really cool feeling."
While the circumstances and her thought process are slightly different this time around, Vollmer insists that nothing in her approach has changed. She still practices the same way. She never cuts workouts short. She constantly chases the thrill that comes from being better than she was when she woke up that day. And she holds on to one simple belief that she knows will make her successful.
"A lot of times, when you do so well, it's easy to slip into this relaxed mode where you don't work as hard," she said. "But I've just tried to keep pushing.... Track should be fun, and if you work hard in practice the meets should be easy."
Vollmer credits the KU coaching staff for helping her stay sharp and hungry.
"Our coaches have been really good about always expecting the best and wanting you to work hard no matter what," she said. "I think that consistency has been really helpful. They haven't treated me differently at all."
Neither have Vollmer's teammates. Many of them see the Hamilton, Mo., native and daughter of a track coach as the same person who went to nationals a year ago as a relative unknown.
"She's the same Lindsay," said KU junior Michael Stigler. "She's never changed since the day she got here. She's a workaholic and she knows how to come out here and give it her all on the track every day in practice. For her to be able to do that in all the events that she does is amazing."
Vollmer brought home the 2013 national title by setting personal best marks in six of the seven heptathlon events and shattering the school record with 6,068 points. That point total was the 10th best in NCAA history. Following that up with a similar showing this week would be virtually unheard of, but that's exactly what's driving her.
"Last year I was fortunate enough to have excellent performances in numerous events," Vollmer said. "That doesn't happen very often. My coach was telling me, 'You might do this the rest of your life and that might never happen again.' And, of course, that just made say, 'I'm gonna prove you wrong.'"
Added Stigler of Vollmer's quest to repeat: "You're not gonna catch her easily. She's gonna make you come and get her if you want it."