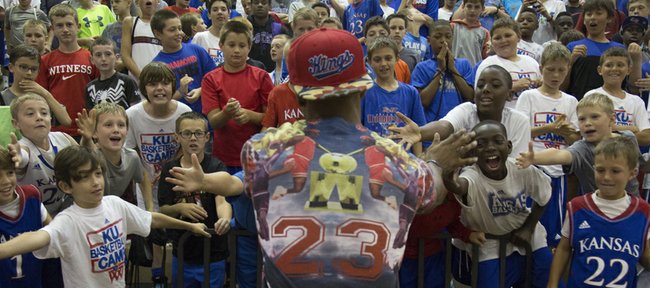 Still a kid at heart, 21-year-old NBA jumping jack Ben McLemore heeded the requests of a throng of young Bill Self basketball campers, who chanted "360, 360" at the 6-foot-5 Sacramento Kings guard Monday in Horejsi Center.
Camp guest speaker McLemore, who jumped over Shaquille O'Neal to complete a remarkable jam at the NBA's Slam Dunk contest at All-Star weekend, flushed the 360 to the delight of hundreds of campers who accorded the second-year Sacramento Kings player a standing ovation.
"I'm trying to get some good dunkers here. It will be good. I'll find some good dunkers," former Kansas University standout McLemore said, referring to his first "Sir McLemore Summer Slam" charity event on Saturday, July 26, in Lawrence.
His full day of activities will culminate in a slam dunk competition that night at East Lawrence Rec Center.
"I'm having a great time. It's good to be back at Kansas, to see all my friends, coaching staff and these guys (campers) and getting my classes going," said St. Louis native McLemore, who is enrolled in summer school at KU as he pursues a college degree.
McLemore, who has been in town for a few weeks now, has been working out on his own and also playing in pick-up games with KU's current basketball players.
"I want to see how that gym is going to be in practices and stuff with all this talent," McLemore said. "Don't get me wrong, there was a lot of talent last year. There is even more talent coming in. These guys are definitely impressing me. I think it'll be a good year for them."
McLemore, who wore an old-school "Kings" hat which flipped off his head on his 360 dunk Monday, had words of praise for another ultra-athletic player — KU sophomore-to-be Wayne Selden, a 6-5, 230 guard from Roxbury, Massachusetts.
"Wayne is looking good. After that surgery he is definitely getting his bounce back," McLemore said of Selden, who has fully recovered from offseason arthroscopic knee surgery. "He's always been in attack mode, but just the energy. He's starting to take over now. His shot is getting more consistent.
"He's always guarding me and I'm always guarding him. He's aggressive, making it competitive. I'm very excited to see next season."
McLemore was willing to discuss the play of three of KU's freshmen newcomers who are in summer school.
Of Kelly Oubre, 6-7 from Findlay Prep in Henderson, Nevada, McLemore said: "When we first started, I didn't know he was left-handed. Once he gets down how to play the game and the system, he's definitely going to be good. He can shoot the ball."
Of Cliff Alexander, 6-8 1/2, 240 from Chicago's Curie High, he said: "He's a big guy, man. He can do a lot of damage on this college level and also with this program he can help a lot. The big body that he has, the athleticism, he's going to be good."
Of Devonte' Graham, 6-2 from Brewster Academy in Wolfeboro, New Hampshire, he said: "That's one thing, he can shoot the ball. He's fast. To be that small, he's pretty long. He's a good defender, stays in front of his man pretty well."
McLemore addressed a variety of topics with the media and the campers.
Of his one-day summer event in Lawrence to raise funds for the fight against childhood hunger, he said: "It's something I thought of to be part of for the people of Lawrence. Everybody can have fun and just enjoy it." The day includes a "Brunch with Ben" and a basketball run and dribbling event down Mass Street.
"It's going to be good," he added.
Of getting dunked on by LeBron James in a video that went viral last season, he said: "It wasn't that bad. I mean that's LeBron James, right? Everybody in the league gets dunked on once in a while. I was making a basketball play at the wrong time. At the same time, I had fun out there playing against one of my role models. I felt kind of bad after I was getting texts and pictures of me getting dunked on by LeBron. He told reporters he hated it had to be me, but at the same time, it's basketball."
On James being one of his childhood idols: "I was trying to mimic my game just like his. LeBron and Paul Pierce, another guy from Kansas, are two guys I looked up to. Just the little things they did."
Of Joel Embiid's chances of being a dominant NBA center: "If he keeps working he can definitely be. I think Joel has that potential to be great, one of the best kids in the NBA. Not too many freshmen show a showcase like that early in a season like that. He definitely did it early."
Recruiting: Daniel Giddens, a 6-10 senior-to-be from Wheeler High in Marietta, Georgia, will announce his college choice on July 3, JayhawkSlant.com reports. The No. 26-rated player in the Class of 2015 has a list of KU, Arizona, Florida, Georgia, Indiana, Ohio State and Texas A&M.; Ohio State has been called the heavy leader.