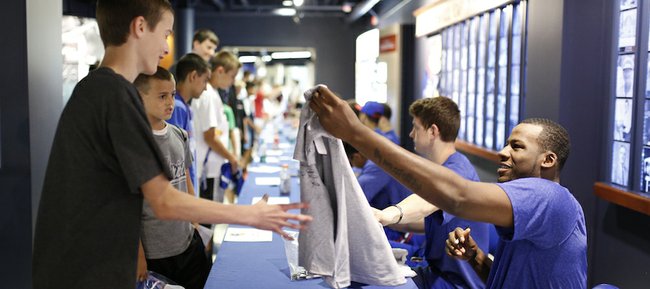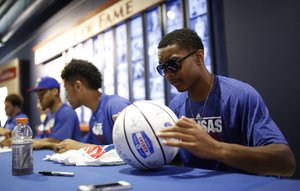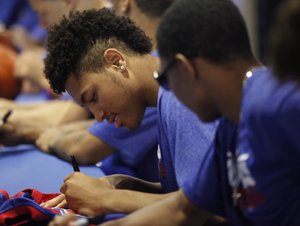 Cliff Alexander attended Chicago Curie High School's prom on Friday, May 30, graduation ceremonies four days later, and by 11 p.m. last Wednesday had settled into Jayhawker Towers with his new Kansas University basketball teammate and roommate, Conner Frankamp.
It's been a whirlwind for the 6-foot-8 1/2, 240-pound Alexander, who is enrolled in summer school at KU and thus has already started his college adventure.
"I heard I looked really nice," Alexander said, smiling on Sunday after signing autographs at Bill Self's basketball camp.
He was referring to reaction to his prom attire — a gold tux with black trim, black shirt, black bow tie and sunglasses. He also looked rather distinguished in his Curie blue cap and gown, pictures of both occasions displayed on mom Latillia's Facebook page.
"Talking to my mom and dad ... they are just very excited to get me down here," Alexander, Rivals.com's No. 4-player in the recruiting class of 2014, said of KU. "There's really nothing to do back home. (I) just want to get away, get a feel of something new."
He's already settled in.
"(I'm) just getting to know everybody, getting a feel of campus and building a great relationship with my teammates," Alexander said.
His goals this summer?
"Get stronger, get faster, get better," he said, noting he must work on, "a consistent jump shot and post moves."
Alexander arrives after a senior season in which he averaged 24 points, 15 rebounds and six assists a game for Curie High.
"One word ... power," the McDonald's All-American exclaimed, asked how to characterize his game.
KU coach Bill Self would agree with that assertion.
"He's a guy who will definitely attack the rim," Self said Sunday at camp. "I'd say right now he is a hybrid. He's a post that can play away from the basket or he's a 4-man that can post. He's kind of both of those guys. He's certainly got some work to do offensively and defensively ... but offensively, as far as developing some go-to moves because he's used to being more athletic than people and overpowering them. Of course, at this level, he won't be able to do that quite as easy."
Self was asked if Alexander reminded him more of former KU forward Thomas Robinson or ex-Jayhawk forward Darnell Jackson.
"You know what ... I think they are both pretty good comparisons," Self said. "I think he's a little bit further along than both of them, a little more advanced than both of them at the same stage. I'd say there are similarities body-wise and how they both went after the ball. I think we'd be very fortunate if we could keep Cliff here three years like Thomas or four like Darnell. I probably don't see that happening. Hopefully he'll play well enough he can make that decision at a later date. We're all excited about him. He's a great kid. He's hungry. Certainly we need his presence inside."
Asked how long he'll play at KU before heading to the NBA, Alexander stated Sunday: "I am not sure. It depends ... depends on how I play. If I'm ready I'll go, but if I'm not, I'll stay."
For now, Alexander, who is expected to be taken No. 2 in the 2015 NBA Draft according to draftexpress.com (behind fellow Chicagoan Jahlil Okafor), is focused on college, of course. He chose KU over Illinois, DePaul and Memphis.
"The place was crazy. The fans were going crazy," he said of his campus visit to KU for Late Night in the Phog. "The other thing that stuck out to me was coach Self ... just his history with developing his players and getting his players to the pros.
"I was talking to Sherron (Collins, former KU guard from Chicago) at Late Night. Basically he was telling me, 'You should come here because coach Self is a great guy.' I kind of see it," Alexander added with a smile.
He followed the Jayhawks' fortunes in last year's NCAA Tournament.
"I mean I was pretty upset when Stanford put 'em out," Alexander said of KU's foe in its second NCAA Tourney game. "I paid close attention to them. They didn't really have a good season last year, but hopefully we can change that around this year."
He's part of a recruiting class that includes No. 6-ranked Kelly Oubre, No. 36 Devonté Graham and five-star Sviatoslav Mykhailiuk.
"I've never heard him say it but hopefully it comes true if we come in and do what we need to do," Alexander said of Self saying this could be one of his finest recruiting classes. "If we stay disciplined and do what coach tells us to do, I think we'll be pretty good," he added of the 2014-15 team.
This, that: Self on Sunday said all players are on campus for summer school with the exception of Ukraine's Mykhailiuk, who will work out with his national team this summer.
Carter picks Maryland: Former Georgia Tech forward Robert Carter Jr. has decided to transfer to Maryland, Zagsblog.com reports. The junior-to-be chose former KU guard Mark Turgeon's Terrapins over South Carolina and St. John's. His AAU coach told several recruiting services KU was on his list, but sources say KU never had contact with Carter. Turgeon's Terps have lost five players to transfer this season, picking up a transfer in this case.
More like this story on KUsports.com