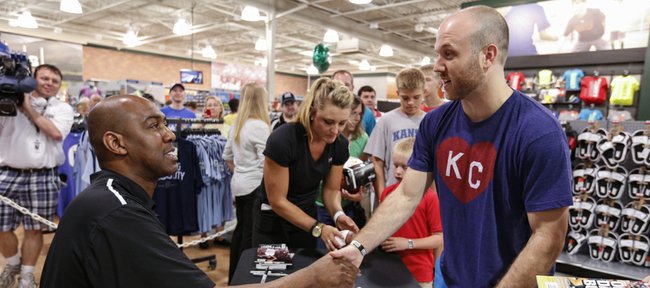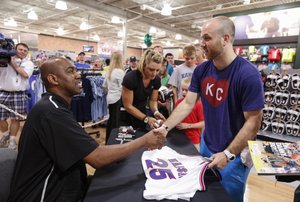 Wake Forest students and other Demon Deacon fans packed a pep rally for Danny Manning on the main quad of campus April 8, the day the former Kansas University All-American was named head basketball coach at the ACC school.
Not long after, a billboard was hung in Winston-Salem with the inscription, "Welcome Coaches Clawson & Manning," referring to new football coach Dave Clawson, as well as former Tulsa mentor Manning.
The 48-year-old Manning, who moved from Greensboro, North Carolina, to Lawrence in 1983 for his senior year at Lawrence High and ensuing four years at KU, has received a hero's welcome in his return to Carolina Country.
"Support has been outstanding. I'm excited about it. I also understand this is kind of the honeymoon phase," Manning said Saturday at Dick's Sporting Goods, where he signed hundreds of autographs. A long line stretched through the store on grand-opening weekend.
"We just want to make sure we get our foundation put in correctly, in doing it the right way, making sure the guys on our team and the people involved with our program understand how we are going to do things. We are in the process every day talking and showing them how we are going to carry ourselves on and off the court."
Manning, who still has a house in Lawrence he's trying to sell — he sold the house he and wife, Julie, resided in the past two years spent as head coach at Tulsa — explained the reasoning behind taking the Wake Forest job.
"I think for me, having spent most of my formative childhood years in North Carolina in the Greensboro area, which is about 30 minutes away from the Wake Forest campus, played a lot in it," Manning said. "It's kind of come full-circle for me. Growing up ... Wake Forest played in the Greensboro Coliseum, which was my hometown. That was one of the teams we followed very closely.
"It's just a great school. I think the school is really special. It's not a huge population. It's small, but it's unique. It's a beautiful campus. There's a lot of camaraderie among the people on the university grounds."
Manning, who led KU to the 1988 NCAA title and also won a championship ring as member of Bill Self's 2008 NCAA title coaching staff, said it was great to return this weekend and spend some time with son, Evan, who is a junior-to-be on KU's team.
"We're very comfortable here, absolutely," Manning said. "I moved here in 1983. With the exception of the last two years, I've spent quite a bit of time here. I'll always feel very comfortable here and will always have fond memories. I graduated from here. My kids were raised here. I met my wife here. I went to (high) school here. This will always be a very fond place."
Asked how he can balance being a Lawrence legend and now one of Wake Forest's biggest assets, Manning said: "It is what it is, in terms of where you are at. I've been very fortunate and blessed to have a lot of great experiences. A lot of people have helped me get to where I'm at. For me as a coach, I'm a teacher. We are all teachers when you coach. You just want to share your experiences and help somebody out and hopefully that will, in turn, make this world or America a little bit better."
Team USA coach: Manning on Monday will report for duty in Colorado Springs as court coach for USA Basketball's Under 18 team.
"I've been trying to get involved with USA Basketball for some time now. I feel very fortunate and lucky to get the phone call," he said. "I'm going to go there and support coach Donovan (Billy, Florida, Under 18 head coach) and his staff and help prepare that team the best I can."
Which one?: Former NBA player Manning was asked the simple question, "Wiggins or Embiid?" in terms of which player he'd take over the other in the upcoming NBA Draft.
Joel Embiid, Andrew Wiggins and Jabari Parker are regarded as the top three picks in some order.
"What team am I? What players do I have? I think all those things factor in," Manning said. "I think those two guys are going to have terrific professional careers. A lot will just depend on the coach, the system and the players they already have in place. Their futures are very bright. They will do very well for themselves."
Evan the Jayhawk: Manning's son, Evan, will remain a Jayhawk player rather than become a Demon Deacon.
"I would love to," Manning said with a smile, asked if he'd like to coach his son at Wake. "But you know what ... this is his journey. This is his life and we will always be there to support him and do whatever we can do, what we can for him as always. But at the end of the day it's his decision. He's in a great place. I know that."
More like this story on KUsports.com