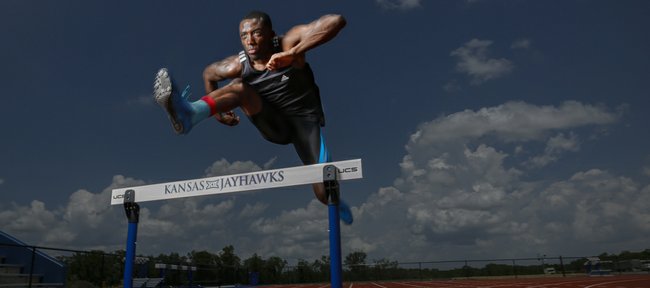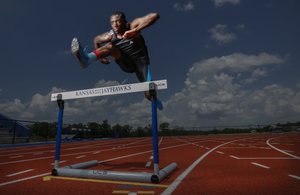 As Kansas University junior hurdler Michael Stigler illustrated by coming from way behind to win the first of his three Big 12 400-meter hurdle titles, it's not how you start, rather how you finish.
Stigler didn't have the easiest of beginnings in life. Shortly after the birth of his brother Jesse, two years his junior, Stigler's father "disappeared" from the family. Several years later, his grandmother, who lived with Michael, Jesse and their mother, died after a battle with cancer.
Her loss prompted a move from one Texas town to another, from Arlington to Canyon.
"When we moved, we were the only African-American family there," Stigler said from his bleacher seat at Rock Chalk Park, looking down on the track on which he burns in daily workouts. "We faced a little bit of racism. I didn't feel it from parents, more from the kids, hearing kids talk about my brother, using profanity, but you just have to let it go because younger kids don't really know any better.
"You move on from that and use it for strength on the track, just take it out on the track. Once you make something happen, it's like, 'You can't say anything now.' That's how I look at it."
Stigler said in time he and his brother developed close friends, but in that first year of the move, which happened when he was in seventh grade, Michael was a child overdue for a break in life. It happened on the first day of track practice. A man named Adam Cummings, who had walked into his life the previous fall as his junior-high football coach and has no plans of ever walking out of it, put him on the right path to maximize his athletic ability.
"Michael's kind of like a son to me," said Cummings, who recently was hired as athletic director and head football coach at Hale Center High, near Lubbock.
Going long
Cummings and Stigler looked back on that first day of track practice, when he told the students to pick whatever event they wanted. Stigler, who said he had always found great comfort in long jogs, went with the 800-meter and mile runners. They completed their workout before the hurdlers, so Stigler wandered over and asked Cummings if he could get in line to jump over a hurdle.
"I jumped the hurdle, and he told me, 'Get back in line.' And that day he told me I can go to college for it and be something special," Stigler said. "He saw something in me and made me stick with it."
Cummings was in attendance at Texas Tech to watch Stigler win his third Big 12 title. A runner-up at last season's NCAA championship with a personal-best 49.19, Stigler enters this week's national championship meet ranked No. 1 in the nation in the event. He also competes for KU's 4X400 relay team.
"At the time he was a little bit undersized to be a hurdler, and he probably still is, but what stuck out was his willingness to be coached, his willingness to do whatever it took to get better," Cummings said. "He didn't bat an eye at whatever you asked him to do. His competitive drive was what was most amazing to me. You don't tell him he can't do something."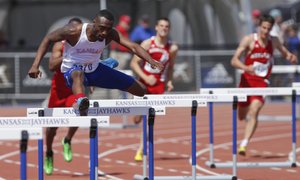 Born to hurdle
By the time Stigler was a senior, Cummings didn't have time to coach track because he was the head soccer coach. Cummings and Stigler did find time to continue working on mastering the hurdles. That time was 7 a.m. every school day, which didn't preclude Stigler from full-time participation in afternoon practices.
At 5-foot-9 1/2 —"Have to put the half in there," Stigler said — and 155 pounds, he still looks more like a distance runner from a distance. But watching him up close as he flies over a hurdle, muscles popping, remarkable flexibility on display, it's clear he was born to run the hurdles.
New Mexico and other schools recruited Stigler to play cornerback, but, he said, "That's not where my heart led me."
For someone who didn't have it easy coming out of the blocks of life, Stigler spends a great deal of time counting his blessings.
He starts with his grandmother, Anniebell Williams.
"Silliness, goofiness, somebody to make you smile, somebody who can make you cry but lift you up at the same time," he said. "Overall, just a great person with a big, white smile."
The smile he wears today, Anniebell's smile.
"It was shocking when I was young to see what the chemo did to her and what the cancer did," Stigler said. "It hurt bad, but I had to try to stay strong for my younger brother and my mom was struggling with it too."
He continued by expressing thanks for his mother, Evelyn Williams, whom Stigler said gave birth to him her senior year in high school.
"One thing my grandma told my mom before she passed away was to make sure she takes care of her boys," Stigler said. "My mom took that to heart, and I took that to heart to make sure I take care of my mom and brother as well."
Of his brother Jesse, 17, Stigler said, "I'm so proud of him. He's a real studious guy, likes to work. I consider him the bigger younger brother. He's 6-2, 190. I got the smaller genes. I love him to death. He's funny, goofy. We look like each other, but we're two totally different people."
He also takes pride in siblings Fayth (10) and Scott (7).
So thankful
Stigler was quick to praise his KU hurdles coach, Elisha Brewer, and head coach, Stanley Redwine, for more than just never letting up on him in practice, no matter how much he's hurting.
"They don't just care about you as a student and an athlete, they care about you as a person first," Stigler said.
If Stigler stays on the path he has been on since taking up the hurdles as a seventh-grader, it might lead him to meet an idol.
"I'd like to meet Edwin Moses one day, just to sit down and talk to him because he was a genius with the 400 hurdles," Stigler said. "He mastered it. He really mastered it. Nine years, nine months and nine days undefeated."
That's longer than Stigler has been running the hurdles. At the moment, he's not concerned with a streak, just with winning one race, the one that would make him a national outdoor champion.
"Great field, great group of guys ready to compete and give it their all," he said. "Hopefully, that leads me to the finish line first."
If it does, he'll spend all day thanking people who helped him to reach it and every one of them will know the man who deserves the majority of the credit is the one thanking them.
More like this story on KUsports.com