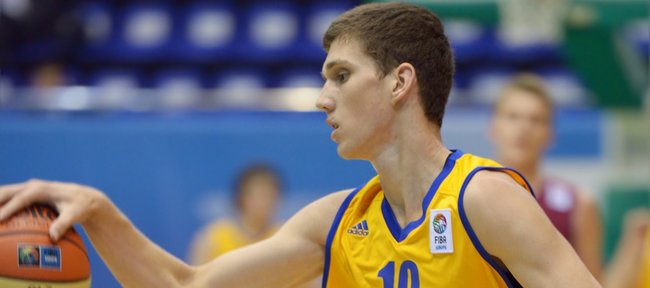 Rivals.com has awarded future Kansas University basketball player Sviatoslav Mykhailiuk a five-star rating, the website reported Friday.
Mykhailiuk, a 6-foot-6 guard from Ukraine, has not been issued a specific ranking in the recruiting Class of 2014's top 150 since he was a late addition to the class.
KU has an incoming class of five-stars Mykhailiuk, Cliff Alexander (ranked No. 4 overall) and Kelly Oubre (No. 6), plus four-star Devonte Graham (No. 36). A five-star ranking is the best a player can receive.
Larry, Tad on list: ESPN.com this summer is releasing a list of the top 50 coaches in college hoops as decided by a panel of 100 ESPN writers, editors, broadcasters and researchers. ESPN stresses "this isn't about legacy; it's about the present."
As such, two coaches with KU ties have so far been revealed on ESPN.com's list. Colorado coach Tad Boyle, who played for Ted Owens and Larry Brown at KU, checked in at No. 34.
SMU coach Brown, who coached KU to the 1988 NCAA title, on Friday was accorded a No. 21 rating. Big 12 coaches on the list thus far: Scott Drew, Baylor, tie 50th; Rick Barnes, Texas, 44th; Bruce Weber, Kansas State, 40th; Tubby Smith, Texas Tech, 39th; Lon Kruger, Oklahoma, 31st; Bob Huggins, West Virginia, 30th. The list will continue over the next four weeks counting down to No. 1.
Of Brown, ESPN.com's Eamonn Brennan writes, "Brown doesn't look likely to leave SMU anytime soon. When he does, it is just as likely to be for retirement than his 15th (or so) crack at the NBA. But even if Brown did jump back to the pros tomorrow, this ranking would be fair. In just two years, Brown has done what he's always done and what made him worth the SMU experiment in the first place: He's brilliantly coached his team."
SMU, by the way, is expected to be a likely preseason top-15 team this upcoming season.
"I'm here at SMU. I want to win a national championship," Brown told USA Today this week when asked about rumors he might become the Los Angeles Lakers coach.
Of the upcoming NBA Draft, Brown told Philadelphia radio station 94WIP, " I love (Andrew) Wiggins, I love (Jabari) Parker and I like Joel (Embiid) a lot."
Danny in town: Former KU All-America player and former assistant coach Danny Manning will make an in-store appearance at Dick's Sporting Goods from 12:30 p.m. until 2:30 p.m. today. The store is located at 2727 Iowa Street. For information go to http://ljw.bz/1j865kU.