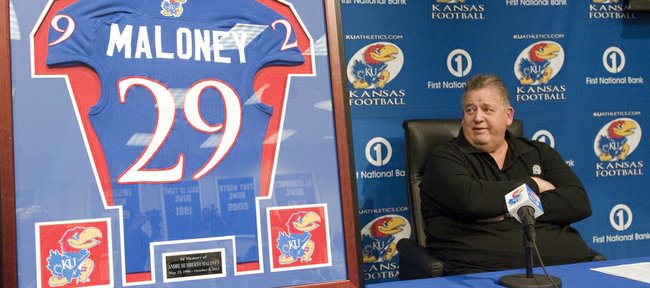 Overland Park — Kansas University freshman Joe Dineen's quest to honor the late Andre Maloney — a fellow KU football recruit and Sunflower League standout — included another memorable stop on Friday.
Dineen, a recent Free State High grad who moved onto KU's campus and began conditioning workouts earlier this week, was the featured speaker at a seven-on-seven football camp put on in memory of Maloney, who died last October.
Dineen spoke to a couple hundred high school football players at Maloney's alma mater, Shawnee Mission West High, about the importance of listening to their bodies and being honest with their coaches about any injuries that might be ailing them. The message mostly centered on proper hydration and taking concussion symptoms seriously, but Dineen also touched on his memories of Maloney.
"I competed against Andre," began Dineen, who will wear No. 29 at KU to honor the 6-foot-2, 180-pound cornerback and wide receiver who suffered a stroke and collapsed on the sideline following a long touchdown against Leavenworth on Oct. 3, 2013. "And other than being a heck of a player, I always thought of him as a guy who played the game the right way and played it hard."
Dineen, sounding wise beyond his years, told the players in attendance that the idea of proving to coaches how tough you are only needs to go so far.
"What's one week compared to the rest of your football career?" he told the group.
SM West football coach Tim Callaghan said he was thrilled with the turnout, which included 18 teams from 16 different schools. The tournament received support from the Viking Touchdown Club as well as several members of Maloney's family, including his mother Rosalita, who sold T-shirts, gave away wrist bands and displayed posters and memories of Maloney.
"This was a good opportunity for us to do something Andre really liked," Callaghan said. "Something to remember him by and a way to get good messages out to kids."
Callaghan said he planned to keep the tournament and Maloney's memory alive in the years to come and would like to include more speakers like Dineen in the future.
In the months since his passing, KU coach Charlie Weis and the entire Jayhawk program have taken measures to make sure Maloney and his relatives felt like members of KU football family. He was honored on signing day in February, is included with the recruiting class on KU's website and is expected to be listed in this year's media guide.