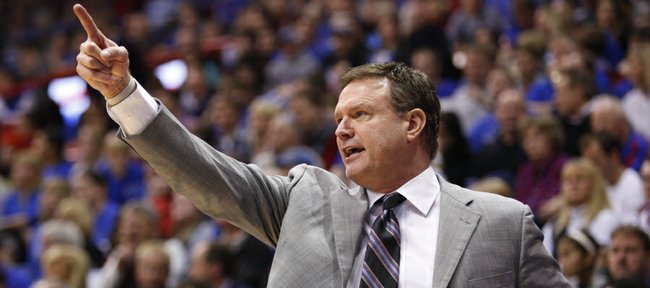 The ACC, and maybe the SEC, will be two conferences to experiment with a 30-second shot clock in exhibition basketball games during the 2014-15 preseason.
If the coaches, administrators and fans like what they see — if scoring appears to be on the rise — the movement to switch from 35 to 30 could gain unstoppable momentum.
"I think what the ACC is doing to get a feel for this and see how coaches and people feel about this ... will be very positive for the (NCAA) Rules Committee if in fact it needs to move in that direction at a quicker pace," KU coach Bill Self said this week on a podcast with ESPN's Andy Katz and Seth Greenberg.
Self last season came out in favor of shortening the clock five seconds. Remember, the NBA and international basketball use a 24-second clock. Women's basketball uses a 30-second clock in college.
"I will say this: I sat in on a meeting with the Rules Committee, the Selection Committee and powers-that-be that studied it, studied it, studied it. There is not near as strong a movement from the consensus of the coaches about going to 30," Self said.
"We hear individual coaches, which I have been one of them, saying 'We need 30. This would be better. Why would we have the longest shot clock in the game? Blah blah blah blah blah.' We say those things, but the people who have actually studied it and researched it and done surveys don't feel as strongly as a lot of the voices.
"There was much more discussion (in meeting Self attended) about, 'How do we modify the block/charge (call) to get it right or this or that than actually move to change the shot clock.' I was a little surprised in that because that's one of the things we talk about the most that isn't being discussed the most."
Self will go so far as to say, "I think the consensus is the coaches like it at 35. I remember one of the coaches' thoughts was, 'Why do we have to be like everybody else? Why can't we have our own game?' Our own game is 35.
"I do think there is consensus that it needs to be moved, which I happen to be one of those guys; there's also a strong consensus it's just fine where it is. I personally think if you want to increase scoring, create more possessions. What the ACC and other leagues potentially will do (in exhibitions) I think would be something very positive for it to get more momentum."
The reason to shorten the clock, of course, would be to increase scoring.
"To do those things, wouldn't it be nice to have more possessions?" Self asked. "Instead we've eliminated the hand-check, and that was a way we were going to up scoring, which has obviously worked. It will continue to get better. Even though I hated it initially, it will be something that is better for our game over time. That's what needs to be discussed, what is best for our game over time."
Scoring did increase last season following the elimination of the hand-check on defense. Self said it took some getting used to.
"You know in practice, we let it become a bloodbath every day and like it," Self said of physical practices in which defense is often stressed.
"Basically all we are doing is fouling negates hustle. We had more people (licensed refs) come in practice. The next thing you know, our kids were defensive on defense. I thought our defense this past year was awful compared to what it's been in the past. I'm not blaming it on that (hand-check) rule. I am believing it took away some of that aggressive instinctive play our teams in the past have naturally had because we put so much an emphasis on hands-off.
"Some people are better at it than others. It will end up being best for our game. We'll clean it up. To me, the perimeter is pretty clear. But how do you call the post? You can touch them (offensive postman) ... when they catch the ball, you can't touch them. If they back into you and they create the contact, then you can touch them again. To me it's very confusing on post play as much as anything else. That was a big point of the Rules Committee, how to get this where there are more absolutes like it is on the perimeter. We'll get there."
As far as the original topic, Self outlined his stance last season after the Texas Tech game in Lubbock in which the Red Raiders shot late in the clock quite often.
"I would like a shorter clock, but to 30. I also think you should only get eight seconds to get across (halfcourt instead of 10). If you have to call time out or the ball goes out of bounds, you get the remaining of the eight seconds," Self said.
"It once was 45," Self added of the college basketball clock. "Forty-five now would seem like an eternity. I think 24 is too quick. If we were to change the clock we'd be one of the teams affected most. So much of what we do is predicated on getting the ball to second and third side. Twenty-four seconds is not as much time to do that. I'd be OK with 30. So much of the NBA clock relies on guys getting their own shot late (in the) clock. Across the board I think that could make for some pretty bad ball, guys playing 1-on-1 the last six seconds of the clock."
More on numbers: KU freshman guard Devonté Graham will wear jersey No. 4 this upcoming season. Earlier, it'd been reported newcomers Cliff Alexander would wear No. 2, Sviatoslav Mykhailiuk No. 10 and Kelly Oubre No. 12.
Roundball roster: Event organizer Brian Hanni each day reveals participants in the June 12 Rock Chalk Roundball Classic at the event's Facebook page.
Sherron Collins, Russell Robinson, Tyrel Reed, Greg Dreiling, Wayne Simien and Patrick Richey will participate, as well as former KU football players Todd Reesing and Brandon McAnderson. Coaches include Bud Stallworth, Roger Morningstar, Alonzo Jamison and Billy Thomas.
Tipoff is 7 p.m. at Lawrence High. Tickets are $7 and can be purchased in advance at 23rd Street Brewery and AAA on Wanamaker in Topeka. Proceeds go to individual families who are battling cancer. Tickets will also be available at LHS on the day of the game. For information, go to the Facebook page or email Hanni at brianhanni@hotmail.com.
More like this story on KUsports.com