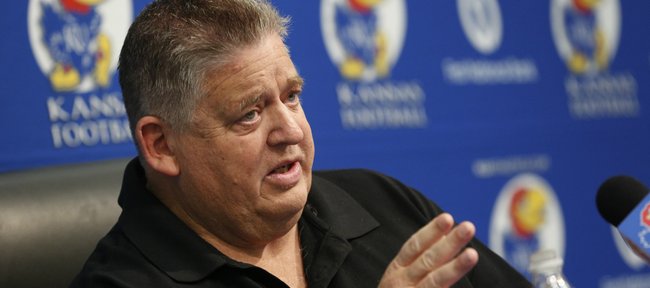 After spending most of May recruiting the Class of 2015 and beyond, Kansas University's football coaches are set to transition into the first true act of the 2014 season.
Charlie Weis and his assistant coaches have waded through dozens of highlight films from potential future Jayhawks and decided which to offer scholarships to and on which to pass.
A big portion of the next four weeks will be spent doing initial breakdowns of the teams on the 2014 schedule, starting with nonconference foes Southeast Missouri State, Duke and Central Michigan and moving into the other nine Big 12 teams shortly thereafter.
"That's really," Weis said, "what the month of June is: preparing for all your opponents and running camps."
The preparation Weis and his staff run through in June represents just a fraction of what they'll do to prepare for each opponent during the upcoming season. At that point, they'll come up with a game plan on offense and defense and scout every quarter of the action from each team's previous games leading up to the meeting with Kansas. Now they'll do more of an overview
"Our (graduate assistants) have spent the whole last month breaking down everything for the entire season, and then the coaches will spend the month of June doing the research on all these," Weis said. "In some cases, you make scouting reports. Other cases you just go over it and do personnel reports."
All 12 opponents will be evaluated in hopes of giving the Jayhawks a little more familiarity with each when game day rolls around.
"We always evaluate at least the personnel of all our Big 12 opponents," Weis said.
Getting a jump in the preparations will be easier to do for some programs than others. While programs like Kansas State have been doing the same things for a while under head coach Bill Snyder, others, like Texas, will bring a different look to the conference under first-year head coach Charlie Strong, who was hired away from Louisville during the offseason. Weis has a plan for that as well.
"You spend some time on the Texas personnel," Weis said. "But you also spend some time on the Louisville scheme. But by the time we play Texas (Sept. 27 at Memorial Stadium), they'll have played four games, so you don't have to guess what they're gonna end up doing because they'll have played their cards by then."
In the past, the long hours assistant coaches spent working in June were followed by a month off. But thanks to an NCAA rule change adopted late last year, July no longer will be just for rest and relaxation.
The new rule allows coaches to plug in up to eight hours of mandatory summer activity, including conditioning, weight training and a maximum of two hours of film study for an eight-week period during the summer. Except in special cases, only student-athletes enrolled in summer school can be required to participate in football-related activities.
In the past, such summer sessions were supposed to be voluntary and organized by the players themselves or the program's strength coach. Now, Weis, his assistants and college coaches everywhere can have a little more say in what their players are doing during the summer.
"Every week, we'll have offensive and defensive coaches in to meet with the players," Weis said. "I haven't decided yet whether we're gonna meet two hours in one day or four days of a half hour, but this is the first time we can actually spend some time in the classroom with them during the summer."
College basketball coaches were given similar summer access beginning in 2012, and the NCAA granted women's basketball coaches the same right last summer.
Upon announcing the rule change, the NCAA pointed to the long-term academic success of the student-athletes as a major reason behind giving coaches more contact with their players during the summer months.