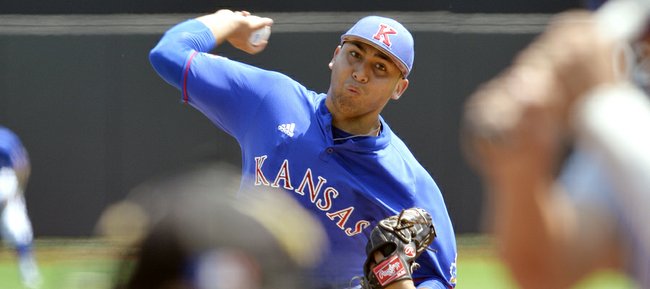 Louisville, Ky. — Kansas University battled back from an eight-run deficit, but the Jayhawks' first NCAA Tournament trip in five seasons ended with an 8-6 regional setback to Kentucky on Sunday at Jim Patterson Stadium.
"When we got down early in the game, it was too early in the game to give up," KU senior catcher Ka'iana Eldredge said. "We were down seven runs in the fourth, with so much game left to be played. As you saw, we made a run at the end and put ourselves in a position to win the game late. Fortunately for Kentucky, they were able to put up two more runs than us and that won the ball game."
The 22nd-ranked Wildcats (37-24) led 2-0 after one, 3-0 after two and 7-0 after four. A single run in the top of the sixth made it 8-0 before Kansas (35-26) banged out five consecutive hits and plated five runs.
Though the Jayhawks held UK scoreless the rest of the way, they could only muster one additional run.
Eldredge homered to left in the eighth in his final collegiate at-bat — just the second home run of his career — to aid the comeback.
"So many things go through your head when you walk up to the plate late in a ball game and you're down," Eldredge said. "I remember thinking the same thing in high school: This could possibly be my last at-bat. You just have to go up there and have fun with it. I didn't think too much, and I got a good pitch to hit and put a good swing on it. It was great that it went out of the ballpark so I can tell my kids my last collegiate at-bat was a home run."
But the deficit was too much for Kansas to overcome.
Starter Robert Kahana lasted just three innings, chased after allowing five runs — four earned — off five hits.
UK collected 11 hits against four KU pitchers.
"I made the comment yesterday that (Robert) Kahana didn't get to pitch in the Big 12 tournament," Kansas coach Ritch Price said. "It has been almost two weeks since he has been on the mound. We scrimmaged ourselves before we left, and he was actually pretty good. I was concerned … if he got off to a good start, I think you would have seen a completely different guy. Unfortunately for us, his command wasn't very good, and he was behind in the count. Kentucky can really hit the fastball."
Price gives credit to Kentucky starter freshman Zack Brown (1-1) for holding the Jayhawks scoreless through five frames.
"You look at the numbers of hits per innings pitched, and you look at his opponent batting average at .360 … we liked our chances," Price said. "I think the thing was we got buried early, and I think it took us a while mentally to recover from that after they hit us in the mouth in the first and second inning. He commanded his fastball well and showed a good breaking ball."
Kansas had the tying run at the plate with one out in the ninth, but two quick outs ended it.
"For the seniors, this was our first time in the NCAA Tournament," Eldredge said. "It has been cool to be here and an awesome experience. We told the younger guys, 'It's all a learning experience.' They know what to do and how hard to play going forward, and coach Price is going to have a lot more NCAA Tournament appearances if the young kids continue to work hard and have the passion for the game."
Kentucky 210 401 000 — 8 11 1
Kansas 000 005 010 — 6 8 3
W — Zach Brown, 1-1. L — Robert Kahana, 4-7. Sv — Spencer Jack, 4.
2B — Michael Thomas, Kentucky; Jacob Boylan, Kansas. 3B — Max Kuhn, Kentucky. HR — Ka'iana Eldredge, Kansas.
Kansas highlights — Stephen Villines 2 1/3 IP, 0 H, 0 R; Connor McKay 2-for-4, R, RBI; Michael Tinsley, 2-for-5, R; Eldredge 1-for-3, R, 2 RBIs; Tucke rTharp 1-for-3, R.