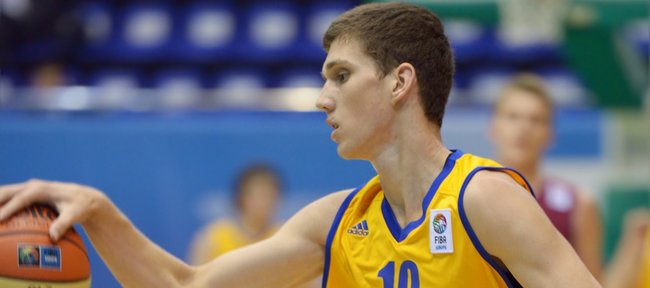 Incoming Kansas University freshman guard Sviatoslav Mykhailiuk scored a game-high 17 points off 7-of-17 shooting in Ukraine's 61-53 victory over Sweden on Wednesday at the Under 18 European Championships in Sofia, Bulgaria.
The 6-foot-8 Mykhailiuk hit two of six three-pointers and one of four free throws. He had one rebound, one assist and two turnovers in 29 minutes.
Mykhailiuk so far has averaged 17.2 points, 3.3 rebounds, 2.2 steals and 1.0 assists a game for Ukraine (6-0). He has hit 41.9 percent of his shots, including 10 of 38 threes for 26.3 percent. He has made 21 of 27 free throws for 77.8 percent.
ESPN.com's Fran Fraschilla included Mykhailiuk in his recent article, "The Next Wave of International Talent."
Fraschilla wrote: "Mykhailiuk appeared on the scene as a late replacement for the Hoop Summit World Team in April, and although he played limited minutes in the game against Team USA, his performances in the practice sessions were impressive enough to alert a number of top programs, including the Kansas Jayhawks.
"Mykhailiuk was also impressive in the 2013 European under-16 championships last summer, when he averaged 25 points, eight rebounds and four assists and made his mark on the international stage. He is an outstanding shooter but can also play point guard because of his feel for the game.
"As a 17-year old, Mykhailiuk was actively pursued by a number of top European clubs, but elected to attend college instead. He will not turn 18 until next June, and may be the youngest player in a power conference this coming season. Despite his age, he is talented enough to help Kansas as a freshman."
Chalmers hosts game: Former KU combo guard Mario Chalmers of the Miami Heat will host a charity all-star game for his Mario V. Chalmers foundation at 7 tonight at Olathe East. Former KU players Travis Releford, Brady Morningstar, Jeff Hawkins and Conner Teahan are slated to play. Chalmers has held a camp for youths this week at O-East.
New scholarship offer: KU has offered a scholarship to Donovan Mitchell, a 6-2 senior combo guard from Brewster Academy in Wolfeboro, New Hampshire, Brewster coach Jason Smith tweeted Wednesday. Mitchell, who is ranked No. 101 in the Class of 2015, also is considering Villanova, Louisville, Indiana, Florida State and others.
Maker to stay put?: Thon Maker, a 7-foot, 200-pound junior center from Carlisle School in Martinsville, Virginia, likely will not reclassify to the Class of 2015, Zagsblog.com reports.
Maker, who has KU, Kentucky, Louisville, Duke, Memphis and others on his list of schools, is ranked No. 3 in the Class of 2016.
"It would be unlikely at this stage," Maker's guardian, Ed Smith, told Zagsblog.com. "It depends how heavy the academic load would be. Also, Thon has to be physically prepared for college ball."
Smith earlier had said Maker would announce by January whether he'd reclassify in order to be eligible for the 2016 NBA Draft.
More like this story on KUsports.com