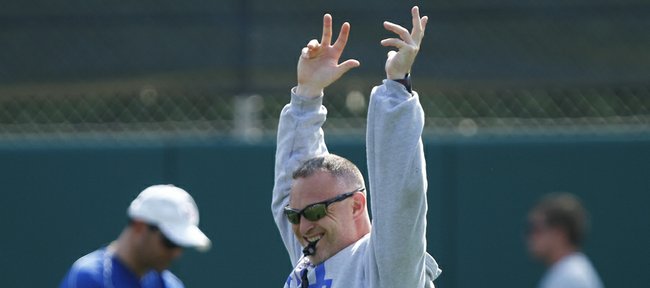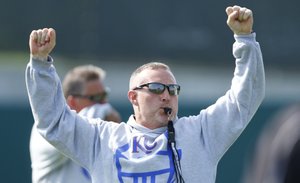 If you only pay attention to what he does in the weight room — which he affectionately refers to as his second home — or how he interacts with the players during practices or on game days, you might think that Kansas University strength and conditioning director Scott Holsopple cares just about the physical aspect of football.
Not true.
Since Holsopple arrived on campus after being hired away from Florida by KU coach Charlie Weis, the Penn State graduate and former boxer has emphasized his belief that athletes should be trained first from the shoulders up, with the neck and the brain being two of the most important target areas.
Few things better support such thoughts than a move Holsopple made this offseason to help bond the team and bring better leadership and accountability to the roster.
The idea, senior linebacker Ben Heeney explained, was to pick one KU player from every position to form a group made only of unit leaders. They're not captains, and they might not have the same role when the season arrives, but this summer they collectively provided the Jayhawks with a sense of push and purpose.
"I think we needed it," senior safety Cassius Sendish said, "because guys didn't always know who to look to in times of turmoil, and now it's been anointed."
Sendish said the leadership group, which was new this offseason, helped bring the already close-knit squad even closer together.
"I can see strides just in the secondary through the offseason," said Sendish, noting he was the safety representative and Dexter McDonald was the rep for the cornerbacks. "And I'm just looking forward to the whole team bringing that product to Saturdays."
All four seniors who represented Kansas at last week's Big 12 media days in Dallas said the extra layer of leadership has had a positive impact on the team. It also has forced better communication.
"We talk a lot," Heeney said. "And we talk about a lot of different things."
That Holsopple came up with the idea gave it weight.
"Work ethic has never been a problem," senior tight end Jimmay Mundine said. "We've always worked hard. Holsopple isn't gonna cut us any slack. It's really been about us pushing guys more. That's been the biggest thing for us, seeing how far we can push our teammates."
Mundine painted a picture of how that worked.
"We've seen guys continue to fight and try to do more and try to do better try to find ways to win," he said. "If you continue to do the same thing, you have to expect the same result. But guys have been pushing outside of their comfort zone and doing way more than we usually would just because you're not alone any more. We've got more team things that we do.
"It's not fun when you're doing it, but when you sit back and think, 'If I was by myself, I might have got eight reps, but because I had a guy right next to me pushing me, I got 13,' that's pretty cool. We're really enjoying working out and embracing putting ourselves through pain and doing it together."
Mundine said Holsopple came up with new and challenging ways for this senior-heavy group to push this offseason. One such method was a running drill that turned into a four-quarter football game: offense versus defense, Mundine said, with each unit needing to beat its previous time to score. At times, each side eclipsed the old total with ease, but Mundine said there were other days when the times were topped by fractions of a second, an achievement that brought out a gameday-esque celebration.
"It's just going back and forth, doing more team things, coming together, more fourth-quarter things and having more guys put themselves on the line," Mundine said.
Fall camp opens Aug. 7.
"Doing all this talking, I wish we were going to camp tomorrow," Sendish said in Dallas. "A lot of people don't really look forward to camp, but I think our team is really looking forward to going to camp this year and doing something special."
More like this story on KUsports.com