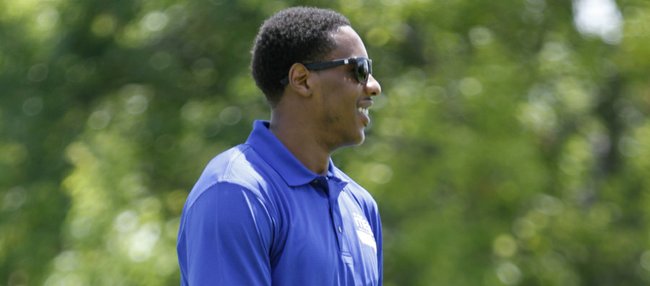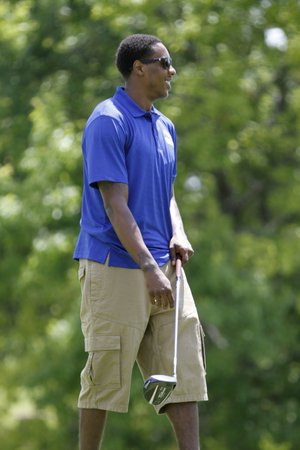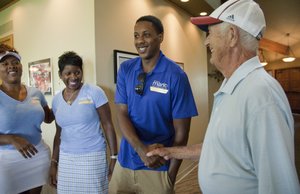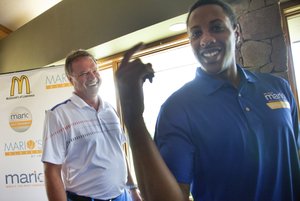 Miami Heat veteran combo guard Mario Chalmers knows it won't be easy to win championships in the post-LeBron James era.
"You can't replace a guy like that," former Kansas University standout/2008 NCAA Tournament MVP Chalmers said Monday, referring to James, who led the Heat to two NBA titles in four years before electing to return to Cleveland where he started his Hall of Fame career.
Chalmers, who recently signed a two-year contract extension with the Heat, insists, however, it'll "be fun" trying to make do without LeBron.
"It's also a different challenge we've got to face, but you know we're ready for it," Chalmers said from Alvamar, where he was hosting his sixth-annual Mario V. Chalmers Golf Tournament and VIP Mixer.
"He was a mentor to me, somebody I was very close with, somebody I still am close with," Chalmers added. "He was like a big brother to me."
Chalmers, who will make $4 million next season and $4.3 million in 2015-16, was asked why he re-upped with the Heat, the only team he has played with in his six-year NBA career.
"I felt comfortable being back there. I felt it was my opportunity to finally have my own team, to be on my own," Chalmers said. "I do love it there. I could picture myself playing somewhere (else) if it happened. I'm happy in Miami. We still have got a long way to go. I'm only 28, and I'm still kicking."
KU coach Bill Self, who was one of the 100 or so golfers to play in the scramble event Monday, praised his former pupil for his work in the Lawrence community. Chalmers' foundation supports initiatives for breast-cancer research, treatment and awareness and also youth initiatives.
"Mario and his family have impacted our community in a big way, through Mario's Closet (which provides items for cancer patients at Lawrence Memorial Hospital) and some other things since he's been gone. He'll always be a hero in this town," Self said.
Chalmers said he loves giving back.
"People keep showing up and coming out and having fun. It's good to have this back here in Lawrence," he said.
"Seeing all the friendly faces that took care of me while I was here," he added, asked the best part of returning each summer. "It's always good to see them, see they still miss me."
Self on Svi: Incoming KU freshman Sviatoslav Mykhailiuk scored 17 points off 6-of-17 shooting (1-for-4 threes) in Ukraine's 79-77 win over Denmark on Monday in the Under 18 European Championships in Sofia, Bulgaria. He had six rebounds, six turnovers, three steals and no assists while playing 30 minutes for Ukraine (5-0).
"He's a good player," Self said of the 6-7 wing. "From what I understand, the competition is at least above average. He's a talented kid. Of course he's young (17), green and not strong yet. I think our fans will be very excited once he gets here."
That could be in early September.
"I talked to coach Fratello (Mike, Ukrainian National coach) ... the plan is, after he completes this event, he will practice with the national team," Self said. "If he makes the national team, he'll stay and play. If he doesn't, they'll probably keep him over there as long as they can and get him back to school somewhere right around the first of September. It's a great opportunity to be trained by ex-NBA coaches and present NBA coaches with the national team."
Ukraine coach Fratello is assisted by former Orlando Magic coach Brian Hill and Chicago Bulls assistant Ed Pinckney. The World Cup runs Aug. 30-Sept. 14 in Spain.
Recruiting: Self and his staff were on the road recruiting three of the four weekends in July.
"I think we got some things accomplished. We're in on good kids. Whether or not we can close remains to be seen. I like the kids we're in on," said Self, who can't discuss specific prospects in accordance with NCAA rules.
Prospects listing KU include No. 2 Malik Newman, 6-3 combo guard, Callaway High, Jackson, Mississippi; No. 3 Jaylen Brown, 6-7 forward, Wheeler High, Marietta, Georgia; No. 4 Ivan Rabb, 6-9 forward, Bishop O'Dowd High, Oakland, California; No. 5 Cheick Diallo, 6-9 forward, Our Savior New American High, Centereach, New York; No. 6 Diamond Stone, 6-10 center, Dominican High, Milwaukee; No. 7 Stephen Zimmerman, 7-foot center, Bishop Gorman High, Las Vegas; No. 9 Carlton Bragg, 6-9 forward, Villa Angela St. Joseph High, Cleveland, Ohio; No. 12 Allonzo Trier, 6-3 guard, Findlay Prep, Henderson, Nevada; No. 15 Jalen Brunson, 6-1 point guard, Stevenson High, Lincolnshire, Illinois; No. 18 Tyler Dorsey, 6-4 combo guard, St. John Bosco, Bellflower, California; No. 20 Caleb Swanigan, 6-8 forward, Homestead High, Fort Wayne, Indiana; No. 21 Chance Comanche, 6-10 center, View Park High, Los Angeles; No. 25 Brandon Ingram, 6-8 forward, Kinston (North Carolina) High; No. 34 Thomas Bryant, 6-10 center, Huntington (West Virginia) Prep; No. 35 Tyler Davis, 6-9 center, Plano (Texas) West; No. 39 Eric Davis, 6-2 point guard, Arthur Hill High, Saginaw, Michigan; No. 40 P.J. Dozier, 6-6 point guard, Spring Valley High, Columbia, South Carolina; No. 63 Shake Milton, 6-5 combo guard, Owasso (Oklahoma) High.
As far as the new recruiting model that's been in effect the past couple summers, Self said: "They tinkered with it for years. The way it is now (weekend recruiting) is easy on coaches but still hard on kids. Kids are worn out. They are playing too much. I think you'll possibly see some kids lighten the load moving forward because it's actually too much for kids. You are having a lot of kids get injured when they get tired."
Injured Jayhawks: Self said Kelly Oubre (ankle sprain) would likely miss one more week of pick-up basketball action, while Cliff Alexander (ankle sprain) will likely sit out two more weeks. Each has been in a walking boot the past couple of weeks after sustaining sprains.
More like this story on KUsports.com