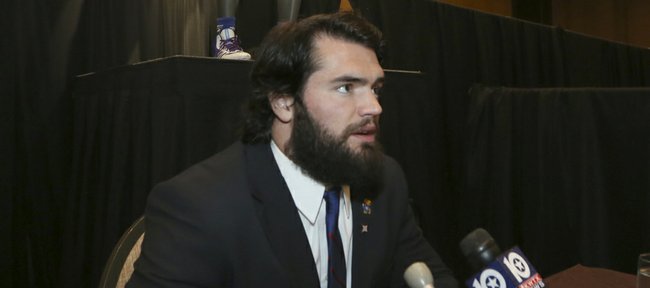 Dallas — At a place like Kansas University, where winning football games has been tough lately and dubious streaks are easier to recall than feel-good moments, one question seems to surface year after year around this time: Why will this season be different?
Third-year KU coach Charlie Weis wanted no part of answering it Monday at the annual Big 12 media days at the Omni Dallas, but not necessarily because Weis was afraid that things will remain unchanged in 2014. Instead, he thought the players he brought with him to Dallas would better answer it.
"Go ask them that question," said Weis of seniors Nick Harwell, Ben Heeney, Jimmay Mundine and Cassius Sendish. "I don't want to speak for them. Let them speak for them. I picked them for a reason. If I didn't think that those four guys expect to win, they wouldn't be here."
For an hour-and-a-half Monday, the four KU seniors offered their insights on the upcoming season.
They answered questions with a quiet confidence that has been missing in recent seasons and does not fit a team that has won just six games in the past three years. No guaranteed win total. No promises for point production. Just the sincere belief that things are going to be better this season.
"We definitely have a new confidence in our team," Mundine said. "It's almost like last year didn't happen. We know what people think of us, but that just motivates us to do more."
Motivation is a big part of why the Jayhawks believe 2014 will be their best season in years. But it's not just motivation to prove the doubters wrong. For the seniors who are the leaders of this KU team, the motivation comes from pushing each other and their younger teammates, finishing their careers on top and maximizing the talent they feel is in place.
"We talk about it every day," Heeney said. "We have a lot of meetings to talk about what we want to do, and we definitely talk about how this is our last year. I don't want to go through my four years of college and not go to a bowl game and not experience that."
One of the most interesting aspects of the senior-urgency phenomenon that is driving this team is the fact that it seems to be the same for the fifth-year guys like Mundine as it is in the first-year guys like Harwell. Mundine has been a part of 30 losses during his Kansas career. Harwell, meanwhile, has yet to play a down for the Jayhawks after sitting out last season as a transfer from Miami (Ohio). You'd never know it from talking to the two.
"I'm sharing everything they've gone through," Harwell said. "I could feel their pain when they were running or they were in the weight room or whatever they were doing. And I just want to help them get to where they haven't been, and that's a bowl game."
All four seniors present Monday said this year's team should benefit from the fact the entire team is more bonded and bought-in than any they've been on, thanks in part to Sunday Funday bowling outings, impromptu seven-on-seven games and the daily grind of workouts with strength coach Scott Holsopple have made sure of that.
"The main thing that we gained this offseason is everybody being on the same page and understanding what our goals are, what we've been through and what our potential is," Sendish said. "We put it on ourselves to make it that way. Instead of let the coaches do this or let the coaches do that, the players stepped up and we demanded leadership and accountability from ourselves."
Weis believes that's the best way for a team to improve quickly and he's counting on his veteran club to be ready to deliver when the season rolls around.
"We haven't done a thing in the two years I've been here," Weis said. "We won one game two years ago, we won three games last year, we won one game in the conference, we haven't won a game on the road. For me to get up here say these are what my expectations are, (would not be) very smart. But our team very clearly knows what our expectations are. There's no hiding it."
Heeney summed up Weis' thoughts in even simpler terms.
"Just wait for September and you'll see," he said.