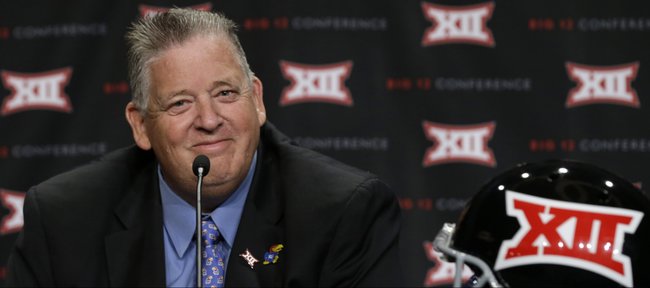 Dallas — A year ago, at the annual Big 12 media days season kickoff event, Kansas University coach Charlie Weis stole the show with his "pile of crap" line that sent the Internet and Twitter into a frenzy.
Not so on Monday, when Weis and four senior Jayhawks took their turn at the podium at the Omni Dallas to preview the upcoming season.
Instead of being outlandish and spouting off bold claims or eye-opening phrases, Weis played it close to the vest and remained rather low key.
Asked if he had a win total in mind regarding what would signify progress for the 2014 season, the coach who guided the Jayhawks to one win in 2012 and three victories in 2013 simply said, 'Yes.'
As for whether he would divulge it?
"No, I won't," Weis said.
Short update
There's been some recent message board chatter about the eligibility status of junior cornerback Kevin Short, but if Weis' comments about the junior-college transfer who sat out last season are any indication of where that's at, Short appears to be in good shape.
"Kevin has all sorts of athleticism," Weis said. "And we have a veteran secondary. So I think Kevin being thrown in with the rest of those guys in the secondary gives us a chance to be able to cover all these offenses that play fast pace and play in space."
RB corps still 'loaded'
James Sims, the third leading rusher in school history is no longer on the KU roster, but Weis hardly seems worried.
"We lost, statistically over the last two years, the best running back in the Big 12," Weis said. "And I think we're loaded at running back. I'm not blinking an eye there because the guys we have ready to play there, I have tons of confidence in."
What's more, Weis said he thought KU was better at every position at this point this year than they have been at any time during his KU career.
"I think depth on our whole team is as good as it's been," Weis said.
In for the long haul
When speaking about the time it takes to turn a perennial losing program into a winner, Weis referred back to his initial comments after being hired about a five-year process.
That led to a follow-up question about how long Weis, who has three years remaining on his contract, would like to be the head coach at Kansas.
"I've got three years left on this (contract), so I think about five (more) years because I'd like to be able to enjoy some of the success," Weis said. "What do you think I want to just do all of the grunt work and then hand it off?"
Roster tweaks
A couple of KU players are now officially no longer listed on the KU football roster, according to the KU media guide. They are: offensive lineman Sean Connolly and cornerback Michael Mesh. In addition, red-shirt freshman Colin Spencer has moved from wide receiver to cornerback.
Female official
Early Monday morning Big 12 commissioner Bob Bowlsby announced that the first female football official in conference history would work KU's season opener on Sept. 6 against Southeast Missouri State.
A little while later, Weis was asked if he thought Cat Conti's presence on the officiating crew would have any impact on how he coached in that game.

"I'll try to watch my language," he joked. "I believe in the old-fashioned way, so I'll try not to use as many bad words. But it means nothing to me. It's great that a woman is put in a position where she can be put on equal footing with the men."
Said Bowlsby of Conti: "She is not there because she is a female. She is there because she's paid her dues and because she is a really outstanding football official."
More like this story on KUsports.com