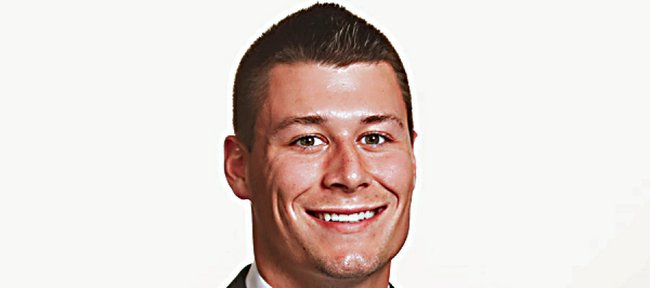 A red-shirt freshman tight end for Kansas University, Ben Johnson hasn't caught a pass, run a route or played a down in a college football game. No one is more aware of that than the man in charge of the Jayhawks, coach Charlie Weis. Yet, even months before the start of the 2014 season, the third-year KU coach couldn't stop himself from singing the unproven player's praises when discussing the team's tight-end options.
Back in March, before the start of spring football, Johnson already had impressed Weis and his staff with the way he played for KU's scout team in 2013.
"He seems to be one of those guys who just gets better every day in practice, and that's not a coaching phrase. That's an observation," Weis declared.
Johnson said he used his red-shirt season and practice responsibilities as motivation to improve.
"I got a lot more comfortable in the system and was just able to relax and make plays and be the player who I knew I could be," the 6-foot-5, 235-pounder said.
KU tight-ends coach Jeff Blasko saw Johnson's work ethic on display and said the young player who graduated in 2013 from nearby Basehor-Linwood has a "very, very bright future" in the program. According to Blasko, Johnson runs well, has good hands and possesses intangibles coaches look for in a player.
"He wants to be good," Blasko said. "It means a lot to him."
Senior Jimmay Mundine received All-Big 12 honorable mention last season for Kansas and sits firmly atop the tight-end depth chart. As crazy as it seems to him to be a veteran helping a young guy along, Mundine enjoys working with Johnson and remembers well when he was at that point of his career.
"It's just exciting to see him grow up a little bit," the senior said.
Mundine does not mind answering Johnson's questions, nor the friendly competition.
"We know it's just gonna make us both better in the end," Mundine said, "so as long as we push each other, the best guy that needs to be out there will be out there on a given play."
Blasko said the two tight ends are similar, as pass-catching threats, with the obvious difference being Mundine's experience.
"Jimmay has played a lot more football than Ben has," Blasko said, "and I think the more Ben plays, the more comfortable he gets."
Last season, Mundine and now-senior Trent Smiley impressed Blasko with their leadership. Blasko said the older players in the room don't look at the younger players as threats. Senior Ed Fink, juniors Dylan Admire and Scott Baron, and sophomore Jordan Shelley-Smith also return at tight end.
Sophomore Kent Taylor, a transfer from Florida, must sit out the 2014 season.
Blasko said Johnson's route-running, straight-line speed and body control have helped him stand out.
"Some freshmen come in, and they have a little bit of intimidation," Blasko said, "just with the adjustment and acclimating themselves to the college game. I never saw that with him."
Week after week, Weis said, Johnson made his presence felt on the scout team last fall, just like senior receiver Nick Harwell, who transferred from Miami (Ohio). Johnson said every practice was about showing the coaches what he could do. Johnson plans to keep competing and improving between now and the start of the season so he can finally get on the field for KU on Saturdays.
"I'm confident I can do it," Johnson said, "and I'm confident it's all gonna fall into the right place."