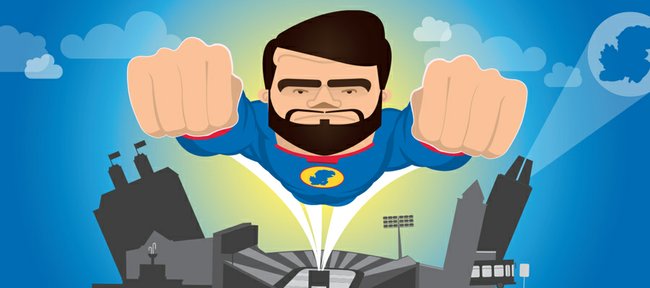 You can now add superhero to the long list of things Kansas University senior Ben Heeney has been compared to during his KU career.
Heeney, a linebacker from Hutchinson and preseason All-Big 12 first-team selection, is the marquee man on CaptainHeeney.com, a promotional website unveiled Friday by the KU football program.
The site has the look and feel of one of those Heisman campaigns that schools so famously put together when one of their stars is in the running for college football's top award. A giant comic-book-style illustration of Heeney — "The Diabolical Defender" — flying out of Memorial Stadium dominates the top of the site, followed by highlights, headlines and a list of awards and accomplishments.
The idea for the project, which also includes a @CaptainHeeney Twitter account, came about in September 2013. Heeney was off to his second consecutive strong season, but an injury during KU's loss at TCU forced Heeney to miss a couple games and the idea was put on the back burner.
"He wasn't a household name and our goal was to change that," said a KU spokesperson involved in the project. "We wanted to make sure his great play wasn't overlooked. The goal is to make people remember him and for him to stand out and we just tried to get as creative as we could to make that happen."
The Kansas men's basketball program recently conducted similar campaigns for Ben McLemore (Air McLemore) and Jeff Withey (Withey Block Party).
It's unlikely that Heeney will garner attention in the Heisman race this season, but KU's top linebacker and 2013 co-captain is up for half a dozen national awards as his final season approaches.
Heeney doesn't seem to mind the extra promotion.
"Haha I guess he kinda looks like me," Heeney wrote on his personal Twitter account after the website's release.
In addition to being tapped preseason All-Big 12 by the conference media, Heeney earned the same preseason honor from both Athlon Sports and Phil Steele Magazine and was selected to the preseason watch lists for the Chuck Bednarik, Butkus and Rotary Lombardi Awards, as well as the Bronko Nagurski Trophy.
Heeney will be one of four KU players (Nick Harwell, Jimmay Mundine and Cassius Sendish) joining coach Charlie Weis at the annual Big 12 media days next week in Dallas. KU is slated to take its turn at the podium Monday morning.
Four Jayhawks honored by CFPA
The four KU football players named to the 2014 College Football Performance Awards watch lists based on their respective positions won't have to worry about voters helping or hurting their chances.
Ben Heeney, junior safety Isaiah Johnson (defensive back list), senior tight end Jimmay Mundine and senior punter Trevor Pardula will be subject to what the CFPA calls "the most scientifically rigorous conferments in college football. Recipients are selected exclusively based upon objective scientific rankings of the extent to which individual players increase the overall effectiveness of their teams."
Heeney is one of 40 linebackers to make the watch list and one of six active linebackers in the nation with over 200 tackles and 20 tackles for loss in the last two seasons. Johnson, the 2013 Big 12 Defensive Newcomer of the Year, led the team with five interceptions last season. Mundine returns as KU's active leader in touchdown catches, while ranking second in receptions (41) and receiving yards (498). And Pardula booted 24 punts of more than 50 yards last season, including a career-best 78-yard punt, for an average of 43.7 yards per kick.