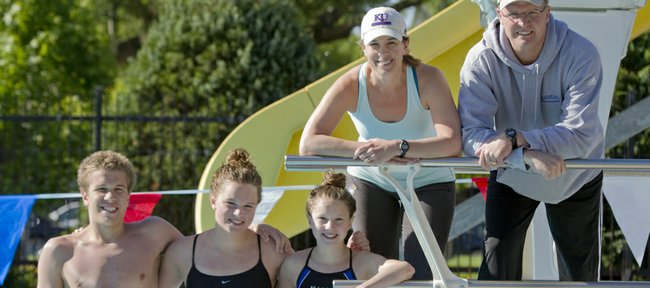 Clark Campbell is only half joking when he suggests more than blood flows through his family's veins.
"I kid with my wife sometimes that we spend far too much time at the pool, whether it's professionally or with the family, that I think our bloodstream has chlorine in it," Clark said. "We are around the pool so much."
Clark is head swim coach at Kansas University. Wife Cassie also swam collegiately before joining the coaching ranks.
Together, they raised three swimmers — Canaan, Cierra and Claire.
Clark comes full circle
Clark started his collegiate and coaching swim career at KU before the men's program was cut. He swam one year at KU, but his overall athleticism forced him to make a sudden career change.
While Clark's favorite sport is swimming, he started running and biking to test the waters in a few triathlons. He did so well in one Dallas triathlon that he was left with a choice: turn down the prize money, or take it but lose eligibility at KU.
"I had to make a decision in about 15 minutes if I was going to accept it or not," Clark said. "That was back before cell phones and all that stuff. So I made the decision to go pro and lost my eligibility, but I went on to have a seven-year career. I got to see a lot of the world and race at a high level."
As Clark's time as a professional athlete came to a close, he transitioned into the coaching ranks. Clark spent a three-year stint as the head man of the junior triathlon national team before returning to KU as an assistant swimming coach for the 1992-93 season.
His stay at KU as an assistant was brief, but it was just part of a process he had in mind for his coaching career. Clark spent the next 10 years filling up his résumé at West Virginia Wesleyan, Minnesota and Evansville before his dream job opened up: the head women's position at KU.
"The goal was to come back because my family is here. KU is something that I love, and it's an honor to be a coach here, but Lawrence is a wonderful place to raise a family," Clark said. "With us having the three children, we wanted to have them in a great community to go to school and have a number of options and be close to family."
Cassie and the kids
While coaching the Jayhawks for the past 12 years, Clark hasn't had as much time as he'd like to give swimming pointers to his three children.
Enter Cassie, who also had experience swimming in college at Shepherd University (West Virginia) and Ball State.
"Cassie is absolutely one of the best coaches I have ever seen on coaching our youngest, newest athletes to the sport," Clark said. "Her working with our three children is absolutely the foundation to what they've enjoyed up this point and beyond. She has set a really good foundation, so I've always found that to be very special, that each three of our children's first coach was their mom."
Cassie was an assistant club swimming coach for Ad Astra Area Aquatics before stepping down last year.
"She tries to stay home as much as possible now and being like a para-educator at Sunflower Elementary," son Canaan said of Cassie.
Canaan moves on
Along with their accomplishments for AAAA, the Campbell family name has been prominent in the Free State High swimming program.
Canaan is the first of the three siblings to complete his four-year tenure with the Firebirds, and he went out with a bang this spring. The long-distance specialist won a state title in the 500 freestyle.
"You'd probably have to put that toward the top of the list (of career accomplishments), because not a lot of people can say that they have an individual state championship," Canaan said.
Free State coach Annette McDonald believes Canaan has the tools to have a successful collegiate career under Missouri State head coach Dave Collins.
"He is very motivated to do well, and he's very coachable, so I know he'll have a great college career," McDonald said.
Cierra moves up
After watching Canaan rule the 500 free during the boys swim season, Cierra dominated the event in the spring on her way to a state runner-up finish as a sophomore. Cierra backed up the second-place finish in the 500 by finishing third at state in the 200 free.
"My strategy in my (200) free is go out as fast as I can in the 100 and then just pray I don't die," Cierra said. "In my 500, I separate them in my mind by 200, then two 100s and two 50s, so it seems shorter in my head."
Cierra has been a top contributor in her first two seasons at Free State, and Clark said her junior campaign could be another huge stride forward.
"She knows that this is kind of a big year for her, the year from sophomore to junior, and she's making those commitments every day to better herself," Clark said. "I think the combination of her really enjoying the team aspect of being with teammates she has really grown up with, and also the switch went on that, 'I'm going to have to work hard in the next year' to have the type of success that she wants. She's definitely just starting to scratch the surface of her ability."
Along comes Claire
For the past two years, Cierra has looked up to Canaan for guidance on competing at the high school level. Now Claire, a freshman-to-be, can look up to Cierra.
"(Claire) watched with very interested eyes and was very into the meet, and seeing what the high school state meet was like," Clark said. "She too, like her sister, Cierra, is really looking forward to the team aspect."
The Firebirds' family atmosphere is something Free State's coach encourages.
"I can tell you that that relationship has always been special on the team," McDonald said. "I've had other siblings before, so it's really fun to have sisters swim together."
If Claire's success at the club level is any indication, she could be a force as a freshman.
"Claire is better than both of us," Canaan said. "She's very talented. She's like a top-20, top-30 swimmer in the nation for her age group."
More like this story on KUsports.com