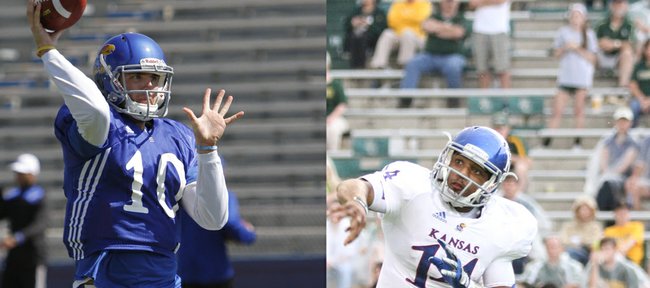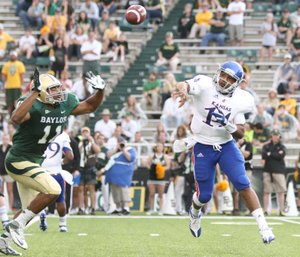 One of the most overlooked aspects of quarterback Jake Heaps' high-profile decision to leave Kansas University for a chance to become the starter for the Miami Hurricanes relates to what Heaps' departure does to KU's depth chart.
No official depth chart has been released since the end of the 2013 season, but it's not tough to see that, with Montell Cozart being named the starter back in April, the competition to fill the all-important back-up role is between junior Michael Cummings and sophomore T.J. Millweard.
The two have a couple of similarities — decently mobile, intelligent, tough — but are vastly different in a couple of key areas.
The most obvious spot where they differ is experience. Although Cummings never has been considered the answer at quarterback for Kansas, he has started five of the 13 games he has appeared in and played far more snaps on the big stage than Millweard.
Cummings played little in 2013 — three games, 3-of-4 passing, four carries for 14 yards at Iowa State — but started five games in relief of a struggling Dayne Crist in 2012. The Killeen, Texas, native did a decent job of running the team with poise and confidence.
While Cummings won't wow anyone with his measurements — he stands 5-foot-10, weighs 210 pounds and is noticeably on the short side when he's out there — he has a few gifts that keep him relevant. He has a cannon of a right arm. He has good vision. And he's not afraid to compete with anybody.
Throughout his time at KU, Cummings never doubted he was every bit as talented and capable as any of the Jayhawks' often-celebrated quarterbacks who played ahead of him. That's saying something, considering two of those guys were former five-star prospects and transfers from big-time football schools, and the other, Cozart, started games as a true freshman and might well represent KU's future at the position.
This spring, as Cozart was in the process of wrangling away the starting job from Heaps, rumblings surfaced that Cummings had played so well and shown such a solid understanding of new offensive coordinator John Reagan's offense that he was pushing Heaps, perhaps even ahead of him, for second-string duties.
It certainly looked that way in the spring game, when Cummings played about as often as Heaps and tallied similar numbers but looked more mobile and more decisive.
It matters not now whether Cummings was ahead of Heaps, but it could be an indicator of where things stand heading into fall camp, which opens Aug. 8.
Cummings' main competition for the second-string role this fall figures to be Millweard, a guy many believed might have the chops to come in and win the starting job after he transferred from UCLA prior to last season and went through 2013 learning coach Charlie Weis' offense and playing with KU's scout-team offense.
Weis said early on in the spring that Millweard's mind was sharp enough to run KU's new offense, which can only lead one to believe it was the physical tools that held him back and knocked him out of the competition between Heaps and Cozart.
Fifteen practices is not enough time to make a definitive read on a guy who is playing in an offense for the first time, particularly a quarterback. But it does provide a look at progress, command, understanding and upside.
Millweard, 6-3, 210 pounds, may still test well in several of those areas, but he clearly fell far enough behind Cozart for the coaching staff to feel comfortable enough to name Cozart the starter before the summer even arrived.
So now Millweard's focus will be on that back-up role, which is important on any team but may be substantially more critical on this Kansas team because of Cozart's mobility and an offense that we can only expect will ask Cozart to make plays with his legs to help jump-start things. Guys who do that get hit more than guys who sit back in a pocket and throw darts. So whichever QB wins the No. 2 job behind Cozart better be ready in a moment's notice.
The quarterback battle in KU's camp this fall might not be for the top spot, but it could be just as important.
More like this story on KUsports.com