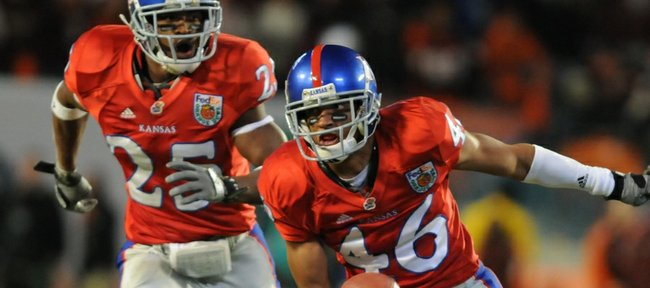 Former Kansas University standout Darrell Stuckey likes what he's seen of the 2014 KU football team.
"I've been working out with them, actually," Stuckey said during a break at his youth camp on Saturday at Free State High. "I had an opportunity to speak to them, and it was phenomenal. They've been working hard all offseason, and they're willing to do what it takes to win, and they have to have that vision to get there and to all buy in and actually get to know each other, beyond football, because it makes you work that much harder. It makes you more willing, as a player and a teammate, to do what it takes to win."
Although he has limited knowledge of the current KU roster and coaching staff, Stuckey said the state of the program now reminds him an awful lot of what he walked into prior to the 2005 season.
Then-KU coach Mark Mangino and the Jayhawks broke through in 2003 by landing a spot in the Tangerine Bowl, where Stuckey's current teammate, San Diego quarterback Phillip Rivers, led North Carolina State to a rout of the Jayhawks.
"I tell him all the time, 'That's wrong what you did to my boys,'" Stuckey joked. "But at that point, we were just happy to be there. After that, when we went to the Fort Worth Bowl (2005), we learned from that, and we went there to win."
The Fort Worth Bowl victory — 42-13 over Houston — was the first of three bowl wins for Stuckey during his time as a Jayhawk. It's something that comes up a lot with his teammates and opponents in the NFL.
"Everyone always wants to tell me, especially in my locker room, 'KU don't play no football,'" Stuckey said. "And I always say, 'How many bowl rings did you win again?' They say, 'How many did you win?' And I say, 'I won three.' Then they always say, 'Ah, you must not have played anybody.' And I say, 'Go tell Eddie Royal that. Go tell Brandon Flowers that.'"
Royal and Flowers, now Stuckey's NFL teammates on the Chargers, both started on the Virginia Tech team KU knocked off in the 2008 Orange Bowl.
Although Kansas is a ways away from the kind of success Stuckey had during his college career, the former all-conference team captain believes the program is on the right track.
"I think it's gonna be good," Stuckey said. "They're going through the same thing we went through when I first got here. The biggest thing for us is we just have to keep things in perspective. And I say 'us' because I'm always a Jayhawk."