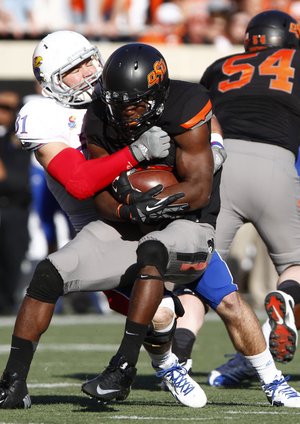 Call him Mr. Watch List.
Kansas University senior linebacker Ben Heeney added two more preseason honors to his expanding résumé Monday, with the news he landed on both the Rotary Lombardi Award and Butkus Award preseason watch lists.
Heeney's name now appears on four national lists, after earning recognition from the groups in charge of the Chuck Bednarik Award and Bronko Nagurski Trophy last week.
The Rotary Lombardi Award and the Butkus Award are members of the National Collegiate Football Awards Association (NCFAA) and are presented to outstanding players on the field at their respective positions. Specifically, the Butkus Award recognizes the most outstanding collegiate linebacker, while the Rotary Lombardi Award pays tribute to the college lineman of the year, including linebackers who set up no further than five yards off the line of scrimmage.
Heeney was one of 123 players on the Lombardi list, while 51 players made the Butkus list.
A senior from Hutchinson, Heeney missed two games in the middle of conference play in 2013, but still finished with a team-best 88 total stops, including 11.5 tackles for loss and the first three interceptions of his career. Heeney, honored as an All-Big 12 Second Team selection by the Associated Press and the conference coaches last season, was fourth in the conference with 8.7 tackles per game and ranked fifth in tackles-for-loss per game with 1.15. He reached double figures in tackles in six of his 10 games played, including four Big 12 contests.
In total, Heeney has racked up six preseason honors this offseason, leading up to the 2014 opener against Southeast Missouri State (Sept. 6) at Memorial Stadium. Heeney was named preseason First-Team All-Big 12 by both Athlon Sports and Phil Steele Magazine.