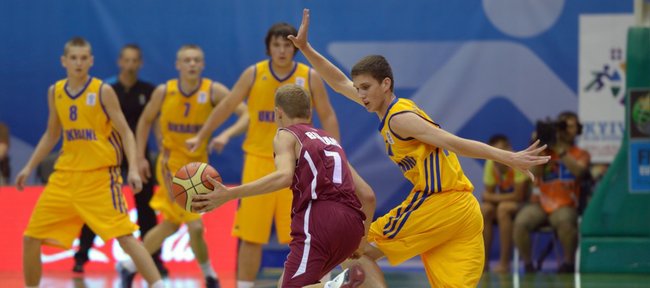 Incoming Kansas University basketball guard Sviatoslav Mykhailiuk's skill-set has been compared to Manu Ginobili of the San Antonio Spurs, Nik Stauskas of the Sacramento Kings and the late Drazen Petrovic of Croatia, who played for both the Portland Trail Blazers and New Jersey Nets.
Mykhailiuk, from Cherkasy, Ukraine, also been called the best prospect in Europe since Ricky Rubio, who plays for the Minnesota Timberwolves.
"I don't even know with whom to compare. Me. It's me," the 6-foot-8, 195-pound, 17-year-old Mykhailiuk said in a Facebook interview with the Journal-World from Ukraine. That's where he has been working out as a member of his country's under-18 national team.
Ukraine will play in the FIBA U18 men's Div. B European championship July 24 to Aug. 3 in Sofia, Bulgaria. The tourney was originally slated to be contested in Donetsk, Ukraine, before unrest occurred in Mykhailiuk's country.
"Then I think I will go to camp with the Senior National Team. So my summer is really hard," noted Mykhailiuk, who likely will arrive at KU in late August or early September after working out with the Senior National squad, which will compete in the World Cup from Aug. 30 to Sept. 14 in Spain.
"Work every day. Practice each day," Mykhailiuk added.
Known as a pure shooter, Mykhailiuk averaged 25.2 points, 8.0 rebounds and 3.4 assists while representing Ukraine at the 2013 Under 16 European Championship. He hit 28 percent of his threes, went 77 percent from the free-throw line and was named to the all-tournament team.
"I'm shooting every day from long distance," Mykhailiuk told the J-W. "It's my coach Maksym (Mikhelson of Cherkasy Monkeys). He taught me everything that I can do now. That's why I have a good shot and play how I can play now."
Mykhailiuk — his name is pronounced "svee-AT-is-slov meh-KAI-luke" (he prefers to be called Svi, pronounced Svee) — has already completed high school in the Ukraine, which would keep him at KU for a minimum of two years because of the NBA Draft's age requirement rules.
"I think it (KU) is one of the best NCAA teams," said Mykhailiuk, who chose KU over Virginia, Oregon, Iowa State and others.
"Kansas has very big traditions. I think it's a good place for me and my development. Coach (Bill) Self is a great coach and the players are also very good. We have great freshmen this year like Kelly Oubre, Cliff (Alexander), Devonté Graham, also great sophomores like Wayne (Selden), Ellis (Perry, junior). We have a great team and will be great this season.
"I will try to help my team and try to do all my best to help my team win."
He explained why he decided to attend college at all.
Mykhailiuk could have played pro ball for big bucks in Europe while waiting to be eligible for the NBA Draft.
"For me (college) is more interest than pro," he said. "It's been my dream to play in the USA and also in college. Because not a lot of people from Europe and even from Ukraine play in the NCAA."
He said he was impressed with last year's KU team, led by freshmen Andrew Wiggins and Joel Embiid.
"They are amazing basketball players. They will have a very bright future," Mykhailiuk said of the Jayhawks who were tapped Nos. 1 and 3 in the 2014 NBA Draft. Mykhailiuk played pro ball in the Ukrainian professional league last season, but he never signed a contract specifically in order to retain his collegiate eligibility.
Asked if he had a message for the KU fans, Mykhailiuk, who said he is 6-8 in shoes, wrote: "Rock Chalk Jayhawks."
Svi Skypes: Self was asked about Mykhailiuk on Monday's "Jayhawk Sports Weekly" radio show.
"Svi ... we Skyped with him today. That kid is so excited to be here," Self said. "He's turned 17 (on June 10). He's about 18 months behind where our youngest freshmen usually are, entering freshmen. He's trying to get all his paperwork done. It's a ton of paperwork. Getting your I-20 (Certificate of Eligibility for Nonimmigrant (F-1) Student Status) and everything else to come here. He's excited. We're excited."
White visit called off: Former KU wing Andrew White III did not visit Florida State last weekend as originally planned.
"I did not end up going. (Assistant coach) Stan Jones called me the day before I was supposed to go and said they called the visit off because of some high school kids they wanted to get," White told Noles247.com. White has visited Nebraska and Notre Dame and still has interest in Wake Forest.
Ellis stands out: Ellis continues to draw rave reviews for his work at the LeBron James camp in Vegas.
"KU's Perry Ellis and Iowa State's Georges Niang had great weeks at LeBron's. The perfect college players who are effective for 4 years," tweeted ESPN's Fran Fraschilla.
Rush a free agent: Former KU wing Brandon Rush, who played sparingly for Utah last season, will work out for multiple teams on Tuesday in Las Vegas, the Salt Lake Tribune reports.
Rush, a 29-year-old free agent, averaged 2.1 points in 38 games for Utah.
"I press a lot because I know I won't be out there too long and I've got to try to make something happen," Rush said told the Tribune last season, referring to performing with limited playing time. "Everything speeds up and I just play out of my comfort zone."
Mario re-ups with Heat: Former KU guard Mario Chalmers agreed to a two-year deal with the Miami Heat on Sunday. Terms were not disclosed.
"Proud to say I'm back with the Heat. Heat nation we still here," Chalmers wrote on Twitter.
Hinrich stays in Chicago: Former KU guard Kirk Hinrich, who has played for Chicago nine of his 11 NBA seasons, has agreed to contract terms with the Bulls. TNT's David Aldridge says Hinrich will be paid $5.6 million over two seasons. Hinrich averaged 9.1 points and 3.9 assists in 73 games last season.
Wiggins pots 13: Former KU wing Wiggins scored 13 points off 3-of-11 shooting (1-3 from three) in Cleveland's 82-70 summer league win over the San Antonio Spurs on Sunday in Las Vegas. He had three rebounds, two turnovers and no assists in 29 minutes.
More summer league: Former KU center Jeff Withey scored 11 points off 4-of-8 shooting and grabbed seven rebounds with one block in New Orleans' 90-73 win over the Los Angeles Lakers. ... Former KU wing Ben McLemore scored 11 points off 4-of-10 shooting (0-4 from three) in the Sacramento Kings' 72-65 win over Charlotte.
Embiid keeps tweeting: Former KU center Embiid of the Philadelphia 76ers reacted to the news that LeBron James had signed with Cleveland. "I guess my recruiting skills didn't work," tweeted Embiid, who had tried to woo James to Philadelphia via Twitter.
Another tweet read: "That's bad though....... how they're gonna hate when you leave and now love you?? These fans ain't loyal except my fans."
And yet another: "At least the SIXERS finished second in the pursuit of the dude.... still have better recruiting skills than kentuckys coach."
More like this story on KUsports.com