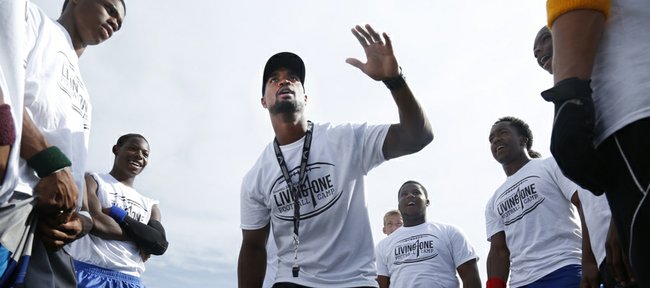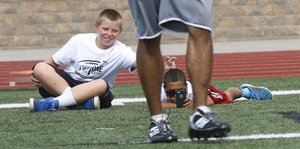 Kansas always has held a special place in the heart of former Kansas University safety and current San Diego Charger Darrell Stuckey.
He was born and raised in nearby Kansas City. He lists Arrowhead Stadium as his favorite place to play. And, after winning three bowl rings and being named all-conference and team captain, he graduated from KU — a day he says was more overwhelming and exciting than the day he was drafted by the Chargers.
With that as a point of reference, what Stuckey did Saturday at Free State High should come as no surprise. But because football clinics in today's world are big-time money-makers for athletes and coaches, Stuckey's free camp at Free State seemed all the more impressive.
From 9 a.m. to 3:30 p.m., about 50 young athletes ages 14-18 showed up to take part in the camp, which was put on in conjunction with the USA Football FUNdamentals clinics.
Dozens of Stuckey's former teammates, opponents, coaches and family members showed up to work out the athletes, who received top-level instruction, lunch, T-shirts, water bottles, bags and autographs, all without paying a dime.
The purpose of the camp was two-fold, Stuckey said. No matter how far he advances in his career — he signed a four-year extension with the Chargers this offseason — or how far away from home football takes him, Stuckey's main goal is to remember where his journey started and to provide quality and affordable instruction and inspiration to the young men who hope to one day follow in his footsteps.
"The biggest thing about today is willingness and heart," Stuckey said. "Football is not just a game of aggression, and it's definitely not a game of anger. It's a game of passion. And self-control, discipline and fundamentals go a long way."
To that end, Saturday's camp was dubbed a no-contact, no-pads clinic that emphasized preparation and proper technique more than physicality and full-speed movements.
"Today was about increasing their IQ about the game so they slow down and let their athleticism take over," Stuckey said.
Midway through the day, Stuckey conducted a question-and-answer session in which he fielded inquiries about everything from the hardest hit he ever took to how fast he runs and who his favorite player to face is. In addition to the laughs and banter, Stuckey emphasized fitness, health, academics and making good choices on and off the field. Physical trainers were also on hand to teach the athletes about conditioning and taking care of their bodies.
Stuckey laughed and smiled as much as the campers and seemed as much in his element mentoring young people as he does stalking wide receivers in the secondary.
"In Kansas, we don't have the advantages that maybe a Texas might because of the rules and what football means to them," Stuckey said. "My roots are here so I know it's a necessity and we did not treat this like a free camp."