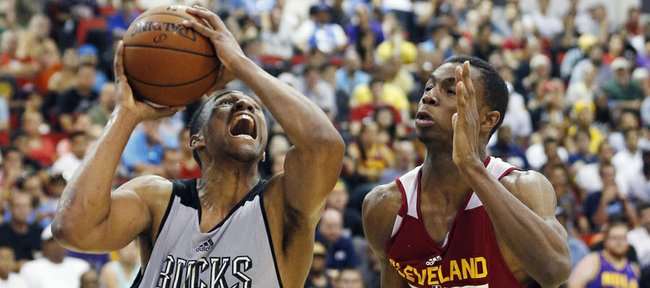 Former Kansas University guard Andrew Wiggins, the No. 1 pick in the 2014 NBA Draft, won bragging rights over Duke's Jabari Parker, the No. 2 overall pick, in their professional basketball debuts on Friday in Las Vegas.
Wiggins, 6-foot-8, 194 pounds from Ontario, Canada, scored 18 points off 7-of-18 shooting (1-of-8 from three) in the Cleveland Cavaliers' 70-68 victory over Parker's Milwaukee Bucks in the NBA/Vegas summer-league opener for both teams.
Wiggins also had three rebounds in 31 minutes. Parker, 6-8, 235 from Chicago, scored 17 points off 5-of-11 shooting. He had nine boards in 30 minutes.
"It was a big day. We got the win, and we got LeBron back," Wiggins told the Associated Press after the game.
He added to NBA TV: "Best of all, we got the best player in basketball coming to play on our team."
Friday's news that LeBron James was returning to Cleveland to play for the Cavs obviously overshadowed anything that happened on the court in Glitter City.
Following the announcement, it was immediately speculated that Wiggins — who two years ago was called the best high school player since LeBron — would be traded to Minnesota for veteran center Kevin Love.
First-year Cavs coach David Blatt did not sound like somebody eager to send Wiggins packing.
"I think it's one of the best things that could happen to him," Blatt said of Wiggins. "To have the opportunity to learn from a guy with his experience level, whose winning attitude, whose commitment to the game ... he couldn't possibly in his wildest dreams have a better example or a better teammate, and it will help him to develop quicker."
Wiggins agreed it would be awesome playing with James.
"It's going to be a great learning experience for all of us on the team," Wiggins said after Friday's game to NBA TV as reported by Zagsblog.com. "We get to go under his belt and see how hard he works and what it takes to get to his level.
"You can just feel it," Wiggins added of the excitement. "He's back home, his hometown. He's going to make a big difference wherever he goes. He chose to go back home so it's going to be a big year for us."
Wiggins' defense is something the Cavs likely covet. At one point in Friday's game, Wiggins blocked Parker's baseline shot, then immediately scored in transition and drew a foul on the other end.
It reminded some of KU's 94-83 victory over Duke last Nov. 12 in Chicago's United Center. That's the game in which Wiggins, who had 22 points and eight boards to Parker's 27 points and nine rebounds, shut down Parker down the stretch.
"Good players will always be compared to each other," Wiggins said in an interview with The Sporting News before Friday's game. "But I never think of it as a personal rivalry. I think that's what the media portrays it to be. On the court, it doesn't matter who I am going against, I am going to go hard, I'm going to go out to win and kill. Off the court, we can be friends, but on the court, it is a different story."
Heckler hits: Fans at Friday's summer league game heard the trade whispers regarding Wiggins.
"As Andrew Wiggins shoots free throws, a heckler yells, 'Kevin Love says hello!''' Tweeted Alex Kennedy of Basketball Insiders.
Having Wiggins' back: Former KU center Joel Embiid of the Philadelphia 76ers chimed in on Twitter: "Please don't trade my boy @ cav, Sincerely, JOEL EMBIID"
Not yet: Wiggins was asked if he'd spoken with LeBron on Friday. "Not since the trade. He's probably really busy."
Aldrich signs: Former KU center Cole Aldrich, who averaged 2.0 points and 2.8 rebounds in 46 games for the New York Knicks last season, re-signed with the Knicks on Friday, team president Phil Jackson announced.
Terms were not disclosed. It's believed the 25-year-old Aldrich will receive a one-year veterans minimum contract, which in his case would be worth $1,063,384.
On Friday, the 6-11, 245-pounder scored nine points and grabbed 15 rebounds with three blocked shots in 31 minutes in the Knicks' 76-64 win over Dallas in Las Vegas. Aldrich hit two of four floor shots and five of six free throws.
Orlando summer league notes: Former KU forward Tarik Black scored 11 points and grabbed five rebounds in Houston's 101-75 win over Brooklyn on Friday in Orlando, Florida. Black, who played 14 minutes, hit nine of 10 free throws and one of three floor shots.
Former KU guard Mario Little scored eight points off 3-of-6 shooting in Oklahoma City's 103-98 win over Miami in Orlando. Little had seven assists, six turnovers, three steals and three rebounds in 22 minutes.
— The Associated Press contributed to this report
More like this story on KUsports.com